H-1 Construction Elevates a Pearl City Kitchen
This family home was updated with an interior designer's personal touch.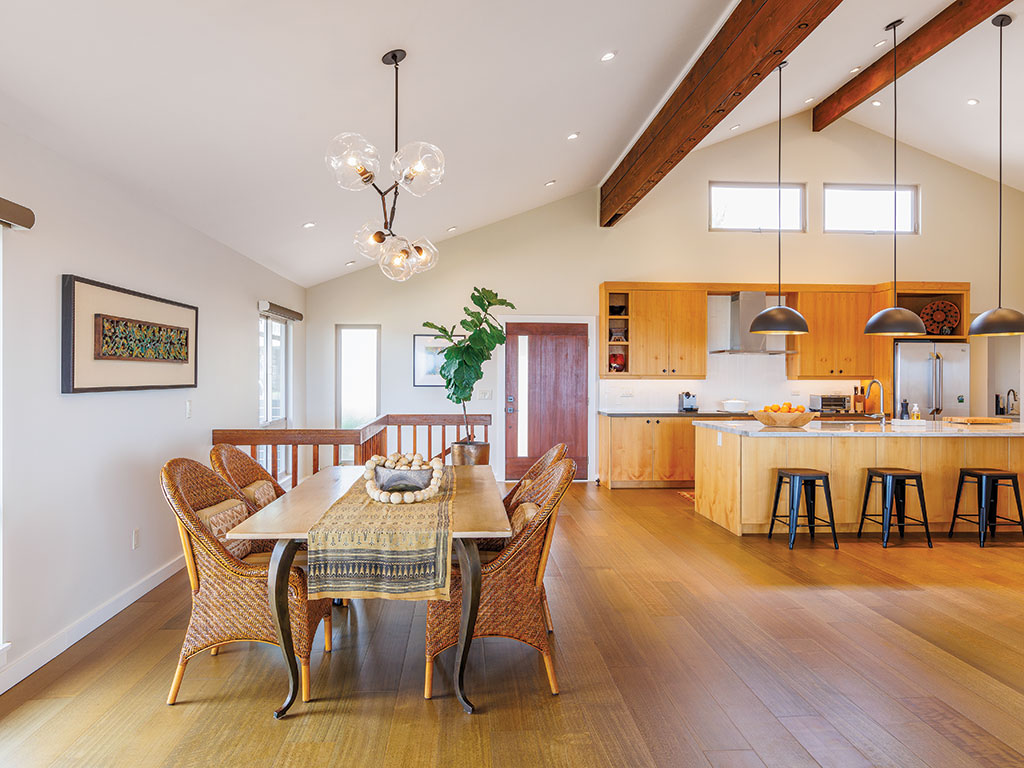 The owner of this recently remodeled Pearl City residence, herself an interior designer, says it was much harder to design for herself and her family than her clients. For the homeowner, it was the most challenging part of the project. Collaborating with architect Ryan Fujita and Lucas Stensland of H-1 Construction, the homeowner embarked on an extensive renovation.
"There were times I couldn't find exactly what I wanted price- and/or aesthetic-wise, decide what I wanted to do, or needed a nudge to look at things differently," says the homeowner. "And then there's the budget, which required a continual balance of economical and premium decisions — I call it high/low design. For example, splurge on the wood flooring and dining room pendant [lighting] and use standard recessed light fixtures and a standard window finish."
The original home was built in the 1970s, and according to Stensland, had "shag orange carpet, jalousie windows, no curb appeal, dated electrical and plumbing, and a segregated floor plan." The homeowner wanted to create an open layout on the upper floor that would provide more natural light for the kitchen, dining and living area. She also envisioned a separate living space downstairs for her parents.
Construction started in January 2018. The primary focus was the upper floor, where everything was redone except the exterior walls, balcony and roof. The layout was totally reconfigured. New cabinetry, countertops, floors and bathroom tiles were installed. Lighting, plumbing and appliances were upgraded. Central air conditioning and a high-end whole house fan were added for efficient cooling and ventilation.
Stensland says that "creating an open concept while manipulating structural load paths" on the upper floor was a challenge. He and Fujita came up with a unique solution — beefing up the existing overhead beams while turning them into an artistic and architectural feature with exposed lug nuts and a finish that complements the kitchen and living spaces.
The H-1 Construction team also navigated the difficulties of procuring and installing the kitchen island slab, which had to be as large as possible, without seams. In addition, the stunning pendant lights above the island required careful craftsmanship to be hung from the vaulted ceiling and aligned properly. The team's efforts paid off, as the kitchen is the homeowner's favorite part of the finished remodel. "The large island is the showcase of the house," she says.
The home's downstairs area was updated as well. Carpet and old cabinetry were removed. Existing windows, exterior doors and exterior lighting were replaced. The space is smartly set up to be further remodeled in the future.
"We had to prioritize what we wanted to do now," based on budgets, explains the homeowner. "On the bright side, we now had an overall vision for the entire house, and it made it a little easier to look at phasing in other projects."
Allowing for a contingent budget, she says, is a key piece of advice for anyone looking to do a renovation. She also suggests providing contractors with images and information of what you like and what you want to do, to help them develop realistic proposals.
And, naturally, she underscores the value of hiring an interior designer. "Working with an interior designer, even on a consultant basis, will take some of the stress of having to do it all by yourself," she says. "An interior designer also has the experience to see and recommend things you may not have thought of, and has knowledge and access to various resources."
Stensland agrees that a multifaceted project team is crucial for quality results. "Renovations are typically more taxing and stressful than a new build," he says. "Hiring H-1 Construction or other professionals is highly recommended. As with any project, pre-planning and a collaborative effort between architect, contractor and interior designer are essential to a successful project, which H-1 Construction provides as well."
---
Editor's Note: This article has been slightly modified from the original print version for optimal online reading. To view the full print story, subscribe to our digital edition or pick up your copy of Hawaii Home + Remodeling at one of our partner locations.