Decorative Tile Trends From Hawaii Design Experts
Local pros share how decorative tiles can instantly add personality and style to any space.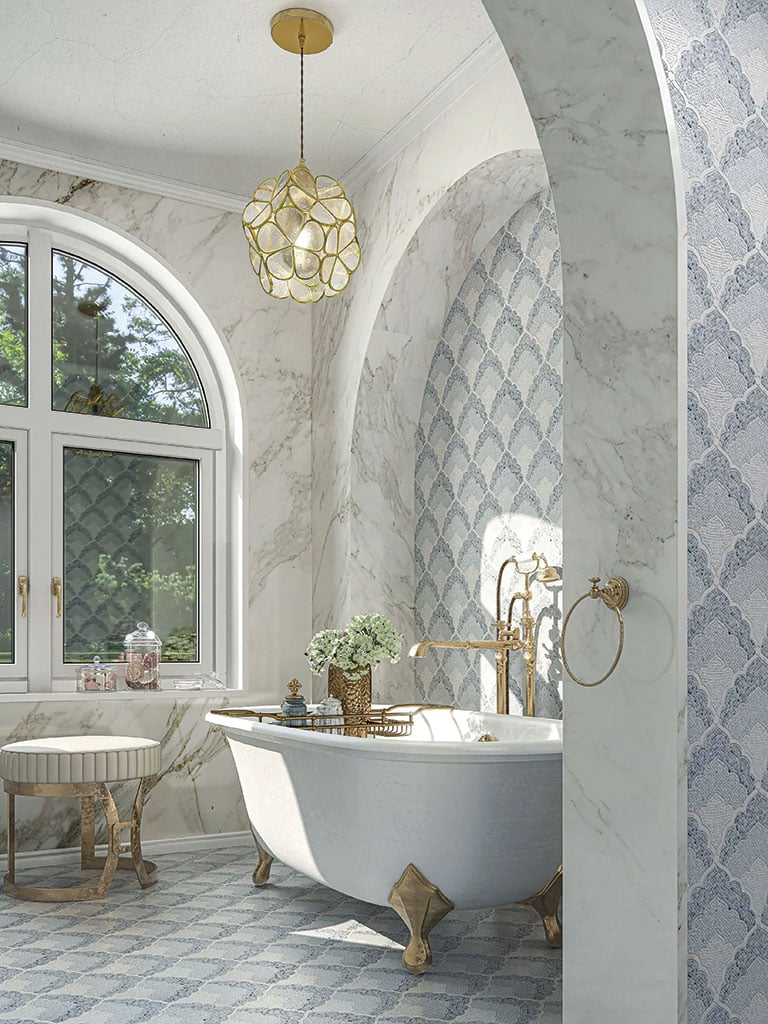 Home design trends around the U.S. have been shifting from basic shapes and monochromatic tones to more organic contours and unique materials, and Island homeowners are taking notice. The shift is inspiring stonework selections and applications such as new decorative tile trends.
"Decorative tiles in different sizes and color shades in glass are the most popular," says Kevin Nip of Selective Stone. "There are also decorative tiles that combine mixtures of glass, stone and stainless steel." He adds that newer styles are larger and more artistic, ranging in shades of frost and light gray to green and blue.
Meagan Jensen of Bella Pietra Design says Adena is one specific tile line that falls into this color scheme. "It's kind of got an old-world, Moroccan look," she explains. The micro-mosaic stone line is a popular embroidery pattern reimagined, with tiny tumbled stone pieces set into an ombre pattern within intricately scalloped marble frames. The arabesque design is available in three color blends: blue crafted from Bardiglio Nuvolato, Azul Cielo and White Sand; cream created with White Sand, Pink and Thassos marbles; and gray, which combines Smoke limestone, Botticino and White Sand.
Though decorative patterns like Adena are trending, Nip and Jensen say that homeowners should explore decorative tile trends that fit their own personality, style and budget.
"Decorative tiles can be pricey," says Nip. "Define the area to receive these tiles and create your budget." He adds that most homeowners he works with at Selective Stone use decorative tiles for accents, which means smaller square footage requirements — and, therefore, less cost.
"Most decorative tile trends, specifically in glass, are installed as splashes for kitchen and vanity tops," says Nip, "[and] decorative tiles for flooring are usually porcelain or stone. They … are usually installed as borders in areas like entries and foyers, where you want to create a statement."
Jensen adds that a unique decorative tile can be the feature that sets a house apart from other Island homes. Clients often ask Bella Pietra Design whether such a specific look will affect a home's resale value. The answer, she says, is up to the client.
"The biggest thing I always tell my clients is [to] design for yourself," she says. "You're the one living in [the home]. Unless you're just flipping [a house], design for yourself. … Don't be afraid of doing something a little different and bold."
---
Editor's Note: This article has been slightly modified from the original print version for optimal online reading. To view the full print story, subscribe to our digital edition or pick up your copy of Hawaii Home + Remodeling at one of our partner locations.