Hawaii Home Design Experts Have An Eye for Accoutrements
Learn how to style your spaces around statement furniture, with two local Hawaii home design purveyors.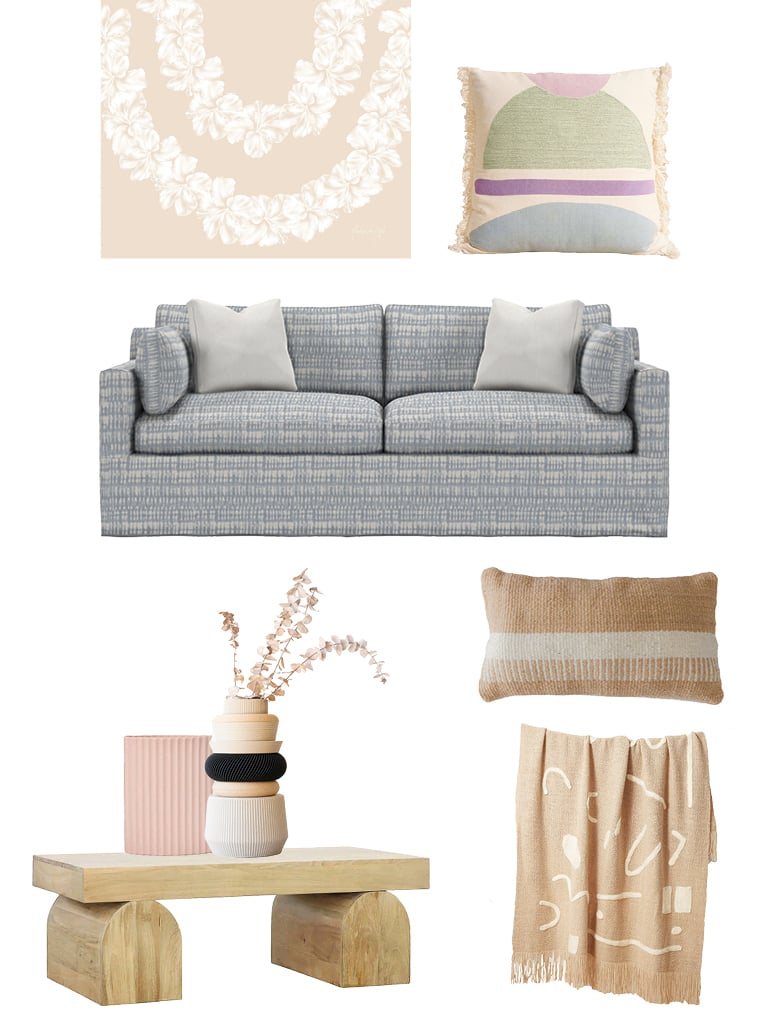 You've found an awesome table, couch, bed or chair at your favorite Island home store and are excited to bring it into your abode. Now comes the fun part: incorporating these Hawaii home design elements around your new furnishings or ensembles to curate and complement your personal aesthetic. We caught up with Carrie Gebb of Home by Driftwood on Maui, and Shaolin Low of Woven by Shaolin and Studio Shaolin interior design in Honolulu for furniture styling insights. Here are some of their tips.
After the success of her apparel and accessory shop, Driftwood, in upcountry Maui, Gebb turned her impeccable eye for aesthetics toward her love for home items and Hawaii home design. She expanded Driftwood in 2022 with a neighboring Home by Driftwood boutique, showcasing furniture and goods carefully curated in her modern bohemian-luxe style.
Eaton Media Cabinet
"Selecting one signature style and going all in can often leave a space feeling flat and generic. I want a room that sings!" Accented with "Morning Brew Pint" artwork, Blanc Collection 01 vase, mauve nigella, mauve hydrangea and phoenix flowers.
Hutton Two-Piece Sectional
"Occasional chairs, rugs, pillows, lamps and small tables are excellent pieces to play up when shifting into other design styles. Thoughtfully mixing even the smallest objects can bring a new dimension and create a better balance overall." Accented with indigo batik pouf, Marina Chiang Mai Thai pillow cover.
Encino Dining Table
"I love Four Hands for seamlessly merging a global design aesthetic with time-honored styles to bring a fresh perspective." Accented with beveled dark pink coupe, paulownia wood bowl.
Low's design savvy runs in her family. As a third-generation talent from an interior design-construction ohana, she began her foray into home staging in 2016 before diving deeper into interior design. In 2020 she established interior design firm Studio Shaolin; two years later, she opened her new Kailua home décor and furniture store, Woven by Shaolin. Low's approach focuses on sustainable and holistic design, bringing artfully curated, modern coastal interiors to Hawaii home design. Woven by Shaolin highlights her belief in home as a reflection of our interior landscape. Here are some of Low's favorite boutique pieces.
Astria Dining Table
"I'm obsessed with this wood-carved dining table and these performance boucle dining chairs. Paired with a wabi-sabi-style pink plate and hob knob glassware, it just gives the perfect dynamic of modern and vintage. I'm also always into having a chandelier above a dining space, as it's beautiful and gives necessary lighting when eating." Accented with Chentro dining chair, vintage textured drinking glasses, champagne wine glass, cocktail napkin set, "This Light of Mine" artwork, open rope chandelier, dinner set in matte blush.
Sylvie Slip Sofa
"I love this custom Sylvie slip sofa as it gives the amazing option to be cleaned but also changed completely when the pattern gets tired/old. Paired with this fun deco style coffee table and some of my favorite vases, it gives a modern but tropical feel with the Aloha de Mele art piece." Accented with Casi coffee table, oat abstract throw, Cushion Haoni pillow, "May Day '22" artwork.
Swirl Bed
"I'm in love with this swirl bed that we have, as I think it's so unique and fun. It has a feminine feel without feeling too youthful. I love the bone inlay nightstands and the Seychelles sconce together. No one likes dealing with a ton of throw pillows on a bed, so a lumbar [pillow] is my favorite easy choice." Accented with Venice sheet set, geo shapes lumbar pillow, Cushion Mario blanket, Terra Stripe lumbar pillow, "Checkered" artwork, Hessa nightstand, Seychelles wall sconce.
---
Editor's Note: This article has been slightly modified from the original print version for optimal online reading. To view the full print story, subscribe to our digital edition or pick up your copy of Hawaii Home + Remodeling at one of our partner locations.