Hawaii Modern Moves Into Cozy Kakaako Spot
Now you can browse and shop John Reyno's collection of restored midcentury modern furniture in person.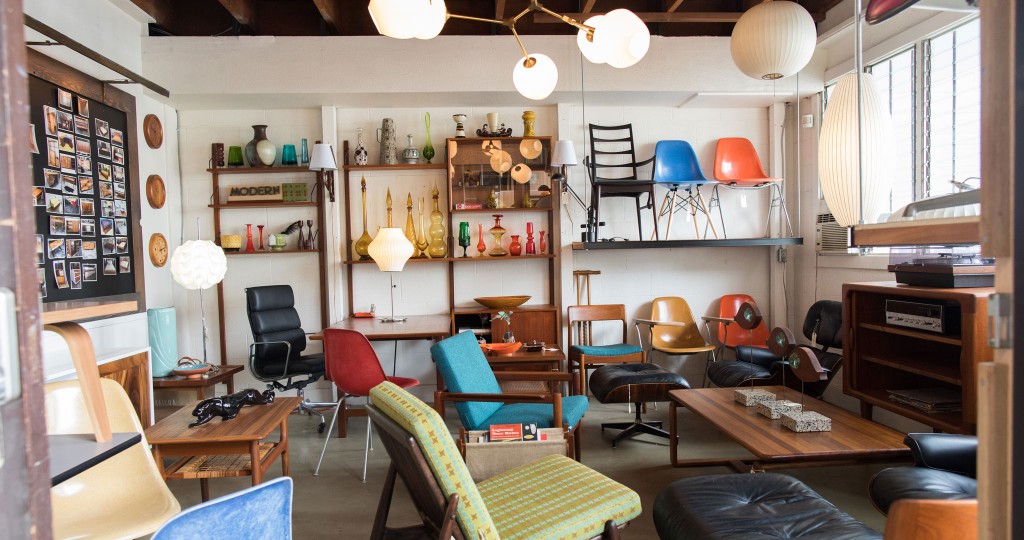 Hawaii Modern joins the bustling and evolving Kakaako neighborhood, now that owner John Reyno opened a brick-and-mortar inside the Honolulu Furniture Co-Op building to sell his well-curated collection of found midcentury modern furniture that he has lovingly restored.
Previously, Reyno operated his business online and at pop-up events. By actively sharing his latest restoration projects on Instagram as @hawaii_modern , Reyno garnered a solid following of those who share a love for the minimalist and enduring qualities of midcentury modern design. His energetic social media captions that lace in historical tidbits are not only fun to follow, but also reveal just how stoked he is to work this gig full-time.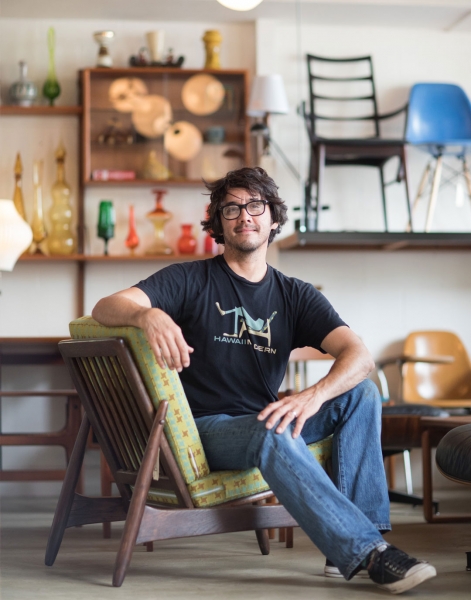 Collecting midcentury modern furniture began as a passion project about 15 years ago, after falling in love with a ranch-style home he bought in California before relocating to Hawaii. His love for its architecture grew into an appreciation for the entire design era, which includes the furniture.
"It's easy to make a piece of furniture that has a lot of embellishment—throw a bunch of stuff on it and make it fancy," says Reyno. "But it's really hard to make something aesthetically pleasing and functionally pleasing using the bare minimum. I think the greatest designs are the ones that are the most with the least."
With no prior schooling or training on restoring midcentury modern furniture, and not knowing anyone who could do it, Reyno utilized his ability to work with his hands from his welding background to teach himself in order to salvage pieces. "I enjoy the process of taking a problem, whatever that problem may be, whether it's a veneer issue or matching a finish or whatever it is, and solving the problem," he says.
Hunting around garage sales, estate sales, Craigslist and even knocking on doors, Reyno finds midcentury modern pieces that were brought to Hawaii and left behind from visitors and newcomers during the building boom of the postwar era. "There are so many cool pieces here that somebody needs to save them," says Reyno. "And I love doing it." Recently, he started bringing in pieces from other places, and also gets help from people who follow him.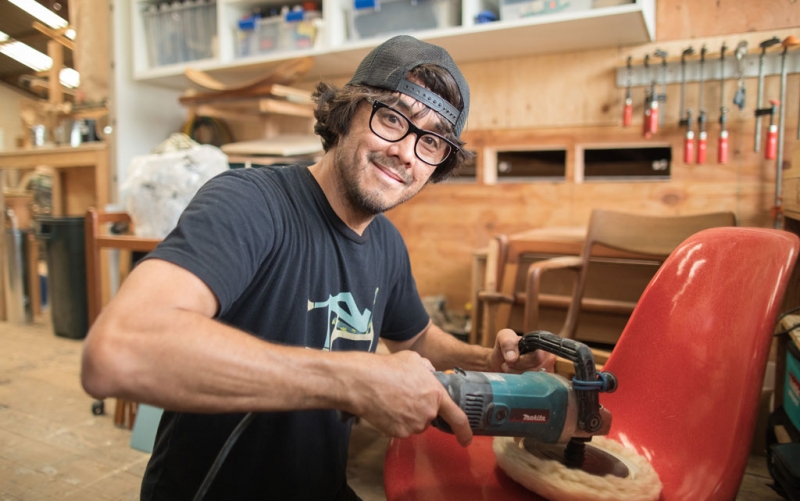 "If it's a cool piece from a designer I like, even if it wasn't the best of his designs, I'll still [restore] it just because I like learning about the joinery and how that designer built a piece," he says. "That's another really cool thing about deconstruction and putting these pieces back together. You learn a lot about how they did it and why they did it, which I think is really fun from a technical standpoint."
In a time when it seems a resurgence of this style is emerging and corporate companies are creating knockoffs and look-alikes, Hawaii Modern offers authentic midcentury modern pieces. "People are making new furniture, calling it midcentury pieces and it can't be," says Reyno. "It's like calling a new piece antique. It's just not."
With a physical shop location, Reyno enjoys more face time with customers, people who are also passionate about midcentury modern design. "I want to show people you can put really cool pieces in your house," says Reyno.
He also hopes to spread some awareness about preserving the pieces. "The more people know, the less pieces are going to end up in landfills," says Reyno, mentioning that when he finds pieces at garage sales, they may have been one step away from being thrown out.
And more than that, he hopes people will enjoy the restored furniture for many more years. "It's fun to live with pieces that make you happy," says Reyno. "We all work so hard, so it's nice when you're home to be able to enjoy the space that you have."
Hawaii Modern
527 Cummins St., Honolulu
Tuesday through Friday, 11 a.m. to 5:30 p.m.
Saturday, 11 a.m. to 4 p.m.
Also available by appointment by calling 808-728-2040.