Hawaii's Building Industry Dream Teams
Hawaii's top contractors, architects and developers have built their companies with our dreams in mind.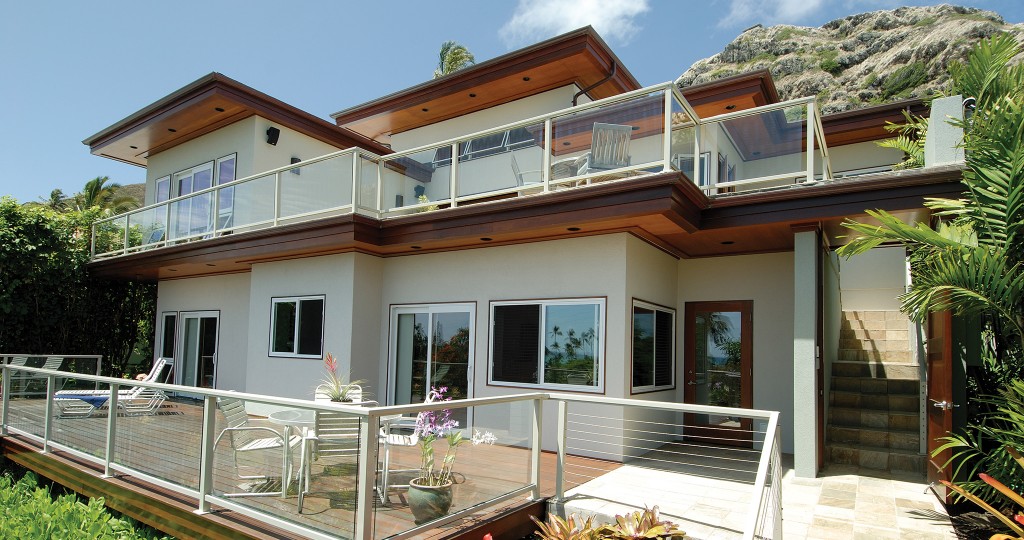 Hawaii's top contractors, architects and developers have built their companies with our dreams in mind. Read on to find the perfect team to make those dreams realities.
Green Sand Inc.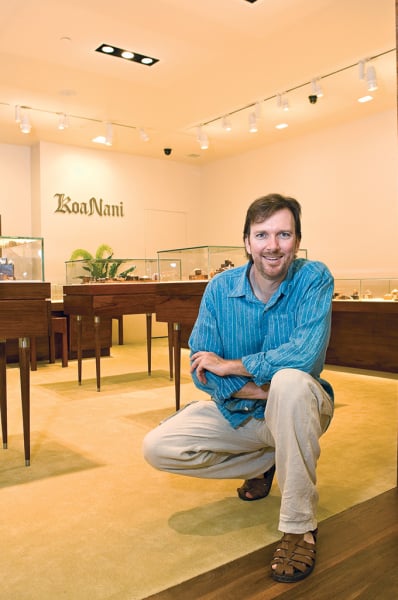 Green Sand Inc. is one of Hawaii's premier green architect and design firms, thanks to its core team of LEED Accredited Professionals, who share a passion for sustainable design. "We are a great team that believes strongly in team work. We often find that the most challenging projects can become our most treasured designs because they encourage all of us to think outside of the box," says company president Matt Goyke.
Goyke leads the team with 18 years of experience in planning, architecture and interior design, plus five years of experience as a construction manager. He is joined by Rhonda Goyke, Green Sand Inc.'s vice president and environmental specialist. Other team members include senior project manager Steven Gangwes and designers Morris Onishi, Ethan Levine, Katie Coffman and executive assistant Chiara McGowan. This year, the company celebrated its two-year anniversary.
My specialty:
Green Sand Inc. specializes in providing green and creative design solutions and Leadership in Energy and Environmental Design (LEED) consultations. For each design, the company strives to optimize the natural environment to maximize and improve the quality of life for individuals and communities.
My inspiration:
"Lately, I have been really influenced and inspired by the natural resources that are available to all of us here in Hawaii," says Goyke. "The sun, the wind, the rain—these are all resources to be harvested and optimized. These are not problems to be solved and disposed of. Even waste water and solid waste should be viewed as resources to be treated and recycled and reused."
What I like about building in Hawaii:
"The environment, the history, the culture, the climate, the wind, the land, the ocean and the natural beauty. There are few places on Earth with qualities like Hawaii. There are so many influences and opportunities from a design point of view. By incorporating the history and its essence with innovative design, we can come up with something unique and truly beautiful."
The current home building trends:
"A lot of people are trying to be as green as possible when building. Specifically, we see a lot of interest in indoor environmental quality. We spend a lot of time indoors, even in Hawaii. We have even seen some interest in residential-scaled wind turbines."
900 Fort St. Mall • Pioneer Plaza, Suite 1710 • 457-1360 • www.greensandinc.com • LIC # AR-7762
Stanford Carr Development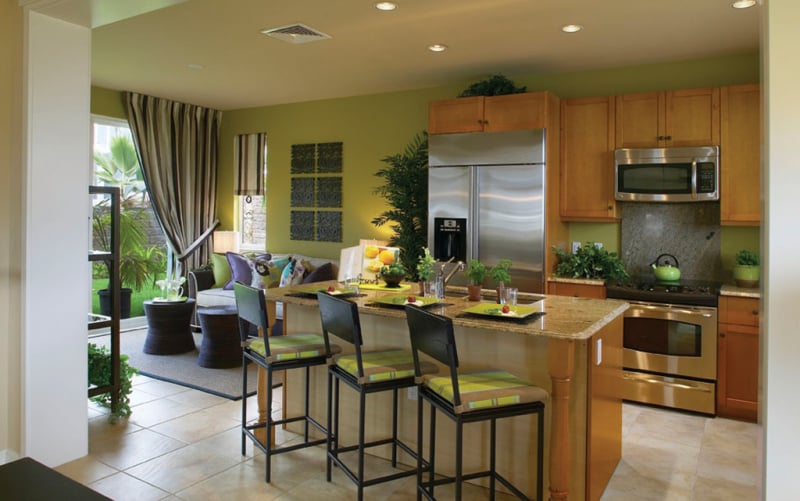 Developer Stanford Carr began his career raising bell peppers on his farm on Maui. "I sharpened my skills and developed a vision of Island communities inspired by the cultural diversity and physical beauty of Hawaii," Carr says.
Today, the expert touch of Stanford Carr Development is evident throughout the Islands. With 18 years of experience and more than 20 new, carefully planned developments added to its roster of residential home sites, the company is becoming synonymous with Hawaii home ownership. Stanford Carr boasts more than 30 employees on Oahu, Maui and the Big Island, with expertise in architecture, planning, zoning and permitting, community relations and construction management.
My specialty:
Since it was founded in Honolulu in 1990, Stanford Carr Development has become an acknowledged industry leader in creating distinctive and successful communities through site planning, diversity in architectural design and product types, environmental sensitivity and the use of cutting-edge technology and building materials.
What I like about building in Hawaii:
Hawaii architectural style is an "amalgamation of our interpretation of historical influences," says Carr, such as the Moorish/Mediterranean, mission, tropical and Asian influences. All of these styles can be seen interwoven into his designs, he says.
How we make each project unique:
"Our company features a wide range of skills and capabilities, as well as a thorough understanding of our community and market," says Carr. "This gives us flexibility in designing and developing products for every market, from affordable housing to the most upscale of designs."
My place in our community:
"Giving back to the community is a core value of my corporate philosophy," Carr says. He is a trustee of the University of Hawaii Foundation, and he sits on the Board of Directors for Enterprise Honolulu, the Hawaii Theatre for Youth and Youth at Risk. He's been actively involved with the Building Industry Association, Hawaii Chapter, as well as our state government.
1100 Alakea St., 27th Floor • 537-5220 • www.stanfordcarr.com
Concept 2 Completion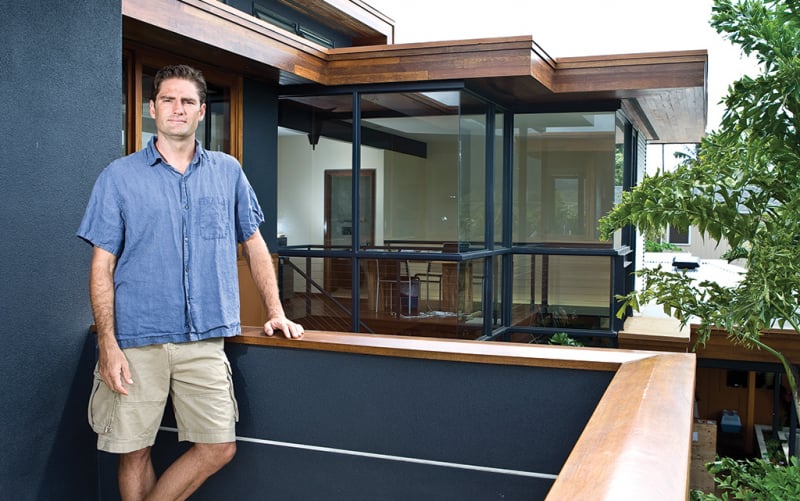 Karl Mench, of Concept 2 Completion (C2C), doesn't like to sit in an office. He realized this while working for a prominent, local architecture firm after his graduation from the University of Hawaii at Manoa School of Architecture. He spent his weeks at his desk, dreaming about the weekends when he could be on site at his latest renovation project. "I knew I was happiest when I was involved in the whole process. That evolved into the design/build concept—the architect and designer actually being the craftsmen," Mench explains.
Adding to his education, Mench spent his summers working construction, learning all the trades. This led him to start his own company in 2001. Today, C2C remains committed to their version of the design/build concept, with lead associates Michael Nelms (architect and builder), Mark Mench, Kai Santos and a team of eight other craftsmen.
Our specialty:
"Finding new ways to define spaces," says Mench. "Innovative, modern architechture. Our goal is to create interesting architecture that is both interactive and exciting, through the use of unique detailing and materials." The team achieves this in three ways. First, they open rooms in the home, making them less secluded. "We incorporate a lot of glass and many open spaces. The idea is to erase the line between the house and its exterior," says Mench. C2C achieves this blend with architectural elements that flow from inside to out, such as walls and water features. Then, they focus on details, crafting everything from windows to doors with the precision that comes from both passion and expertise. Finally, the team experiments with materials, often finding new purposes for reclaimed items or developing new applications for materials intended for a different purpose altogether.
What I like about building in Hawaii:
Mench's architectural objectives are attainable, thanks to Hawaii's natural beauty. "I love to build in Hawaii's mild, natural climate. We take advantage of the breezes, views and unique design site features and gardens."
The design/build process:
"Homeowners and designers can't always envision the home that is sketched on paper. It isn't until construction is underway that they begin to get a feel for the final product," Mench says. So while he and his team still plan on paper first, their unique design/build strategy leaves plenty of room for change. "The ideal design/build for us is about getting a big start on the planning," Mench says. "But the design doesn't end at the point that the construction starts. Design continues through the whole process. The unforeseen uniqueness of each site presents new opportunities. Sometimes, it's moving windows or door locations to capture a certain view, sometimes it's moving the bulding to work with the site conditions."
What I enjoy the most about the process:
"I enjoy the whole design/build process, but breaking ground after months of drawings is always a lot of fun."
261-8384 • www.c2c-builders.com • LIC # GC-25447
HK Construction Inc.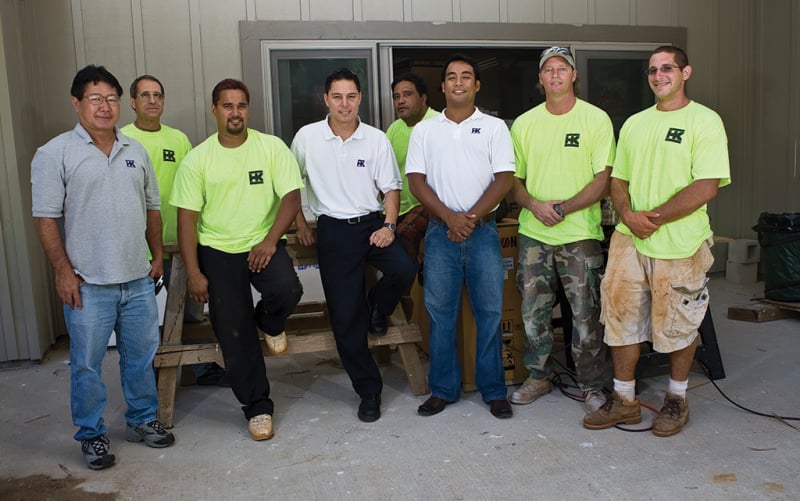 HK Construction Inc. takes the term "family-business" to a whole new level, with four generations in the Hawaii home-building industry. "Our experience starts with my great-grandmother, who passed the business down to my grandfather, to my father and then to me. We love what we do, which in turn, makes us good at it," says vice president Harry Kim III.
Our specialty:
Design/build consultant Kenny Capsa describes the team as loyal and passionate, with a talent for building relationships with homeowners. The diverse team is composed of a variety of skilled workers, including foremen who create custom designs from blueprints and journeymen carpenters who execute jobs with swift efficiency.
What we like about building in Hawaii:
Kim loves getting down to the design and planning portion of the project. To be able to accommodate the needs and dreams of a family is extremely gratifying, he says. "I love being able to deliver something that improves the quality of one's life."
Capsa adds, "Letting nature be part of the home, because Hawaii is known for its outdoors. The people of Hawaii love to spend their time in the backyard, while knowing they are still safe at home."
905 Factory St. • 841-1800 • www.hkchawaii.com • LIC # BC 25837
Homeworks Construction Inc.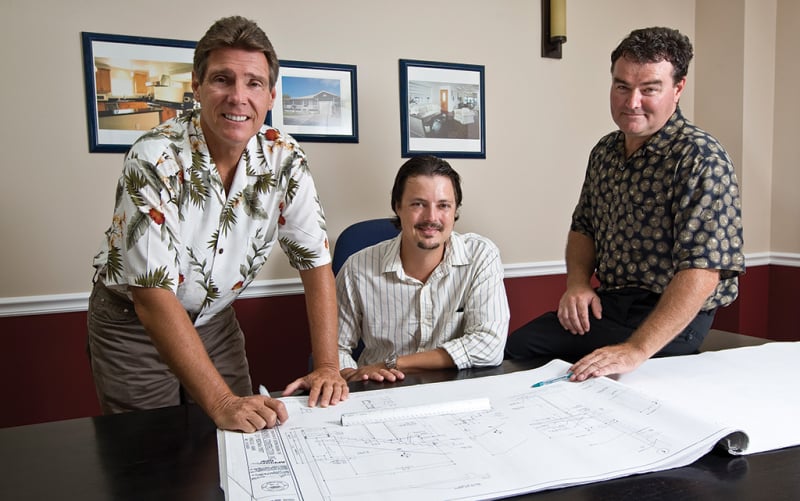 When company president and CEO Jim Byxbee began Homeworks Construction in 1994, his vision was a complete design and build team dedicated to building environmentally conscious, affordable, custom homes. He teamed with Silvio Boucher and Marshall Hickox, who have fostered this philosophy by staying at the forefront of "everyday" green building. "We didn't just start thinking about this," says Hickox. The proof? The company's multiple HECO Energy Value Housing Awards, including the inaugural award in 2001.
What's new with Homeworks:
"The new office location features a showroom where we can educate our clients to the latest trends in building materials," says Hickox. "We offer three cabinet lines and display a variety of the most popular countertops, flooring, lighting—everything you need to be up to date on what's available for a new custom home or remodel."
Our specialty:
Affordable quality and service. "Our clients benefit from services of in-house kitchen and bath designers and architects, project managers and permit specialists," Hickox adds. Plus, Homeworks controls quality by doing its own site and foundation work and employing its own concrete, painting and finishing crews. The company even keeps its own construction machinery.
What inspires us:
"Anyone who is in this business for the long haul has to be passionate about building," says Hickox. "Providing a place for people to build their own memories, raise kids, grow old, is a very satisfying experience."
2111 S. Beretania St., Second Floor • 955-2777 • www.homeworkshawaii.com • LIC # BC-20040
H. Pacific Construction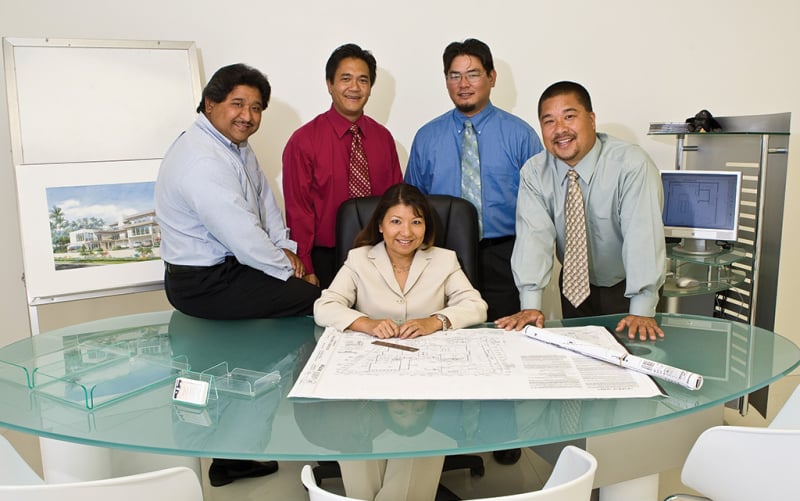 H. Pacific Construction owner, Scott Horiuchi, may have studied biology at Chaminade University, but his passion is construction. He began with a 4,000-square-foot audio studio in 1986 and hasn't looked back. These days, Horiuchi's general contracting company is all about the family, providing a one-stop design/build service. The company's 20-plus employee team is replete with architects, plumbers, electricians, engineers, designers and carpenters. Plus, H. Pacific Construction is an expert in ADA conversions.
"We've been designing homes for families for about five years now," says Horiuchi. "I think our company's biggest strength is the people. Our clients love to work with our people," he adds.
Our philosophy:
Horiuchi explains that his company understands the family dynamic. "We don't approach from the building standpoint, we approach from the client's needs standpoint," he says. "Top to bottom, everyone cares about the clients' best interests first."
The company philosophy of "family first" extends to the job site. The construction crew is friendly, always greeting the homeowners and being careful to remove their slippers before entering the home.
Our specialty:
"Our specialty is building for children and families first. We have built several buildings for childcare providers, so we know when something is functional, unsafe or needs to be changed for the children.
We build the house to fit the family, so that the family doesn't have to just fit the house," Horiuchi says.
The company designs its kitchens to also function as offices, and new bathrooms where children can learn to brush their own teeth. Thirty-six-inch-high countertops are hard for children to reach. H. Pacific can build bathrooms where the sinks are accessible, so your house won't be full of step-stools for years.
What we like about building in Hawaii:
Hawaii is a very family-oriented community. Parents will do almost anything for their children. H. Pacific has been teaching homeowners that this philosophy can extend to building their dream homes.
When building those homes, Hawaii's diverse climate—dry, damp, hot and cool (sometimes within the same yard!)—requires builders to use a wide range of materials and practices. "A company can't be great at just one thing, it has to be really good at it all, if we want to be able to do what is best for the client," Horiuchi says. His solution: surrounding himself with experts in all things construction.
Our inspiration:
"The look on our clients' faces as they move into their new homes. We often become part of their families."

419 Atkinson Drive, Sixth Floor • 943-4343 • LIC # BC-25362
Graham Builders Inc.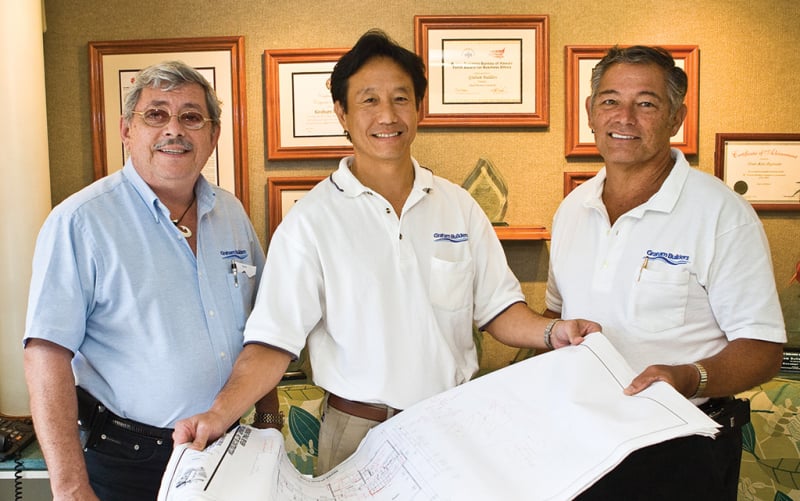 "The Graham Builders team provides homeowners with a single-source remedy to their construction needs. This time-honored approach allows homeowners to place the responsibility of both design and construction of their project on our company," explains company president and CEO, Danny Graham.
Founded by Graham in 1990, the company has grown to 34 employees. "The combination of talent and passion of the staff is what separates this company from the rest," says Graham. The Graham ohana is led by vice president of operations Evan Fujimoto, who specializes in kitchen and residential design, senior design manager Bradley Smith, and senior construction manager Terry Ogimi. The company was awarded the 2007 Better Business Bureau Torch Award for Ethics.
Our specialty:
"Our expertise is building and renovating homes for Hawaii's families and, consequently, we are the leaders in multigeneration home design. We help families combine their resources to build or renovate their homes to provide for multiple generations living together," says Graham.
Plus, Graham Builders' Bonnie Osaki is Oahu's first Certified Aging in Place Specialist (CAPS). She provides her expertise to those who need to modify their current homes so they can live there for a lifetime.
Learn more:
"We educate homeowners at our free monthly Building Your Dream Home Seminar, which provides an orientation to the entire building experience, starting with where to begin, the condition of the land, how to select a contractor and getting financing and ending with designing and building the home." To learn more, visit www.grahambuilders.com.
1144 Young St. • 593-2808 • www. grahambuilders.com • LIC # BC-16446
Hawaii Architecture LLP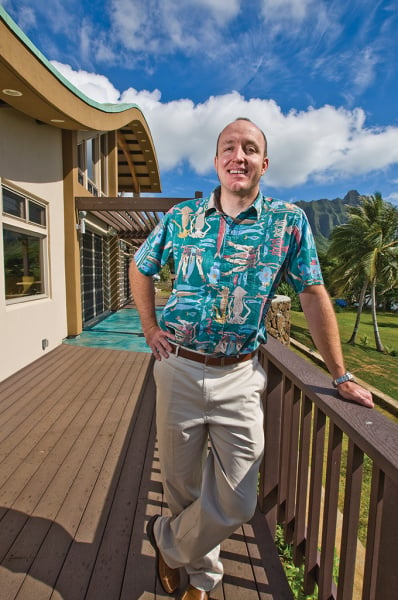 Since 2007, Phillip Camp's team at Hawaii Architecture has offered architectural expertise in custom single-family and mixed-use commercial projects. Camp leads his team with almost 20 years of experience in the field. Two more full-time architects and three consultants round out his crew.
"Our team members all have the strengths that help this firm work as a whole, from contract interior specialists to single-family construction designers," he notes. Camp also wants potential clients to know that they listen. The entire team answers phones and returns e-mails so homeowners know they are engaged. "We really pride ourselves in follow-through and communication."
My favorite part of the process:
"Making things happen in the field. So much of our time as architects is spent dealing with issues such as permitting and contracts. It is always great when ground is broken, and your years of hard work on paper start to come to fruition."
What I like about building in Hawaii:
"The people and the place," Camp says. He appreciates each client's unique local twist on why or how they want to improve their property. The surroundings are great, too. "The place itself is an architect's dream location. The fauna and flora typically grow without much effort at all, and just about every project in Hawaii has some sort of dynamic mauka or makai view. Coupled with the moderate climate, it is a real pleasure to work in the place I was born and raised," he says.
My inspiration:
"I would love to say something ethereal like the 'wind and the sun,' or try to impress you with a list of architectural icons like Pei, Wright or Calatrava, but my real inspiration comes from those who came before me. Be it the architects of Hawaii's historical past, or my parents, I am always inspired by those who worked to pave the way," Camp says.
348 Puuhale Rd. • 721-3411 • www.hawaii-architecture.net
Grand Construction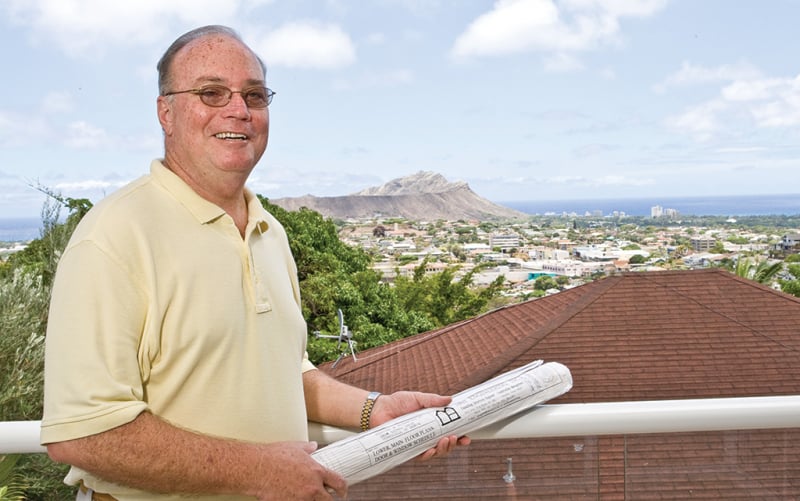 Grand Construction's team is experienced in all aspects of the building process, from design to completion. Homeowners can find experts in kitchen and bath design, new home and remodeling design and interior decorating. Although the company has been building for five years, its management staff has more than 50 years of experience in the construction industry in Hawaii. Mike Mudgett, general manager, has recently added his 30 years of experience in the Hawaii home building industry to the Grand Construction team.
What I like about building in Hawaii:
"I like to make a project blend into the surrounding neighborhood and location, yet still be able to take advantage of the natural resources and terrain available," Mudgett says.
My inspiration:
"My inspiration is the pleasure that comes from seeing one of my projects meet the needs of a family and feeling the joy they get from their new or remodeled home."
Current home building trends:
"The current trend seems to be the growing emphasis on multigenerational needs in a home. However, the needs and desires of each homeowner make every project unique."
565 Kokea St., Unit G6 • 841-2284 • www.grandconstructionhawaii.com • LIC # BC-25030
Precise Measurements Inc.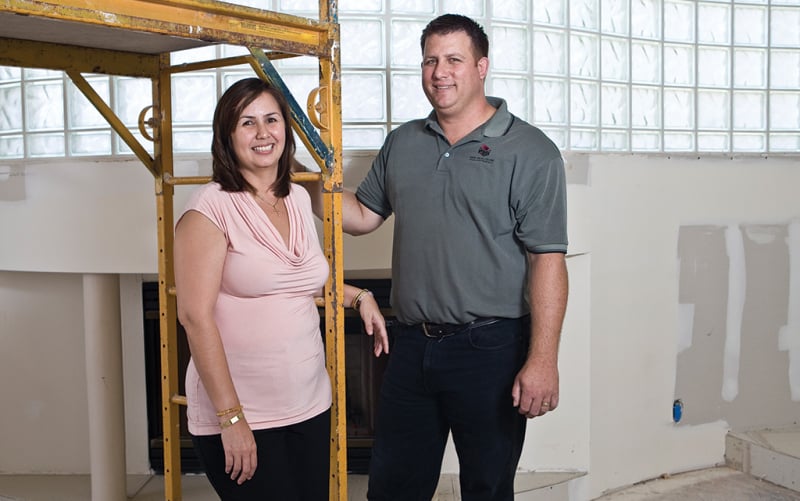 Work and family go hand in hand for David and Misty Wheeler of Precise Measurements Inc. David's 20 years of carpentry experience is the perfect complement to Misty's education in communications. For seven years, the Wheelers and their professional staff have offered customers superb design with attention to detail. "Quality work, honesty, positive attitude and the ability to work as team describes each one of our employees," Misty says.
Our specialties:
"Because we are a small renovation company, all of our team members are skilled with frame-to-finish abilities. Recently, the company has focused its attention on remodeling and renovating, specifically kitchen and bathroom upgrades," Misty says.
This company not only builds homes, they are building relationships. "Our work requires us to intrude into our clients' homes for weeks at a time. We strive to make the entire experience positive. Communication is the key to create and maintain a mutual understanding and respect for all parties involved."
What we like about building in Hawaii:
"The people, our customers. Everyone we have worked with seems to share the common bond of 'ohana.' It is very common that clients will ensure that the refrigerator or cooler is full of cold drinks," says Misty.
The current home building trends:
Great rooms—kitchens that open up to the living room, dining room and/or work/homework areas to connect the family. Spalike bathrooms are also popular. Larger spaces are desirable, but even with smaller bathrooms, just a warm shade of paint and natural stone tile can transform these rooms.
Our favorite part of the building process:
No surprise here, this complete team loves "the complete process, from the initial meeting to returning the keys," Misty says.
634-1 Kilani Ave., Wahiawa • 622-2215 • www.pmibuilders.com • LIC # BC-23761