The High Style of This Hawaii Loa Ridge Home
The designers at The LOFT at INspiration Interiors provide insight into furnishing a home.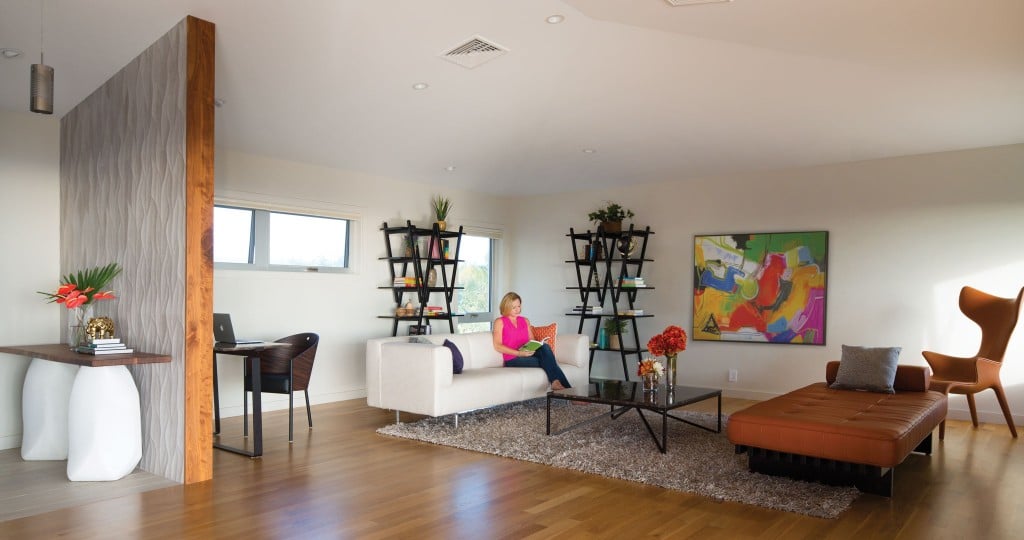 A modern house on Hawaii Loa Ridge built by Barker Kappelle Construction provides a perfect canvas for the designers at The LOFT at INspiration Interiors to furnish with carefully curated pieces from its extensive collection of designer furniture.
"We dreamt up a resting space for the global world traveler," says Emily Sewell, managing captain and designer at The LOFT at INspiration Interiors. She and fellow designer Asairet Campos selected furnishings for the house, shown here and also in the article, "Living on the Ridge," starting on page 42.
The design duo add a touch of classic sophistication with bold and innovative furnishings. "Most of these items are iconic by reputation and are inspired by design developments throughout modern history," Sewell says. "In this space they create a conversation with the open space of the interior allowing a layout for a fun, fresh and relaxing environment."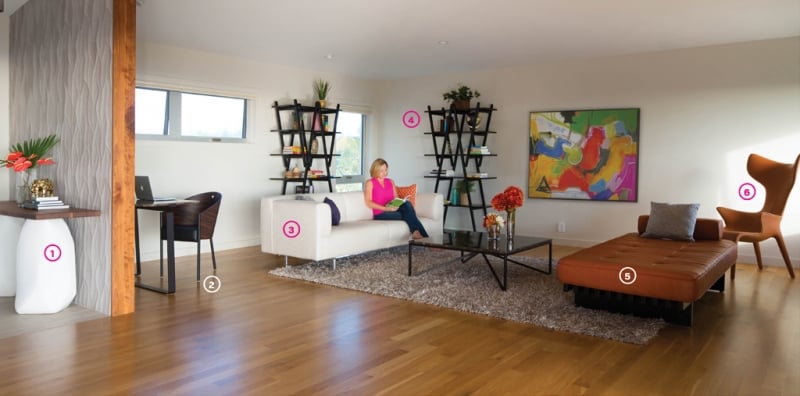 Get the Look from The LOFT at INspiration Interiors
All furnishings in the Hawaii Loa Ridge home, including the ones shown in this photo, were hand-selected by designers Emily Sewell and Asairet Campos at The LOFT at INspiration Interiors. Visit The LOFT and bring these pieces into your home.
1. Cattelan – Rapa Nui Console, designed by Oriano Favaretto. A walnut and cement console table selected to complement the fluidity and organic shape of the tile accent wall, which represents water.
2. Driade – Costes Chair, designed by Philippe Starck. This chair is structured with an embracing back in a dark-colored wood. It is an excellent choice for dining, office or corner seating.
3. Cassina – Met Sofa, designed by Piero Lissoni and S. Soak Kim. The pure, simple form of the sofa has a removable fabric upholstery and is made with a steel frame, polished aluminum feet, polyurethane foam and polyester padding. It offers a structured yet comfortable spot to curl up with a book.
4. Cassina –  Nuvola Rossa, Masters Collection, designed by Vico Magistretti. Folding bookcases offer display options for books, plants and collectables. "The Nuvola Rossa acts as a focal anchor to the long and open kitchen and living space," Sewell says. "The pair acts as a podium to remind us of the importance of objects and the special decorative touches that make a home, home."
5. de Sede –  Day Bed. "We wanted to include a pop of color and sophistication," Campos explains. The day bed has patchwork and a back cushioning.
6. Driade – Lou Read Armchair, designed by Philippe Starck. The armchair provides comfort through its perfect ergonomics and is entirely covered in hand-stitched leather.