Hokuahi Lawns designs a Makaha backyard oasis
An oceanside backyard becomes a relaxation destination.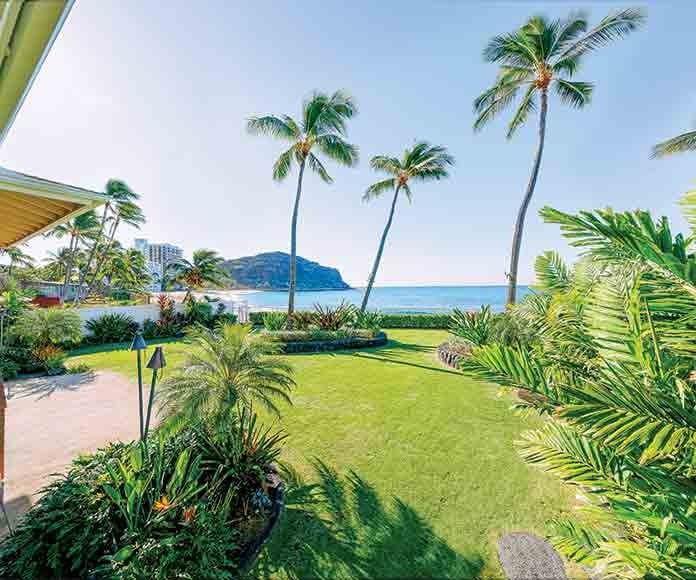 Morning light casts a warm glow onto a lush backyard in Makaha, where coconut trees sway gently in the balmy air. The shimmering cerulean water along Oahu's leeward coast is just steps away, oftentimes revealing sea life such as turtles, whales and monk seals.
"Everybody that comes, they're really amazed," says homeowner Manuel Madeira. "The first thing most people say is that they feel like they're in a resort because of the landscaping, the backdrop of the ocean and Mount Lahilahi."
Not too long ago, however, the backyard was covered only in dirt, sand and a few patches of grass. After calling different landscapers, Manuel and his wife Victoria chose Gary Shinn of Hokuahi Lawns. "From the beginning, the communication was always there," says Manuel.
Victoria, who was born and raised on the leeward side, and Manuel, who has lived there for years, wanted their landscape to represent the Hawaii spirit.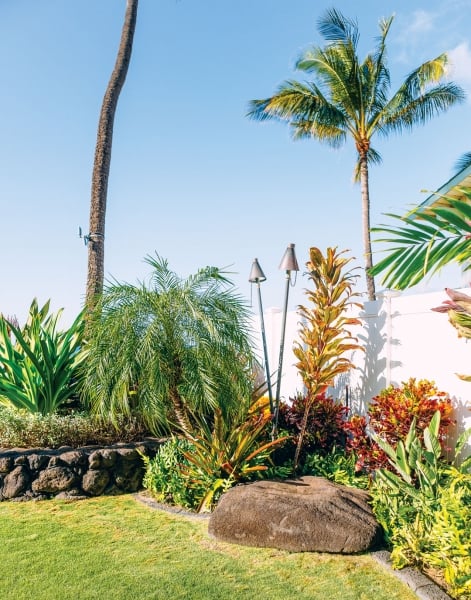 With the exception of the existing coconut palms, the area was cleared out. Ferns, palms, bromeliads, bird of paradise and other native and tropical plants were planted. The couple also wanted edible plants and herbs for cooking, so a small garden with chili peppers, lemongrass and oregano was planted at the front of the house.
Because of the oceanside location, using saltwater-tolerant plants was necessary, like the naupaka plant lining the fence along the beach. The plant also acts as a wall, providing privacy from the occasional beachgoer.
The once plain outside shower that uniquely provides hot and cold water was beautified with artificial rock coverings that blend in with the rest of the landscape. Macarthur palm trees planted on both sides provide a natural concealed enclosure for showering after playing at the beach.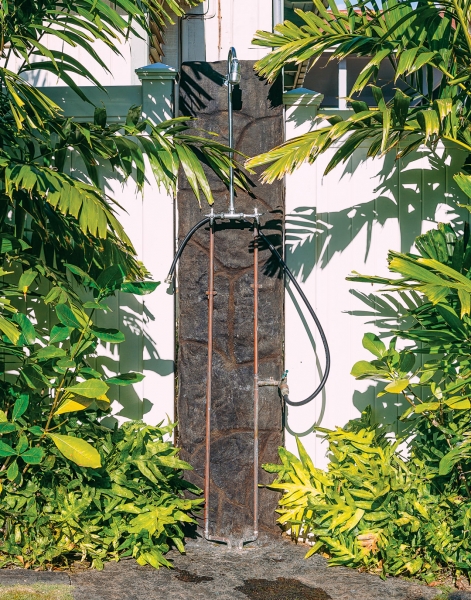 The couple often entertain their children and grandchildren, roasting marshmallows in the backyard; they also invite friends for cooking and dining alfresco. So Shinn created natural seating throughout the yard. "We made some big rock areas where people can go out and sit by the tiki torches," says Shinn. "And sitting areas were created completely around the palm trees."
A lighting system was installed to shine light up at the palm trees and into planters to enhance the landscaping in the evening.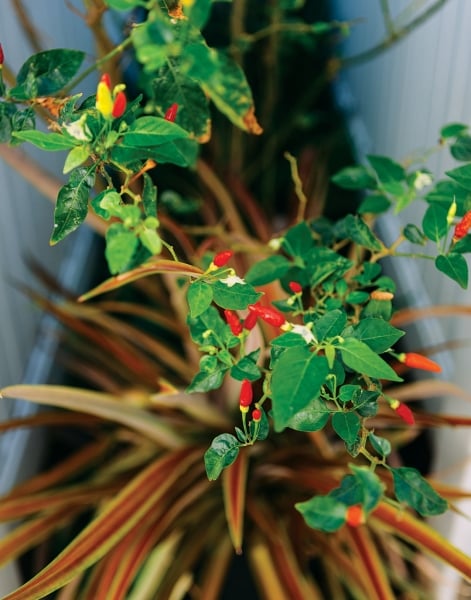 "We usually have another couple over and listen to some Hawaiian music," says Manuel. "We have some cocktails, bring the grill out, do some outdoor cooking and have dinner out here watching the sunset. It's nice. It's comfortable. It's relaxing."