Home Sweet Home Spotlight: Off the Rails
Build-out bliss with Feeney DesignRail®.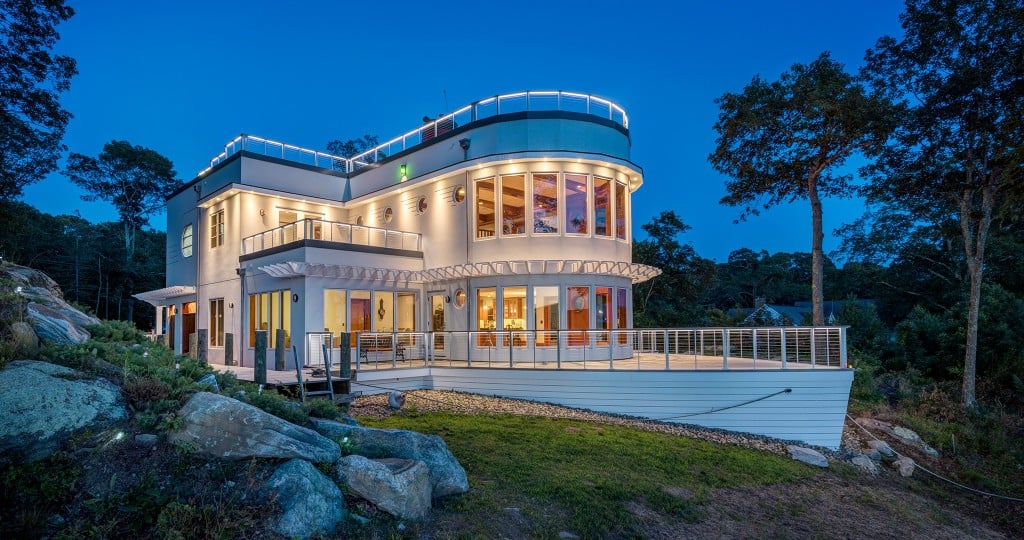 Marrying spirit and functionality can be a tough task, especially when trying to manifest one's dream home into a reality. A home is more than just any other construction project, after all. It's the center of one's life, a space where usability, aesthetic and heart and soul merge perfectly—all within available budget and space parameters.
No easy ask, right? That's why we love seeing magical end results from projects that hit all the right notes, providing solid inspiration for build-out success. One such project is this gorgeous Connecticut "boat house," a playful space with quintessentially personal touches that break molds and showcase some very creative problem-solving, all while adhering to one simple truth: Make it work.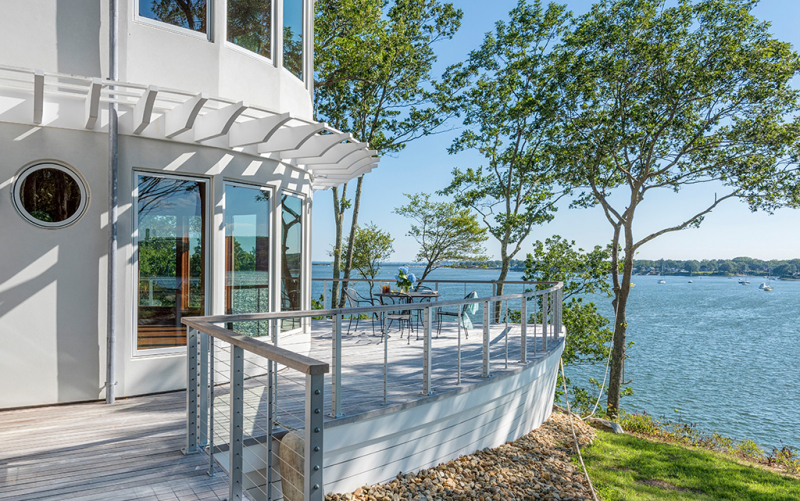 The home, designed to resemble a steamship from the 1920s, is built on a cliff and features a sweeping river view. It comes complete with multiple tiers of decks, including a curved top deck, as well as a climate-controlled underground garage for the owner's collection of cars and motorbikes—a truly personal passion project. When experienced contractor Jonathan Laschever came on board to help bring the owner's unique vision to fruition, he knew selecting the right materials would be a key factor.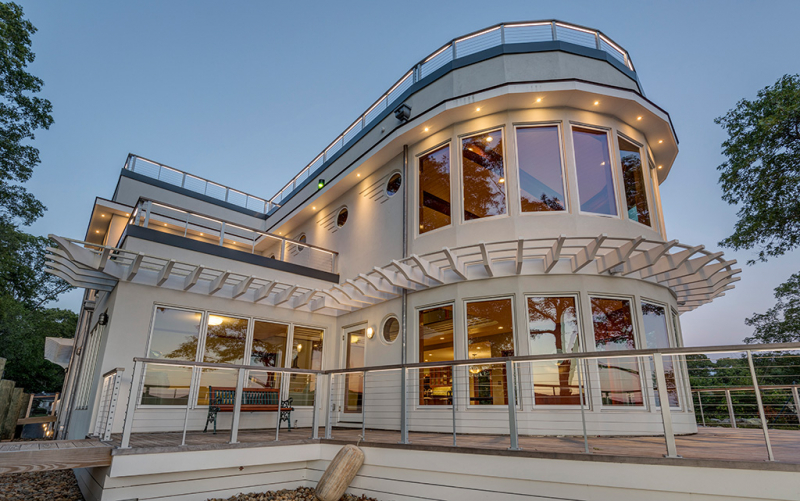 Enter the Feeney DesignRail® system and Feeney's design engineers. Laschever worked directly with the team to craft an elegantly minimal set of railings with a contemporary aesthetic that keeps views clear and unobstructed, and follows the curving, boatlike silhouette of the home. Explains Laschever, "Absent an architect or interior designer, I had the responsibility of developing a cohesive design and coming up with detail after detail that would be evocative of a luxury yacht, yet not detract from the livability of the house." As part of the design process, Laschever did significant research on luxury and vintage boats, which inspired him to create custom elements such as porthole window casings and an adapted boat console on the upper interior level that controls lights and horns.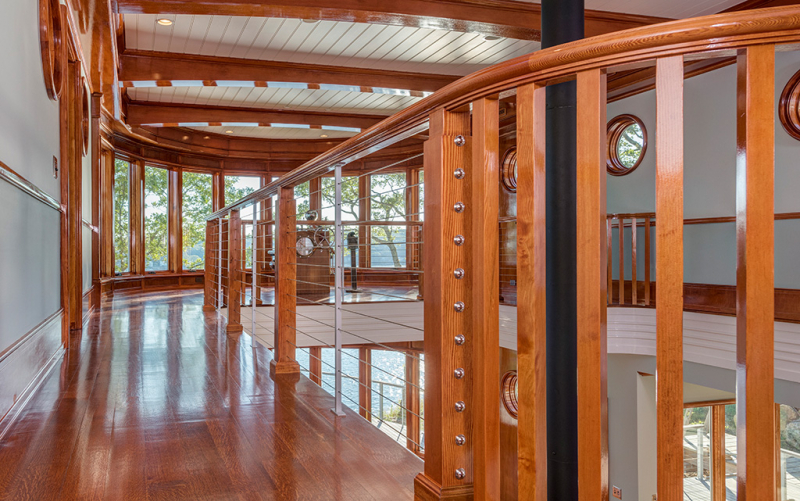 To finish it all off and highlight the silhouette of the home at night, Laschever installed Feeney's LED under-rail lighting on exterior railings to create a beautiful evening ambiance with a finished look. "Feeney offers a variety of profiles for its railings, which enabled me to design and execute a railing solution that truly complemented the home's distinctive design," says Laschever. Made with wood and Feeney's CableRail infill, the railings provide a perfectly vintage feel that accentuates the period look of the home.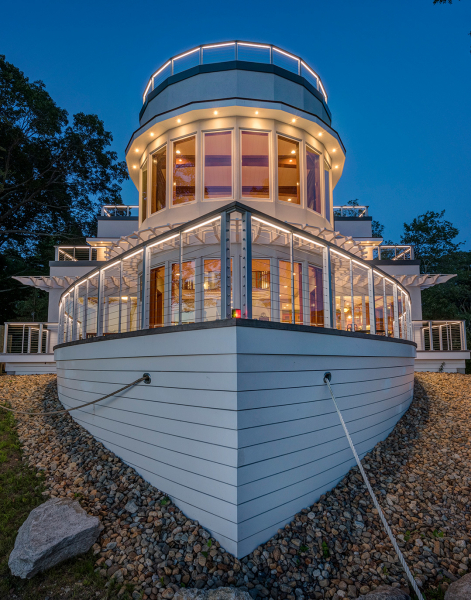 Laschever also recognized how important it was to work with the home's surroundings. That included, of course, maximizing the breathtaking river view and selecting deck railings that would not impede the expansive vistas. It also meant looking for materials that could withstand exposure to the elements of a waterfront setting. Feeney's ultra-durable railings are made from 6000 series aluminum, with an AAMA-2604 powder-coated finish. "The railings won't rust, peel or require painting, even in more challenging climates," says Feeney's director of retail and product marketing, Praveen Sood.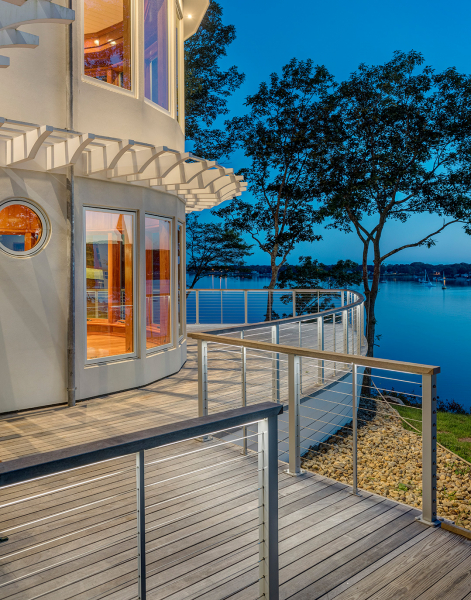 While the project was a massive undertaking—three years in the making—it provided equally massive returns that showcase "outside of the boat" creativity and exquisite custom work, thanks to Laschever and Feeney. To future renovators, Sood has some advice: "Have fun! Railings are a big project to take on, but with all of the different materials available these days, the options are practically limitless. So feel free to dream."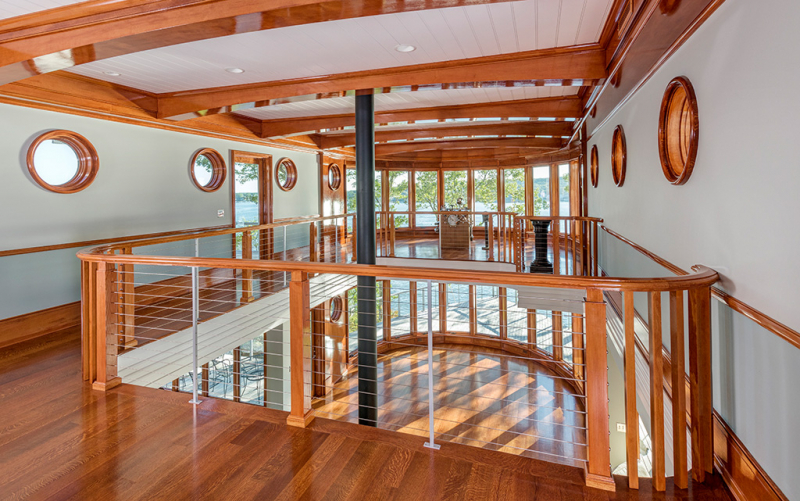 The boat house may be across the country, but it offers a wealth of aesthetic inspiration for ocean-loving Hawai'i homeowners who want to make their own home projects stand apart from the crowd.
Make it your own
"The options are wide open," says Sood. Keep your project personal with a clear, unique vision that showcases your wants and needs, while also making a distinct statement.
Find the right partners
Once you have your plan, enlist the right people to make that vision come true. Feeney specializes in both custom work like the Connecticut boat-house project, as well as ready-to-go railing systems that are quick and easy to install.
Maximize your assets
Why shut out paradise? Keep your space feeling open and free by choosing materials that will bring the beachy or tropical vibes within. Feeney's versatile, unobtrusive railings are ideal for maintaining vistas and letting your outside space shine—from mauka to makai.
Think long-term
Invest in materials that will go the distance. Because Feeney railing products are made from high quality powder-coated aluminum and marine-grade stainless steel, you'll be doing your future self a favor by keeping your maintenance—and headaches—way down.
To learn more about Feeney's railing solutions, visit feeneyinc.com.