Homeowners Design Center answers your questions about open-concept kitchens
Is your kitchen feeling small, cramped or outdated?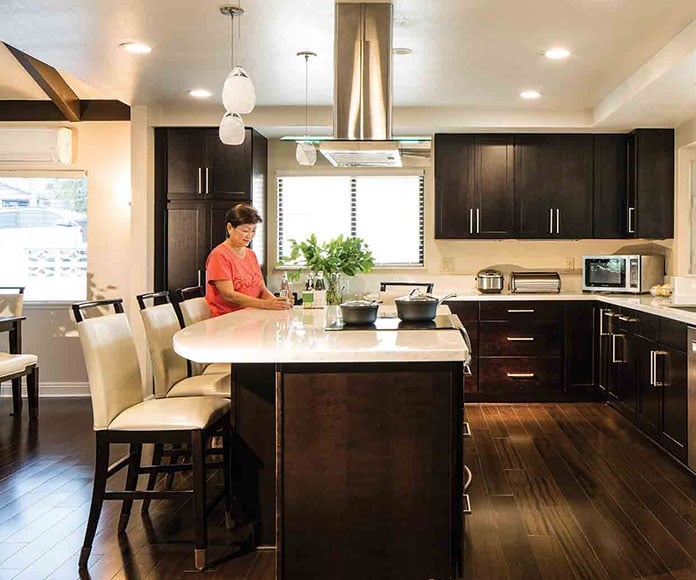 Is your kitchen feeling small, cramped or outdated? Randall Omoto, sales manager at Homeowners Design Center, shares expert advice on creating an open-concept kitchen in your home.
"Whether you're building or renovating a home, an open-concept kitchen is a great return on your investment," says Omoto. An open-concept kitchen turns the home's shared common spaces, such as the living or dining areas, into a "great room" and invites greater participation from guests during gatherings. Open-concept kitchens are also excellent showcase spaces and allow hosts to multitask while entertaining.
"Flooring in a great room is the biggest thing you end up seeing. We recommend choosing your flooring first, then selecting your countertops and cabinets."
-Randall Omoto, Homeowners Design Center
Converting a closed kitchen into an open-concept kitchen may seem simple in theory, but it's not without its challenges. "Most local homes were built before open-concept kitchens came into vogue," says Omoto. "We see a lot of single-wall construction homes that have been enclosed over time — where exterior walls are enclosed and become interior walls." These types of homes can present structural challenges when owners want to take down enclosed exterior walls that are supporting the frame or the second story of the home. Exterior windows, lighting and available wall space are other considerations for owners interested in open-concept floor plans.
The designers at Homeowners Design Center are experts at converting enclosed kitchens into open-concept spaces. Omoto and his team offer free consultation and design services to clients, with no strings attached. This service is different from other design-build firms because clients are not obligated to buy anything after the design is created. Clients are welcome to outsource or use other providers if they choose to at any point during their kitchen remodel. This gives homeowners greater flexibility and may help them cut costs.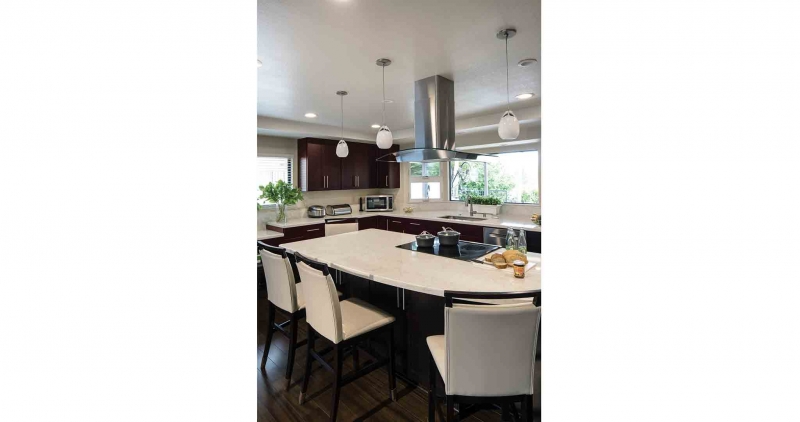 Homeowners Design Center offers consultations within the home to assess a variety of subtle factors not readily apparent to homeowners. The designers assess how light filters through the house throughout the day, and how that will change when walls come down. This can affect window placement, window coverings and glare on entertainment centers. The designers can also identify privacy factors and lack thereof; can passers-by see into the home without this wall?
Homeowners Design Center uses software that allows the firm to provide 3-D models of the kitchen with finishes like flooring and lighting. After selecting the design and defining the scope of work, clients choose their materials, general contractors and labor. Homeowners Design Center sends three general contractors to bid for each project, allowing homeowners to choose whomever they are comfortable with. This design-build process creates a competitive model for home renovations and helps clients get the best price. It also allows for continuity of the project if contractors or materials change during the renovation.
Once homeowners have decided upon an open-concept floor plan, it's time to select the finishes. "Flooring in a great room is the biggest thing you end up seeing," says Omoto. "We recommend choosing your flooring first, then selecting your countertops and cabinets. Ask yourself how much contrast you want between the surfaces and go from there. It's best to use the same flooring throughout the great room for visual continuity." Homeowners Design Center is a licensed floor installer and offers hardwood, tile and carpet. "We encourage clients to take a sample home with them and to live with it for a while before making their decision. It's a
big commitment."
Lighting is another element that can greatly affect an open-concept kitchen. "When you take down walls, you're left with exterior windows illuminating the interior of the home, especially in a smaller space," says Omoto. "If the room has a greater volume of light, you may choose to go with darker floors." Homeowners Design Center's software helps clients develop and visualize a lighting scheme with can or accent lights, creating a highly detailed model of the room before the walls come down.
Homeowners Design Center
1030 Kohou St.
847-0216
homeownersdesign.com