Homeowners Design Center is Your Expert For Open-Concept Kitchens
A team with the knowledge and know-how to give you the kitchen you want.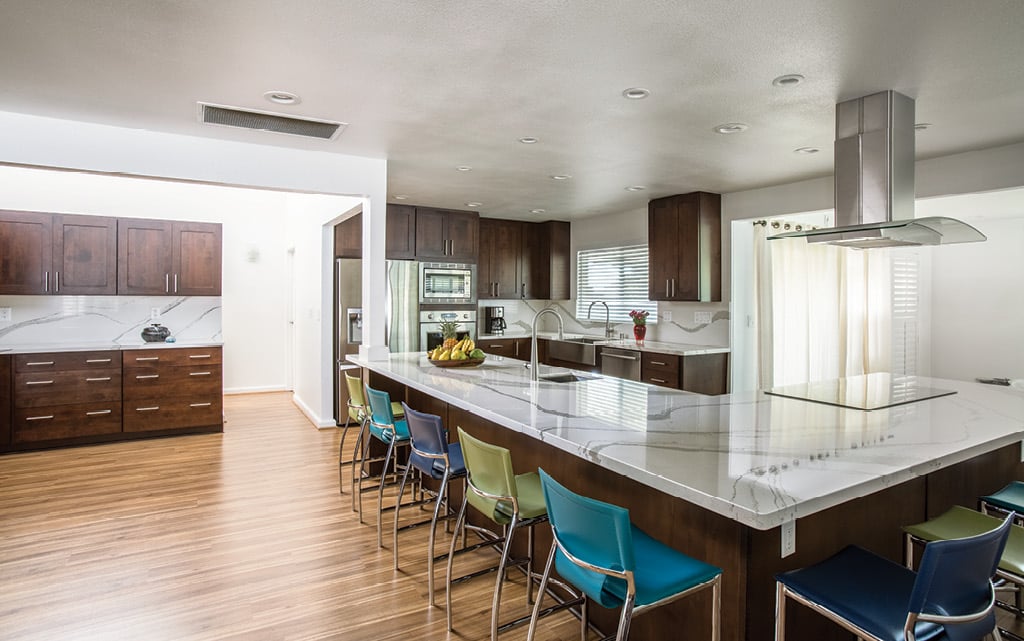 In a place where we value ohana, an open-concept kitchen seems like a no-brainer. Converting a home's shared common spaces into a great room allows family and friends to come together in one large shared area. Many local homes were built long before these kinds of spaces began trending, but the team at Homeowners Design Center has the knowledge and know-how to design these conversions and provide you with the open-concept kitchen you want. "Whether you're building or renovating a home, an open-concept kitchen is a great return on your investment," says sales manager Randall Omoto.
In this Mililani home, says project manager and design consultant Jessica Omoto, "They wanted to open up the space to create a great room to entertain a lot of people." She figured out a way to create this new kitchen by opening two walls and working around a support beam that could not be removed. Keeping the beam and incorporating everything around it to make it seem as though it's part of the design was no easy task, but Jessica Omoto made it happen. Everything — including appliances and plumbing — had to be moved and reconfigured. But in the end, the happy homeowners had the completely revamped open-concept kitchen of their dreams.
Prep Sinks
Jessica Omoto recommends incorporating a prep sink into open-concept kitchens. It's helpful to have a secondary sink, especially with multigenerational families.
Must Haves
Finding one "have to have" is helpful, she says. Whether it's a type of flooring or countertop, it provides a starting point.
Overcoming Obstacles
Obstacles are inevitable in a remodel; Jessica Omoto stresses the importance of making everything in the room look as though it's part of the plan.
Homeowners Design Center
1030 Kohou St., Honolulu
(808) 847-0216
www.homeownersdesign.com