Honolulu Rail's Role in Renewable Energy
The state's largest electric vehicle is projected to reduce car commutes by 40,000 per week.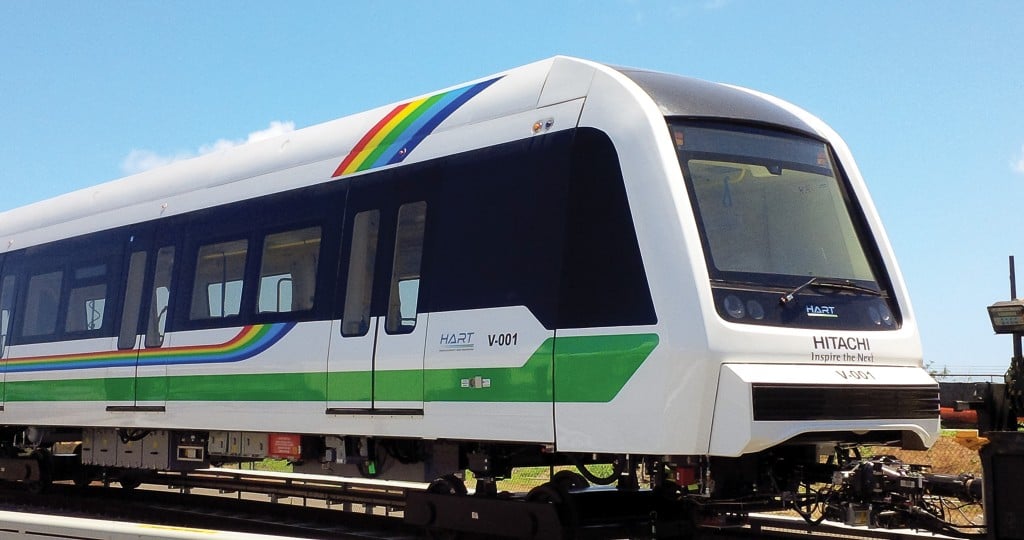 Once remaining rail tracks are laid and the system is energized, Oahu's largest electric vehicle — expected to eventually carry up to 120,000 passengers a day — will travel approximately 35 feet above the island's highways.
By the end of 2025, Honolulu's rail system is projected to span 20 miles with 21 stations. The Honolulu Authority for Rapid Transportation says the first half of the rail project's 20-mile route will be online by the end of 2020. "We're planning to open the first 10 miles of our system in the western part by the end of the year," says HART executive director Andrew Robbins. The entire route is scheduled to be laid and fully operational by the end of 2025.
Robbins says when the rail goes into full service from east Kapolei to Ala Moana Center, projected ridership will amount to roughly 120,000 riders every weekday.
"In one swoop we're going to have 10 times that number," Robbins says, referencing the more than 10,000 electric vehicles registered in the state. "All of (our riders) will be in an electric vehicle, just like that."
According to HART, each four-car train will have room for more than 800 passengers, equal to the ridership of more than 10 buses. Robbins emphasizes projections that the rail will take 40,000 cars off Oahu roads every week by 2030.
According to HART, the completed rail will help reduce most residents' daily commute times by 11%.
Cutting down congestion will become more important as Honolulu's population grows. It's expected to surpass 1 million by 2025, according to the state Department of Business, Economic Development and Tourism.
"The city's population and housing is not static," Robbins says. "(The rail) will prevent new or more congestion. Plus, it gives people a mobility option."
The power source for Hawaii's largest electric vehicle will become more sustainable over time as Hawaiian Electric works to have 100% of its power supply generated by renewable resources. "As (Hawaiian Electric) converts to renewable energy by 2045, the rail system will completely benefit from that," Robbins says.
The HART team is also looking into other ways to make the system a useful element in Hawaii's sustainable transportation future. Robbins says HART is looking to install EV parking stations, energy-efficient escalators, LED lighting and bike stations.
"We're going to offer public transportation options that are completely green," Robbins says. "Somebody can just decide to leave their home and contribute that way, by taking clean public transportation."