How This Homeowner Built His Own Deck with Quality Products
A general contractor builds a deck for his new home.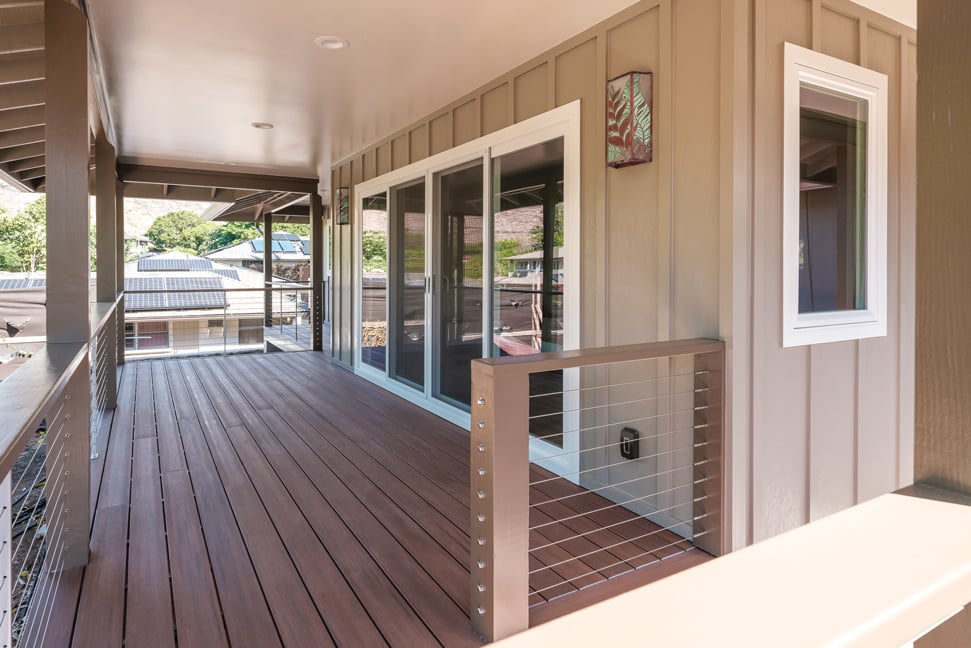 Having a new home built is an exciting process. When you're building it for yourself, it can be even moreso. When it came time to select materials for his new deck, Chad Okuhara of C Okuhara Builders turned to Rinell Wood Systems, a company he trusts for his clients' homes.
"I've been shopping with them for years," Okuhara says, noting the service is top-notch. "The products they sell are proven and they always back their warranties and stand by the product itself."
Audrey Crimmins of Rinell Wood Systems worked with Okuhara to design the deck and select the materials he'd need to build it. The result? An expansive 400-square-foot deck built with high-quality, low-maintenance materials that will last.
They went with TimberTech AZEK decking from the Vintage Collection, in mahogany, which is designed to look natural while remaining strong and durable. The product will withstand mold and mildew, is lightweight and cools off quickly.
Feeney Cable Rail in 316 marine grade stainless steel provides support along the perimeter of the deck and staircase. Okuhara opted to run the cable through wooden posts; the system is also available for customizations with powder-coated aluminum posts and fittings. "The custom system allows alternate infills of vertical cables, stainless mesh panels and glass," Crimmins says, noting all are suited to both interior and exterior applications.
"We love it," Okuhara says of his new deck. "It's low maintenance, resilient and the appearance is really nice."