How to Make a Durable Island Kitchen
All the ingredients for a functional yet stylish kitchen.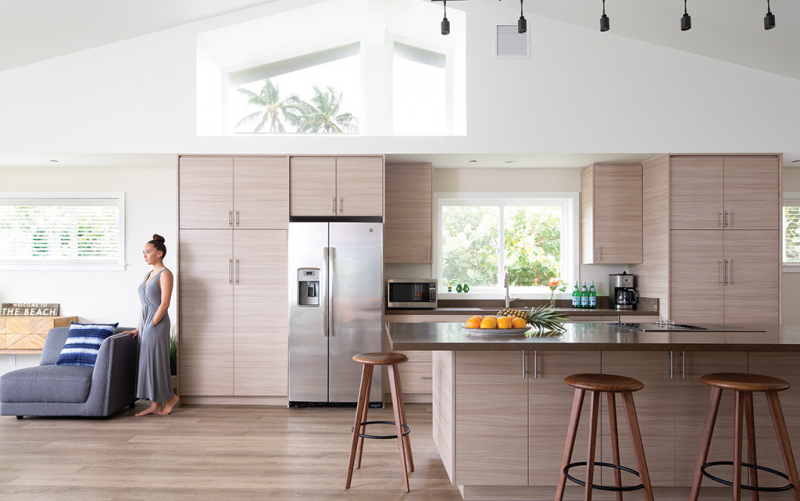 Along with the perks of living on an island, like trade winds and sunshine, is the unfortunate damage to homes, both inside and out, caused by salty sea breezes. That's why it's so important to have durable materials that can withstand the Islands' harsh elements— think sandy tracks that dull your floors and moisture in your cabinetry. Read on to see how four homeowners made their kitchens more suitable for island living. Their upgrades might just work for your home, too.
This beach house (featured above) was intentionally designed with durable materials and made to achieve a beach house aesthetic, as seen in the kitchen's cabinetry and the vinyl flooring throughout the home. The cabinetry, which is moisture- and termite-resistant, is in Cassini Beach finish from Plus Interiors' new Cleaf line from Italy.
The kitchen in this couple's dream beach home is the central gathering place, so it was important to have it perfect for entertaining and for handling the harsh salt air that flows inside. To do so, quartz countertops with plenty of surface area for entertaining and polished concrete flooring were used since they are both easy to maintain and sturdy.
These homeowners knew they needed a home strong enough to withstand the wear that comes with living along the beach, but they also wanted a sleek, modern design without any stiffness. Their home achieves both functionality and style: Their gorgeous kitchen includes glossy white cabinetry and a full backsplash.
An open-concept guest suite often doesn't have all the features of a full home, but this one is different. Along with a defined living room, bedroom and dining room is a kitchenette with quartz countertops for durability. Porcelain tile flooring was also installed, perfect for this beachy guest cottage.