How to Play with Patterned Tile in Your Home
Lively colors, designs and replications are expanding the world of tile.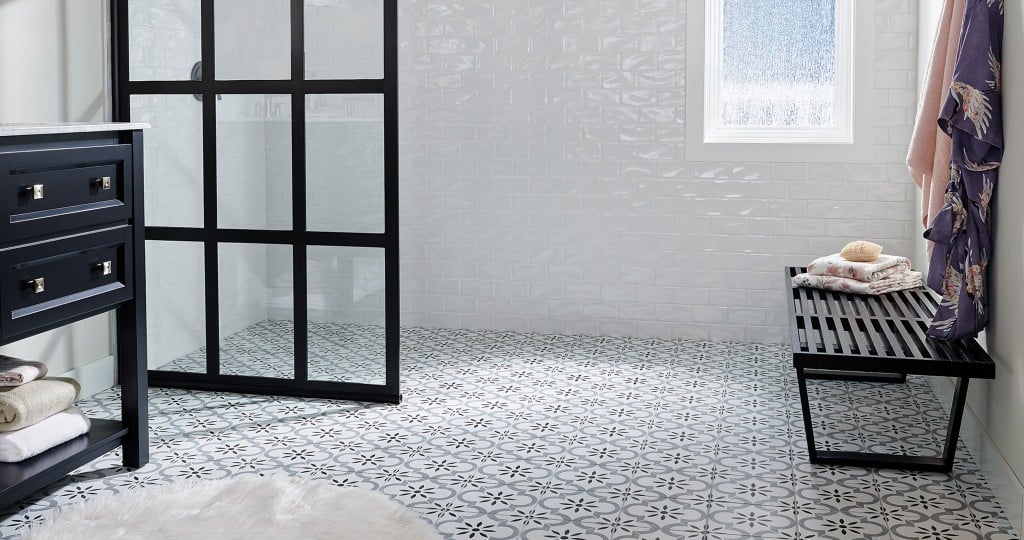 The use of patterned tile is one of the top home trends of 2020 — with more applications and styles being made available than ever before. Lindsey Nip of Selective Stone shares that as more manufacturers continue to refine their printing and production techniques, the possibilities of replication in tile production are endless.
For instance, cement art tile, a more expensive option due to its high maintenance and hand-painted nature, can now be replicated by porcelain manufacturers. According to Nip, these porcelain pieces with cement tile-inspired patterns are not only affordable, but also durable and easy to care for.
"The substantial growth in the number of colors or patterns commercially available has, in turn, fueled a surge in homeowners and designers in choosing styles that are bold in color and pattern — adding that 'wow' factor they might have been missing," he adds.
From your kitchen backsplash to your bathroom walls, there are so many ways to incorporate different styles, colors and textures to add to the visual appeal and aesthetic of your entire abode. Read on to see all the ways you can play with patterns in your home.
This gorgeous bathroom features a combination of three varying tiles on the walls, backsplash and floors. The Kenzzi Paloma porcelain tile's black-and-white pattern lends a vintage look and intricate design — a contrast to the glossy white subway tile that's also used. The herringbone pattern of the Antoni Café Nero porcelain tile floor mimics the look of reclaimed hardwood and complements the overall contemporary feel of the room.
The shine and shimmer of the Italian-made Tetris Florita Blanco marble tile makes it an ideal choice for your kitchen, bathroom or even as an accent wall as your pièce de résistance.
The Azula Floret showcases a soft floral motif within a white square marble to make a stunning backsplash for this kitchen. Coupled with the slate gray backdrop and white veins of the Soapstone Metropolis countertop, the kitchen balances dark and light tones. "As darker colors become more popular with countertops, the backsplash tile helps not only to add flair with its unique and continuous pattern but also brighten things up and bridge the contrast of the darker lower cabinets with the bright upper cabinets," shares Nip.