Humans Welcome
The Public Pet showcases designer goods for your hippest bestie.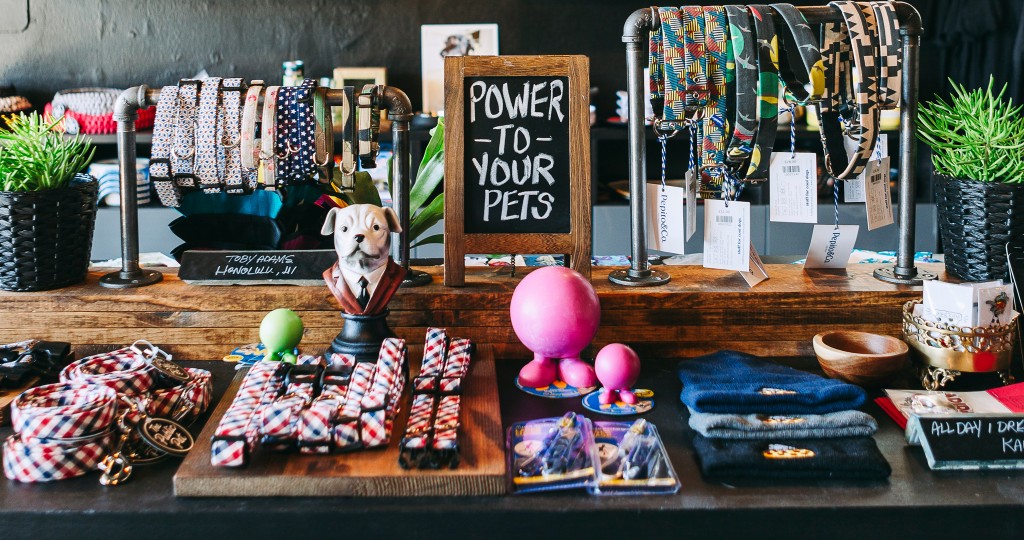 Jordan Lee and Matthew Guevara have a discerning clientele. Their customers sport trendy aloha wear and jewelry by a.wattz dezigns, eat local and organic whenever possible, and use the finest skin and hair products, all ethically sourced. Their in-house experts, Lola and Pheifer, test and approve all products, and will warmly welcome you with wags of their tails. This is, after all, the place to be for furry friends in the know and their equally savvy owners. Guevara says it all started with the question, "Where would we shop if we were dogs?"
Their urban pet outpost, The Public Pet, recently opened down the street from Waialae and 9th avenues in the heart of Kaimuki's burgeoning food and design scene.
But Lee and Guevara are not just design enthusiasts, they're also cultivators, tasking their friends in art, fashion and design to create new products for pets. This collaborative vision led to one of their best-selling products, the Roberta Oaks dog scarf.
Currently they cater to dogs and cats, but they've gotten a number of requests for rabbit products. "We're looking into it," Lee smiles.