In the Fast Lane
Electric vehicle adoption gains momentum across the Islands.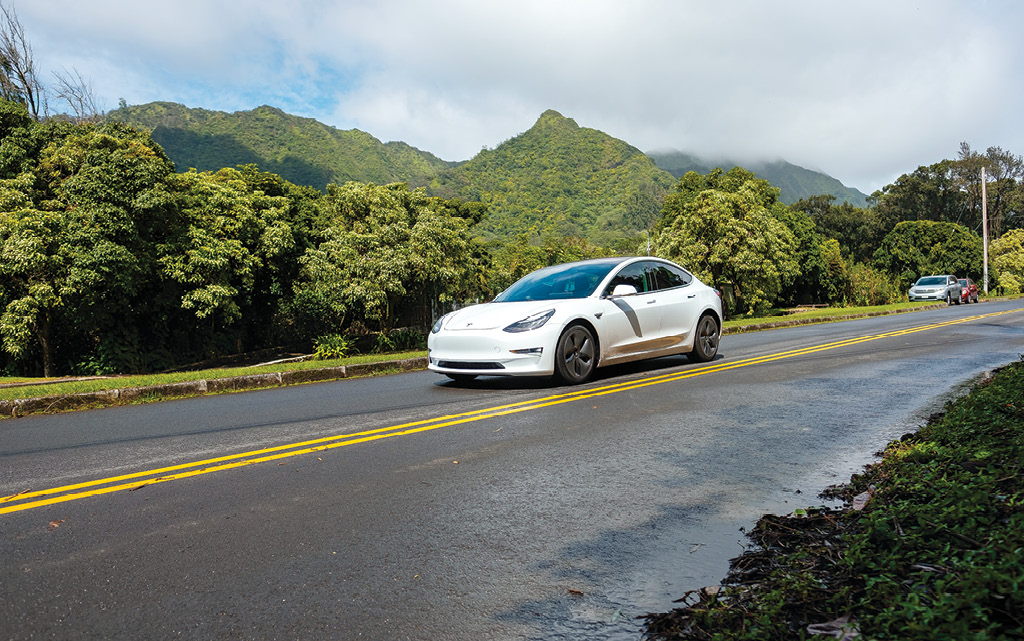 Once a month, a coalition of unlikely allies holds a roundtable discussion to strategize how to achieve one shared goal: electrifying all transportation across the Hawaiian Islands.
The members of Drive Electric Hawaii—the state Department of Transportation; Hawaii State Energy Office; Hawaiian Electric; Kauai Island Utility Cooperative; clean energy nonprofit Blue Planet Foundation; and impact investment firm Ulupono Initiative—have been working as a team since 2017 to advance Hawaii's electric vehicle road map.
"There are always differing opinions on a number of energy issues, but the electrification of transportation is definitely one topic where all of us share a common vision," says Brennon Morioka, Hawaiian Electric's general manager of electrification of transportation. "Everybody is moving in the same direction."
That direction has led to thousands of EVs rolling out on Hawaii's roadways since the coalition's inception. In December, the number of electric vehicles registered in the state reached 8,331, an increase of 23 percent from one year earlier.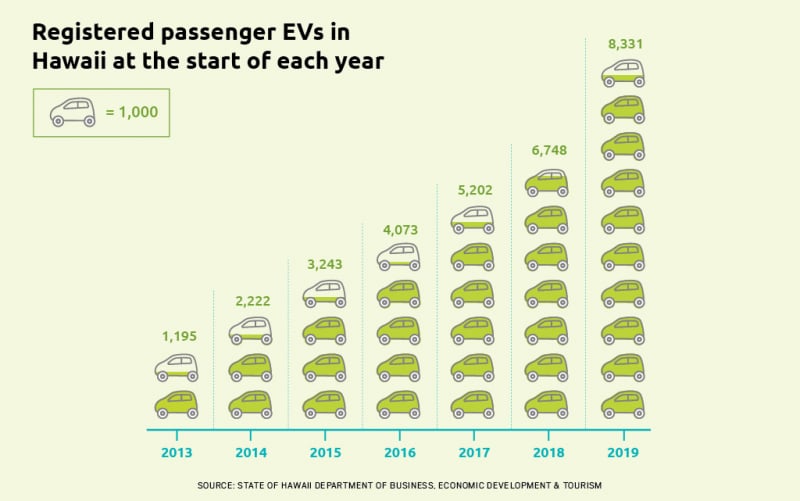 While electric vehicles are still far outnumbered by gasoline-powered vehicles, EV registrations are picking up speed. EV registration in Hawaii experienced its largest month-over-month growth from November to December 2018, according to Lauren Reichelt, clean transportation lead at the Blue Planet Foundation.
"Being able to coordinate among each other has really maximized our impact," Reichelt says.
"Drive Electric Hawaii has opened clear lines of communication between key organizations, which has been really valuable in furthering electrification conversations across the board."
One essential conversation is the ongoing one with Hawaii residents. Community outreach efforts such as EV ride-and-drive events, Drive Electric Hawaii's participation in the annual First Hawaiian International Auto Show, as well as an EV Expert Certification program led by Reichelt have helped move the needle.
"At some point, electric vehicles are going to become commonplace—a natural way of life."
—Brennon Morioka, Hawaiian Electric
Continuing this momentum, Drive Electric Hawaii maintains its focus on increasing public awareness about EV technology. According to Morioka, the more familiar Hawaii drivers are with the technology, the more EVs we'll see on the streets.
"It's something new. It's something people aren't used to," says Morioka. "At some point, electric vehicles are going to become commonplace—a natural way of life."
To help it feel more natural, the group created a valuable resource for the public. The organization's website offers a host of information for potential and current EV owners including: tax incentives for ownership; the experience of the drive; locations of charging stations; charging rates; and municipal lots where drivers can park for free.
"A lot of people don't think electric cars can go as far as they do," Morioka says.
This assumption can lead to range anxiety—the fear of not making it to your destination on a single charge. In the latest versions of EV models, the battery ranges to more than 200 miles per charge.
"People think they still can't drive from Hawaii Kai to Waianae and back on a single battery charge when they can probably do it twice or even more," Morioka says.
As Drive Electric Hawaii works to pave the road for the electrification of transportation in Hawaii, potential EV drivers worried about range anxiety or curious about EV perks, can learn more from the coalition's website at www.driveelectrichi.com.