In the Spotlight
Bring Hollywood style to your home with lighting inspired by the Golden Globes.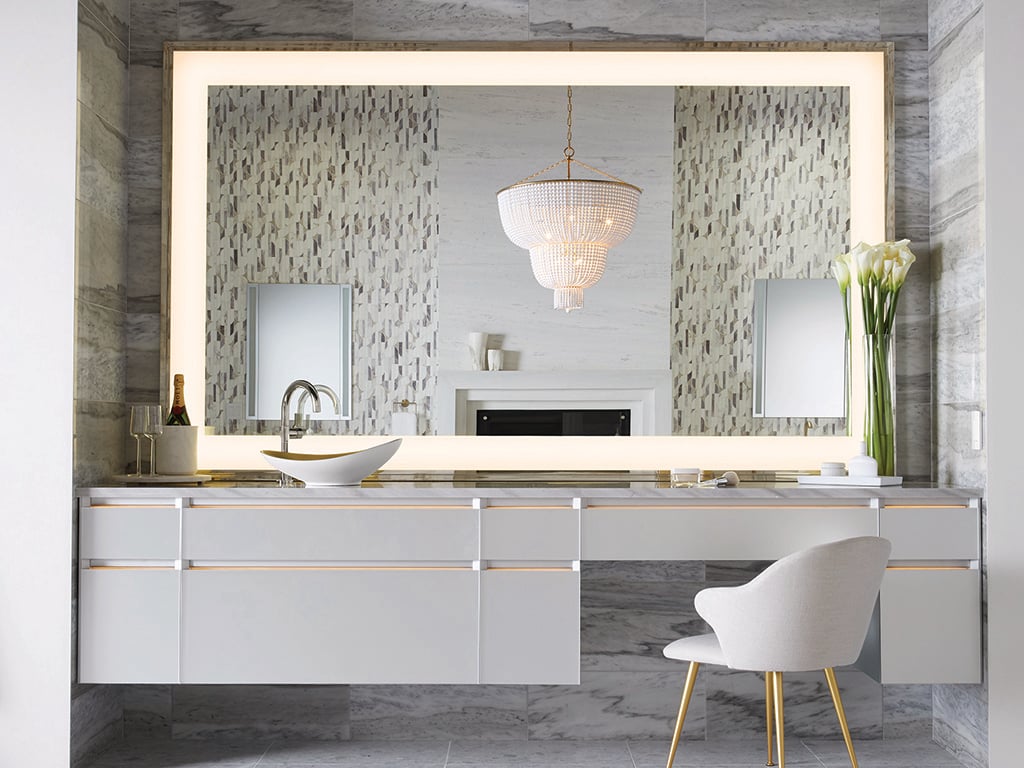 The 2023 Golden Globe Awards drew a cavalcade of stars to Hollywood on Jan. 10. Fans of motion picture and television — locally and abroad — tuned in to honor artistry and dedication to the craft at the 80th annual gala.
If the Golden Globes' glitz and creative energy left you feeling inspired, we've got ideas from Ferguson Bath, Kitchen & Lighting Gallery to bring awards-season sophistication to your home.
"Lighting plays a significant role in setting the tone of any successful television or movie set, room or area," notes a press release from Ferguson Bath, Kitchen & Lighting Gallery. "Quality lighting can create an unforgettable experience that truly enhances the setting, adding to the energy and emotion of what's happening in a specific location."
Here are some options to get the ball rolling for your next stellar home lighting makeover. Be sure to contact your nearest Ferguson Bath, Kitchen & Lighting Gallery location in Hawaii to check on availability and connect with an expert to see how these lighting lines can be incorporated into your home.
Golden-hued Chandeliers
As seen in movies such as Triangles of Sadness and Flight Attendant, chandeliers are a classic way to add luxury to any room or setting. According to the Ferguson Bath, Kitchen & Lighting Gallery press release, "whether you're looking for something romantic or modern, homeowners are mesmerized by their beauty as they create an elegant statement and enhance the drama of any home."
Globe Wall Sconces and Vanity Mirrors
Featured on the set of the 2022 film Elvis, globe vanity mirrors are timeless pieces that will bring a sense of glamour to any bathroom with soft light and a flashy statement look. "Lit vanity mirrors are no longer exclusive to celebrities and are more sleek and modern," notes Ferguson Bath, Kitchen & Lighting Gallery.
Semi-flush Mount Fixtures
Mixing classic undertones with modern flair, semi-flush mount light fixtures provide a golden hue and are perfect for most spaces. Clean, sophisticated lines define this style; consider adding dimmers for extra mood lighting as well. This style can be seen in the 2021 comedy Only Murders in the Building, with Steve Martin, Martin Short and Selena Gomez.
Golden Orb Base Lamps
Homeowners who dream about adding haute style and personality to their spaces can check out golden orb-based lamps. "These lamps offer a stunning gold hue that will add instant drama to any space and provide gorgeous ambient lighting with an ornamental appearance sure to turn heads," notes Ferguson Bath, Kitchen & Lighting Gallery.
Simple Pendants with a Golden Glow
Select pendants featuring neutral colors and sleek lines. This ensures that your eye will be drawn more toward its luminous glow rather than any unwanted, fussy detailing.