Industry Watch: Advancements in Outdoor Design
Materials and finishes are better than ever for outdoor entertaining year-round.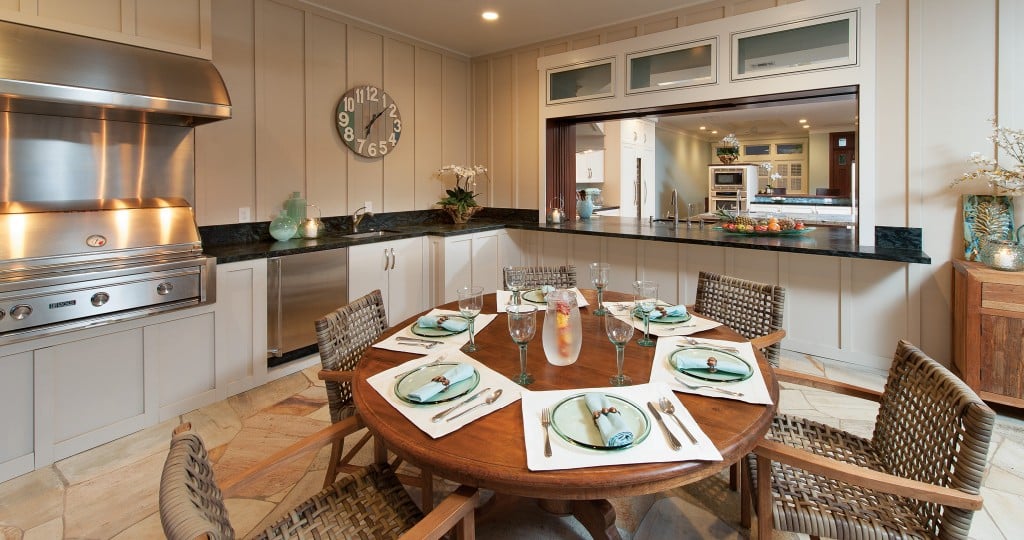 We are now at that time of the year for graduations, parties and pre-summer entertaining. Some of our homes will become social hubs for our extended families and Mainland guests for the next couple of months. Living in Hawaii, venturing outside to a lanai or patio is common for our get-togethers but more and more outdoor spaces are being transformed into second kitchens or dedicated entertaining areas to accommodate the outdoor lifestyle.
In recent years, the kitchen and bath industry has seen an increase in outdoor kitchen design and planning, which include more elaborate setups with electrical and plumbing. These spaces house more than your average barbecue grill. In addition to a cooking surface, some of the popular requests include refrigerator drawers, temperature-controlled wine storage, main sinks and prep stations, rotisserie and even custom pizza ovens. As with interior kitchens, homeowners are also requesting islands and bar tops for additional seating. Living and dining furniture have also found its way outdoors with weather resistant fabrics and materials.
Outdoor cabinetry has evolved as well with more manufacturers offering weatherproof materials, including hardware, that look more like custom cabinets than the previous garage or commercial looking options. These new entertaining areas have become an extension of the existing kitchen and homeowners are creating unique spaces to tie it all together with a big emphasis on bringing the indoors outside: a place to relax, enjoy the game on TV with friends, and watch the kids and pets play in the yard.
The outdoor kitchen will be an investment that your family will enjoy for years to come. But it will take a lot of planning and expertise to make sure you are selecting the right products that will withstand the elements while providing a functional and safe environment for all to enjoy. Get a head start by consulting with a kitchen specialist, designer or contractor who can provide you with the latest information and products for your dream family oasis.
To learn more about outdoor design and to find a local NKBA Aloha Chapter professional near you, visit www.nkba.org.
Cris Johnson is president of the NKBA Aloha Chapter.