Inside Chef Ed Kenney and His Wife's Cute Kaimuki Guest Cottage
Four more things we love about the Hilltop Hale featured in our May 2018 issue.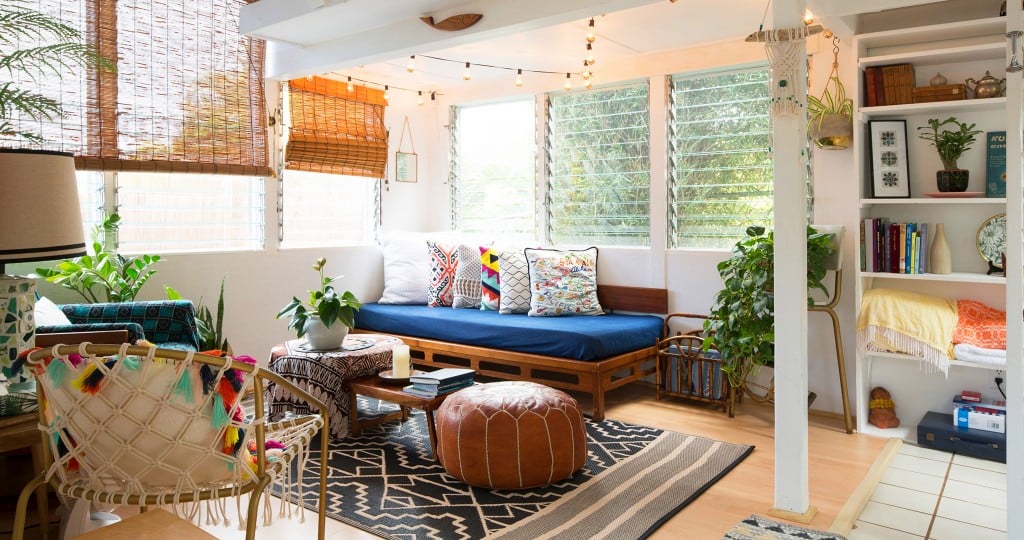 If you aren't already familiar with celebrated Hawaii chef Ed Kenney, host of the locally-produced PBS show series Family Ingredients, you've probably dined at one of his restaurants: Town, Mud Hen Water, Kaimuki Superette and Mahina & Sun's. But, did you know that he and his wife, Kristen, have a thrifty knack for finding furniture and other home items to create their beautiful living spaces?
Their secluded stand-alone guest cottage perched above Kaimuki, featured in the May 2018 issue of Hawaii Home + Remodeling, is a cozy little hideaway for family and friends. We swooned over the cottage's Jungalow theme, a tropical bohemian style coined by California-based designer Justina Blakeney, who is credited for nailing down Jungalow as her signature look. Blakeney's look has taken off, and Jungalow is now a brand, blog and company, in addition to a sought-after style that homeowners and renters alike are bringing into homes.
While touring the Hilltop Hale with Ed and Kristen, we loved hearing the story of how they put this bright little space together. Here are our favorite tidbits about their guest cottage.
1. The property is stunning.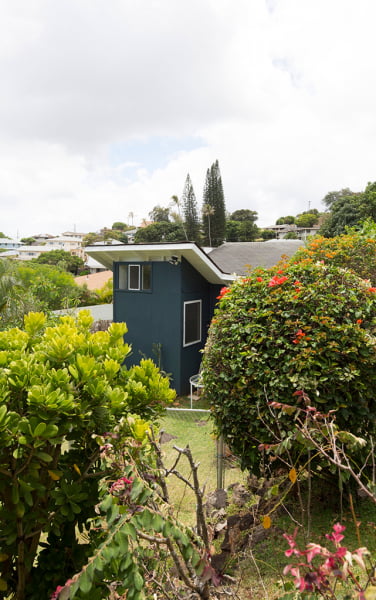 Once on the property, there are 58 steps that lead down to the cozy guest cottage that is sheltered with wild-growing monstera leaves and other beautiful plants and foliage. The expansive property makes the bungalow feel secluded.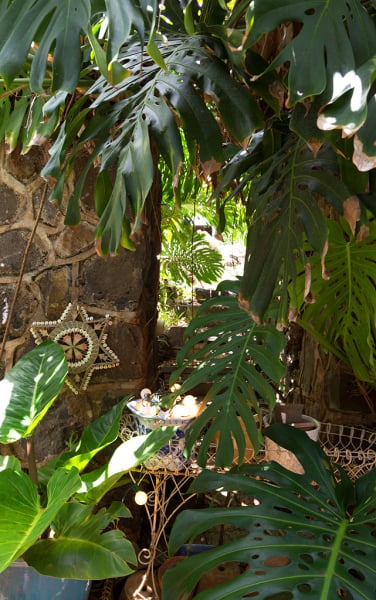 "You can tend to forget that you're in a suburb of Honolulu," says Ed. "There's houses everywhere but when you get down there, you're kind of in your little puka. It's quiet. It's not near a road. Everybody that's been in there, they said that it's just an escape from reality."
2. The Kenneys found a lot of their furnishings and décor.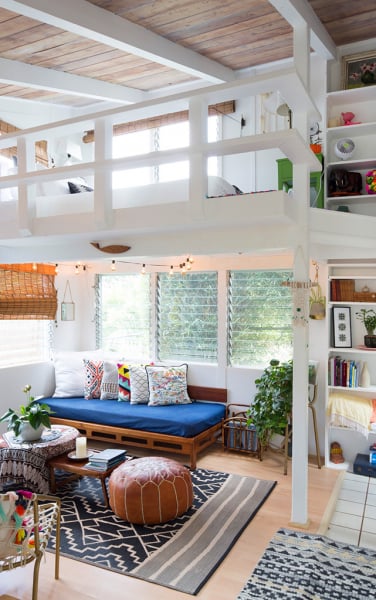 "My husband and I are great fans of the once-a-month bulky item pick up that occurs all over the island. We have found so many great pieces of furniture that people are just throwing away," says Kristen.
Over the years, the couple found a lot of furniture, ranging from great midcentury modern finds to dressers, tables, chairs and more. Plus, they garnered a collection of unique finds, such as old 50s and 60s Denmark dishes simply from hitting up places such as Goodwill and Savers.
They like reusing things and giving new life to old things, so they garnered a collection over the years from various shopping trips, garage sales, bulky item pickup days and even collecting items from their restaurants.
"So, when we did get the cottage, we already kind of had a lot of this stuff for it," says Ed.
3. The Kenneys also DIY-ed some things.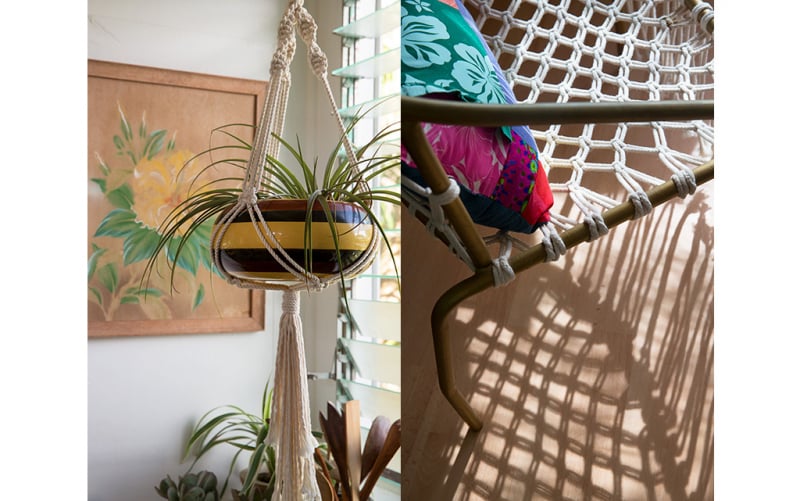 When the now-beautiful macrame chair was found, it was made of other material that was falling apart. Kristen stripped it of the old material and did the macrame work herself. The pillow on the macrame chair was also sewn by her, using old aloha shirts and muumuus. Other items around the guest cottage, such as the macrame plant holder was also one of Kristen's DIY projects.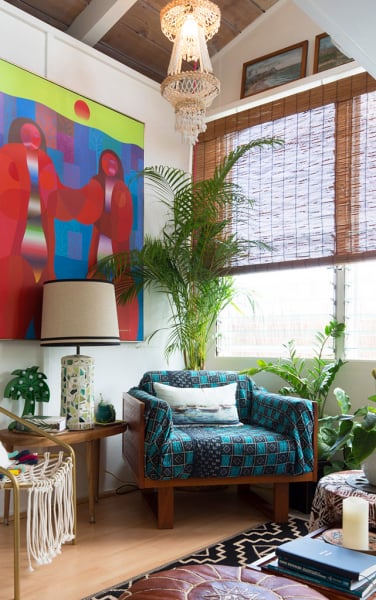 Ed was the one who found this midcentury modern chair. "My mom was really into the Danish, midcentury, real simple look so I'm attached to that. So we like to throw a little bit of that in there," he says. But the chair he found needed work so they reupholstered it.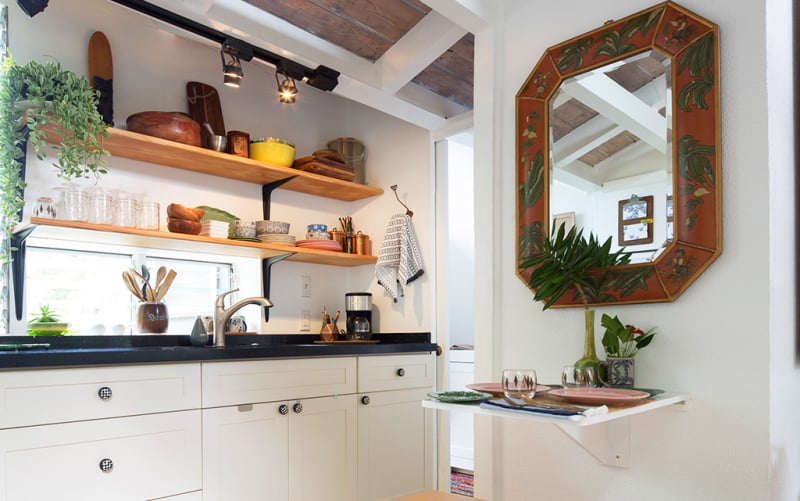 "I have this shelving in the kitchen and they're made out of the old benches from the Kamehameha school gym," says Kristen. The couple also went to Re-use Hawaii for scrap wood, lumber and other things to use in the cottage.
4. Some pieces were gifts.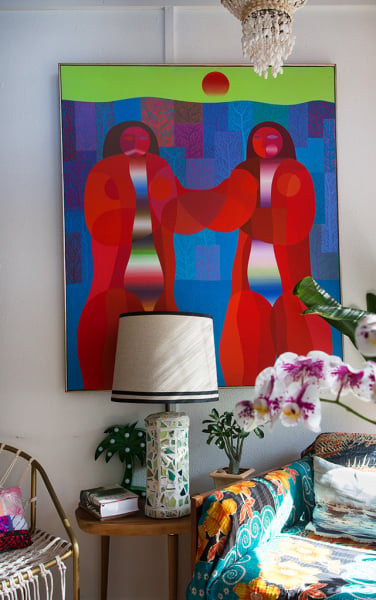 The big red artwork in the lounge area of the guest cottage is a stunner. It was a gift from Kristen's mother and now finds home among this eclectic mix of pieces. The lamp was also a gift that Kristen's friend mosaiced.