INspiration Interiors gives this kitchen a modern update
The Mililani home's kitchen renovation was planned for convenience and comfort.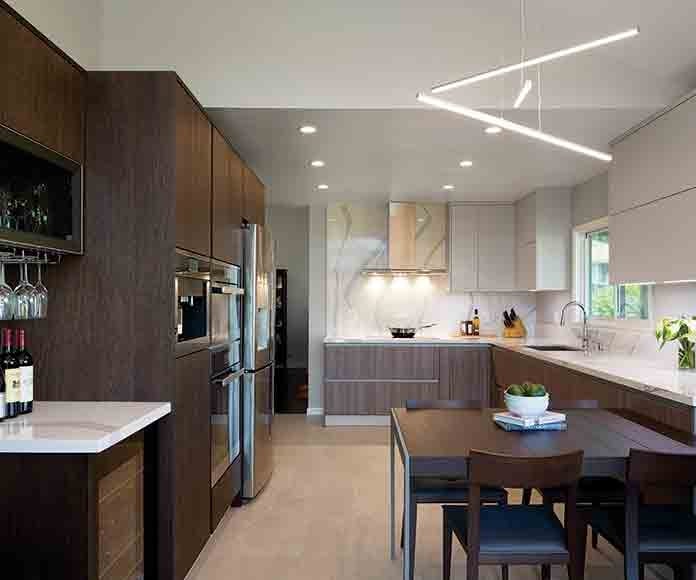 Nesting alongside a wide and foliage-decorated street in Mililani Town, Michelle and Lance Yamaguchi's home looks like any other in this planned community. That is, until stepping inside.
From tile to chandelier, the Yamaguchis' kitchen is colored in a palette of neutral tones. The modern style retains a sense of warmth and doesn't feel sterile or out-of-place with the rest of the house. Plenty of natural light pours in thanks to larger windows, and the layout flows with the elongated shape of the kitchen.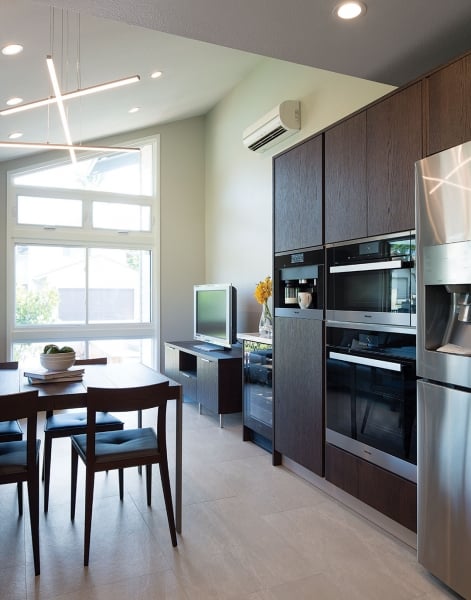 But the setup wasn't always like this. In the 1960s, when Castle & Cooke developed Mililani Town in phases, each kitchen had a similar layout. The Yamaguchis' space was divided with one side as the kitchen and the other as a small dining area, which created a boxy configuration.
With the cramped spaces—and the home nearing 30-years-old—they started thinking of the future and decided it was time for a kitchen refresh that would last them the next 30 years.
"It became now or never," says Michelle, who also mentions that the hanging wall cabinets were beginning to fall apart.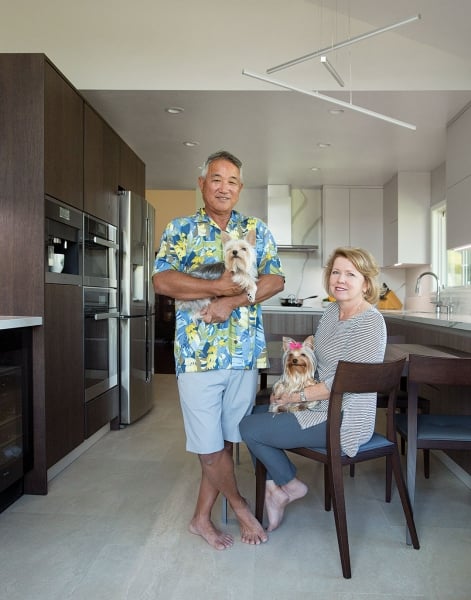 While browsing the INspiration Interiors kitchen showroom at the Honolulu Design Center one day, the couple met Ludlow. After a few meetings, the couple decided they wanted her knowledge and expertise to design their new kitchen. Plus, they enjoyed chatting with her.
"What happened is, her personality and what we came home with is: We trust this lady," says Lance. "We had a good relationship with [Ludlow] from the start."
Michelle and Lance wanted an easy-to-clean kitchen that accommodated their family, which includes a teenage son and three dogs. They wanted a space where they could enjoy a glass of wine after a long day or host occasional small get-togethers with a few family members or neighbors.
The Yamaguchis and Ludlow spent a lot of time planning before any construction began, taking care of even the smallest details, such as installing USB ports into their wall outlets for easy tech charging stations.
"All of us [agreed] that if you spent more time planning, you'll have less issues in the actual construction. And that was true."
—J.R. Ludlow, lead designer at INspiration Interiors
"It was a lot of fun and it took a long time," says Ludlow about the planning phase. "[The process] was not fast at all. But all of us [agreed] that if you spent more time planning, you'll have less issues in the actual construction. And that was true."
It also helped that Michelle had already been planning her dream kitchen for about a decade, compiling ideas from torn magazine pages and notes into a scrapbook, which was used as a jumping off point for some of the ideas that were implemented into the new design.
One of those ideas was a Miele coffee system–a dream appliance for Michelle. Though the decision to get it plumbed was a little challenging, it was worth it because the setup and cleanup is at a push of a button.
"It's very enjoyable to get up in the morning," says Michelle, noting that those mornings no longer come with the drudgery of setting up a coffee maker. "You come in, you press a button and I can't really describe how easy that makes my day."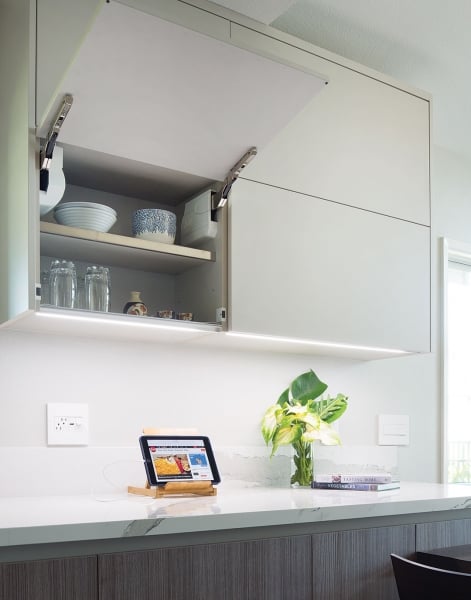 The trio collaborated harmoniously and were on the same page throughout the process. "They spent a lot of time looking and researching and finding those ideas, and showing me and hoping it was going to be OK, and I would be blown away because their decisions were perfect," says Ludlow, who referenced to the chandelier choice that Michelle picked out.
In some cases, experimenting was called for. For instance, Lance and Michelle originally wanted limestone for their flooring, but soon found it wouldn't work for their lifestyle.
"I poured wine on it and Mililani red dirt, and it stayed on it," says Lance.
But after taking home a slab of tile from Tile Warehouse, and putting it through the wine-and-red-dirt test and letting it sit overnight, it wiped off easily the next day.
The storage and organization of their cabinets were approached scientifically, with Ludlow guiding the couple to measure their coffee mug heights to get cabinets that perfectly fit those mugs, and placing the cabinets conveniently right under the coffee maker.
The layout of other cabinetry and appliances was also well thought-out.
For instance, keeping in mind how the
Yamaguchis flow through the kitchen, it was an easy decision to keep a drawer for oils, spices and sauces right under the stove.
Now, the room is a multifunctional open space that seamlessly blends the kitchen and seating areas together, and the couple couldn't be happier with it.
"Lance likes to sit in here and drink his coffee in the morning, watch the news, check his emails," says Michelle. "In the evening, there's wine. He sits with his laptop and does a little work."
"Working with [Ludlow] made this such an easy process," says Lance.
WHERE TO GET IT
APPLIANCES:
Client's existing Samsung Refrigerator
Miele KM5753 30" Induction Cooktop
Miele DA6296W 36" Lumen Wall Hood
Miele H6880 BP 30" Convection Oven
Miele DGC6805XL Plumbed Combi-Steam Oven
Miele CVA6805 Plumbed Coffee System
Miele G5675SCVi Fully-Integrated Dishwasher
Miele KWT6322UG Under Counter Wine Storage Unit
Franke PKG1103STO Granite Undermount Sink with accessories
Miele appliances and Franke sink from INspiration Interiors
CABINETS:
Valdesign by Alf da Frè from INspiration Interiors in finishes TSS Melamine Cenere, Sahara Matte Lacquer and Roverè Terra, including the AXIA extension table from INspiration Interiors
COUNTERS:
CAMBRIA Quartz Marble Collection in Brittanicca from INspiration Interiors. Fabricated and Installed by Top Priority Countertop Professionals
FLOORING:
Large format porcelain tile from Tile Warehouse
LIGHTING:
Sonneman Stix 3-Arm, LED Pendant Light
CONTRACTOR:
Sunworks Construction, Ian Eichelberger General Contractor