Into the Blue
These Hawaii pools and spas mean summertime rejuvenation.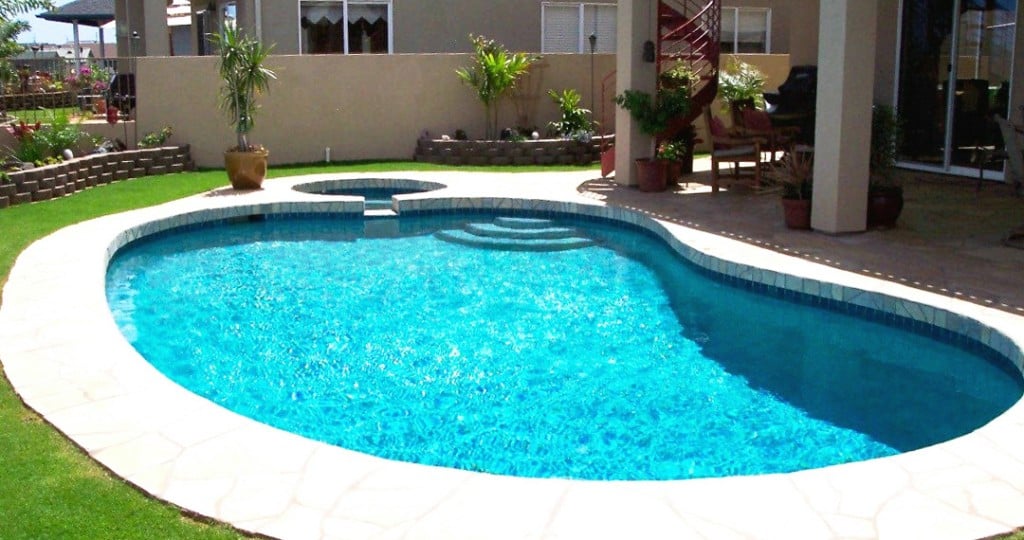 Relaxing poolside is the ultimate in summertime self-preservation. The calming effect of water is well known for its health benefits, including relaxation and reduced stress. But, to promote personal well-being, pools and spas need to be kept clean, safe and healthy. Here are some tips on how to keep water sparkling blue, and how to build and maintain energy-efficient pools that will keep your environment, body and budget healthy.
Soft Water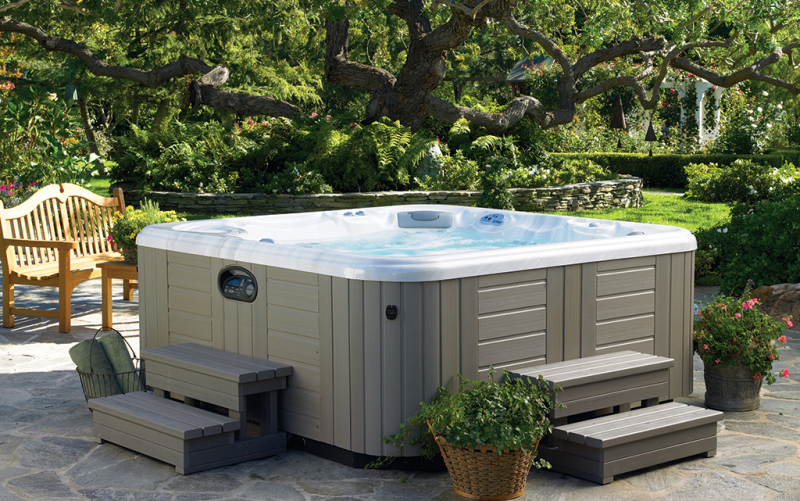 Regular, weekly maintenance is necessary for the health of any pool. However, keeping the pool clean can turn this luxury into a chore. Buck's Pool Service takes the stress out of pool maintenance. For the past 10 years, Buck Degener and his team have checked the pH balance of pool water, scrubbed tile lines and skimmed Oahu homeowners' pools and spas.
"On a weekly basis, balancing the chemicals in the water is the most important thing," says Degener. He adds that an imbalance can cause irritation and is unhealthy for swimmers. Without the proper pH level, algae can grow and the water may become cloudy, both of which impede proper filtration.
For chlorinated pools and spas, the correct level of bacteria-killing chlorine is a must. The chemical balance keeps the water clean and free of algae, but it can irritate swimmers. "People are switching to saltwater, because it is softer on the skin," says Degener, who adds that about one-third of his customers have saltwater pools.
Jon DeLuca, of Aloha Salt Pools, agrees. He says that many homeowners convert from chlorine to salt to avoid the smell and taste of chlorine, red eyes, stinging nose, dry skin, green hair and damaged bathing suits.
Aloha Salt Pools offers a chlorine alternative called Watermade. Its salt-based chlorine system is a softer cleaning agent and is gentler on the skin. "It is comfortable; the water is soothing. It has none of the common chlorine irritations," says DeLuca.
How does it work? It comes down to basic chemistry. A metal electrolysis cell is installed between the pool filter or heater and the pool return. Then, the salt is added to the pool at an appropriate salt-to-water ratio. An electric current is allowed to flow through the cell and it shocks the saltwater into its natural elements, chlorine gas and sodium (sodium hypochlorite). The natural chlorine produced is a disinfectant and bleaching agent that helps control pH levels and kills contaminants. The systems can be installed into any pool, including established chlorine pools.
Another product perk is that Watermade saltwater pools are more affordable than chlorine pools. Saltwater costs to install, but, afterwards, you save, because salt is added less often than chlorine. Plus, the system reduces pool maintenance costs.
To keep its hot-tub water clean and healthy, Blue Champagne Pool & Spa's Hot Springs line installed the Fresh Water 3 Ozonation system. This system sanitizes with ozone and circulates hot-tub water 24 hours a day, keeping the water fresh. Adjustment of the pH balance is still necessary with this system, although less often, says Cheri Hadenfeld, of Blue Champagne Pool & Spa. Depending on usage, chlorine may need to be added, and the spa should be drained every three to four months, Hadenfeld adds.
Blue Champagne Pool & Spa has supplied Hawaii with high-quality Hot Springs for more than 30 years. The company also does repairs and keeps replacement parts for every spa that it has ever sold. Recently, Hot Springs introduced new color options for its hot tubs, such as Azurite and Champagne Opal. Other upgrades, such as chrome jet nozzles and durable, composite spa skirts that look like natural wood, TK.
Friendly Energy
For the environmentally conscious, as well as the budget-minded, Hawaiian Island Solar recommends installing solar panels to heat pool water. "We have been doing a lot of pools and spas lately, because electricity bills are outrageous," says Jodi Kidd, of Hawaiian Island Solar.
Good for chemical chlorine and saltwater pools, these panels let the sun do the work of electric water heaters. The pool's water is cycled through pipes in the roof-top panels, heated by the sun all day long, then returned to the pool's filter.
And, the savings aren't limited to monthly electric bills. The state of Hawaii rewards homeowners who install solar panels. "There is a 35 percent state tax credit for the cost of solar panel equipment, up to $1,750," says Kidd.
Pool-Side Manner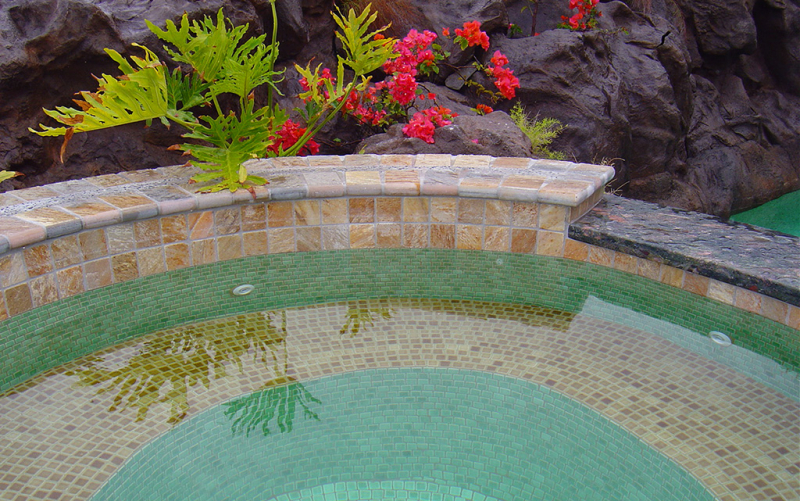 Beyond clean, healthy water, what makes a backyard pool or spa relaxing? Being part of its surroundings, says Charlene Sloan, of Gemini Pool & Spa.
"Free-form pools are popular now," says Sloan. Gemini Pool & Spa is a full-service pool construction, maintenance and supply company. For 21 years, Gemini has custom-designed in-ground pools and spas with curves that flow with tropical landscaping. Add to that Gemini's non-chlorine Bioguard Mineral Springs sanitation system or its solar heating panels, and the pool will not only look like part of the environment, it will be kind to it, too.
In keeping with the natural pool trend, many homeowners are steering away from the rectangular, concrete box in the middle of the yard. Instead, they are designing lagoonlike pools, with roundabout decks. From rock formations with cascading falls to mosaic turtles swimming at the bottom of the pool, people want to incorporate nature.
For starters, a pool's color—from brilliant, crystal blue to deep-lagoon green—is determined by the varying shades of tile. Selective Stone offers a wide selection of glazed, ceramic and glass pool tiles in shades of blue, green, teal, gold and white. The company's one-by-one-inch and three-by-three-inch TK tiles are double-fired for durability.
"With varied color tones, the tiles create a feeling of depth as they sparkle in the water," says Selective Stone's Jinny Nip. Weekly brushing will keep them sparkling, she adds.
According to Mike Ferguson, of Tile Mart, ceramic-tile pools are superior, because they are fade-proof and won't stain or deteriorate over time. Tile Mart features a TK ceramic-pool tile called Pool Stones, as well as glass tiles.
To add visual interest to a pool, Ferguson suggests installing colorful, patterned tile along the water line. This option is also more economical than covering the entire pool with tile. "Accenting water lines with dolphins, turtles and other sea creatures is always popular. They are available pre-made can be custom-fabricated," says Ferguson.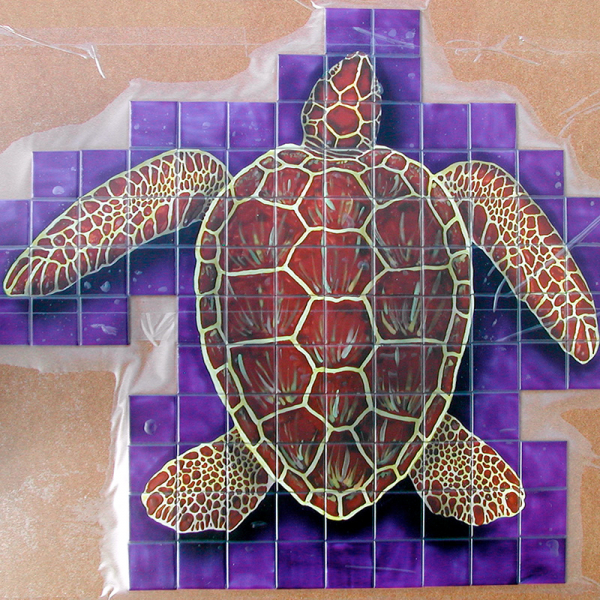 For wonderfully lifelike sea creatures, call on local artist Thomas Deir. Tile mosaics are his specialty. His hand-painted porcelain tiles are perfect for personalizing kitchens, baths and, especially, pools. Sea turtles, maile lei and dolphins by Thomas Deir Studios grace the bottoms of Oahu pools, bringing flat pool floors to life.
"I especially like the turtles. With a drop shadow, they look like they are swimming when viewed from above," says Deir, who completes commissioned projects in a few months' time.
Custom Marble Designs is a stone masonry company that specializes in natural stone and tile installation for floors, countertops, bathrooms and pools. To help create a natural-looking atmosphere around the pool, Nick Nye, of Custom Marble Designs, recommends travertine or quartzite around the pool deck and aquamarine shades of porcelain tile under the water. Nye says, "Quartzite or Antico travertine look elegant and are less slippery. The new trend is breaking travertine slabs, then setting the pieces randomly." He notes that stone around a pool requires little maintenance if it is sealed well, and recommends Miracle Sealants, reapplied every three years.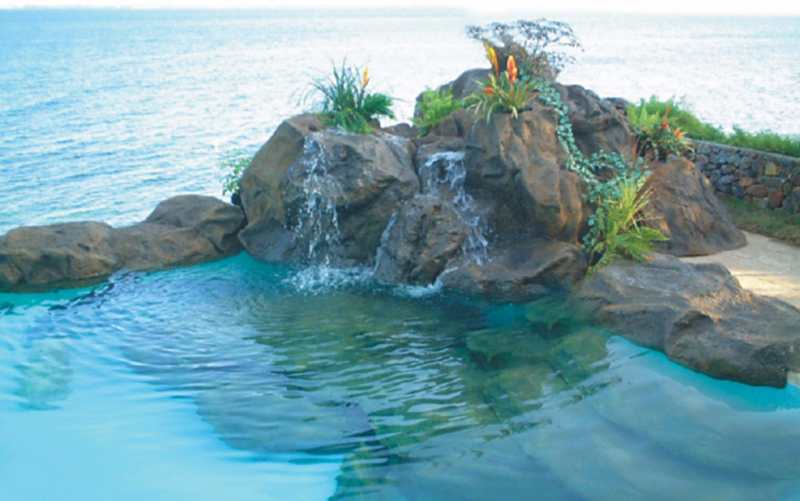 To finish a watery haven, consider Stonecast from Big Rock Manufacturing. Stonecast is a veneer, faux rock. Its preformed waterfalls, sea life, benches and boulders look natural and stand up to sun and water like real stone. Stonecast's Swimming Pool Edge waterfall requires no extra plumbing. Just attach it to the pool's edge and turn it on.
The beauty of faux stone is that it is easy to work with, as it's one-fifth the weight of real rock. It is also a good alternative to removing boulders from the environment, which are a finite resource and an expensive choice. Check out Big Rock's selection of water features, as well as its collection of faux-lava rock finishing touches for the backyard.
Pool & Spa Suppliers
Aloha Salt Pools
262-7258
Big Rock Manufacturing
1050 Kikowaena Place
834-7625
www.bigrockhawaii.com
Blue Champagne Pool & Spa
307 Keawe St.
538-3665
www.hotspring.com
Buck's Pool Service
261-3157
www.buckspools.com
Custom Marble Designs
368-3761
Gemini Pool & Spa
406 Kamehameha Hwy.
www.geminipools.com
Hawaiian Island Solar
261-9740
www.hawaiianislandsolar.com
Selective Stone
2979 Koapaka St.
839-2979
www.selectivestone.net
Thomas Deir Studios
261-7122
www.thomasdeir.com
Tile Mart
855 Ahua St.
839-1952
www.tilemart.com