Into the Mix: An Unexpected Kahala Kitchen
The layout is unusual and subtle, but it works for this family.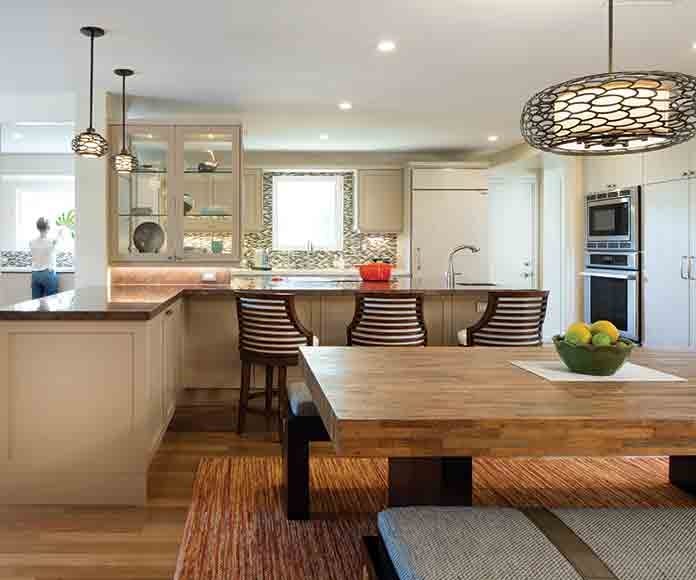 A closer look at this Kahala kitchen reveals a series of subtle, unconventional elements, starting with the fridge.  "My remodel started because of the refrigerator," says the owner, pointing to two intersecting walls. "The fridge and freezer are now separate because there simply wasn't room to place them side by side without relocating a window or closing off the door leading to my herb garden."
 "This kitchen has plenty of circulation space, different hardware for ease of grasping, and the ergonomic height of the oven facilitate aging in place." — Glenda Anderson, Details International Inc.
The clever division of the SubZero fridge and freezer units is a signature of Details International Inc., a design-build firm known to come up with singular solutions for homeowners. "We hoped to preserve the clean and natural design of the home, including the warmth present due to the loving family," says Glenda Anderson, president and CEO of Details International.
"One of my favorite colors is chocolate brown. I liked this slab because the pattern of the veins was subtle, and it had some purple shades in it. I get tired of wild or dramatic patterns." — Homeowner
"The layout is unusual, but it works for our family," says the owner. "Nicole Puakea of Details International was wonderful in suggesting the two different cabinet designs to introduce texture and her choice of glass tiles for the backsplash. I appreciate that I can easily change the artwork and accent colors."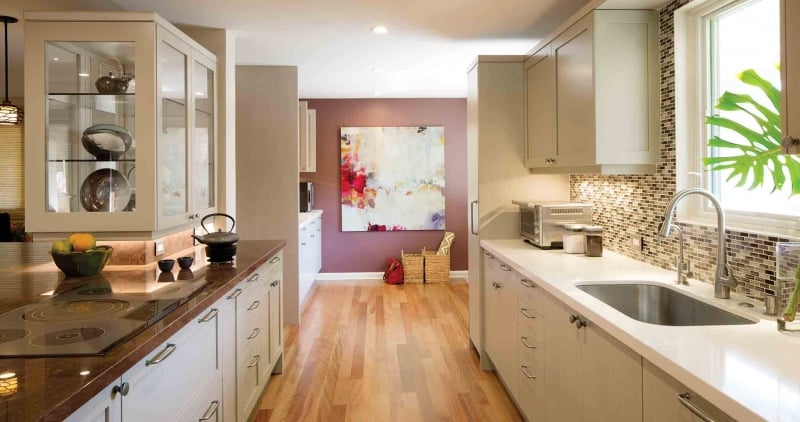 To avoid replacing wood flooring throughout the home, Details retained the original layout of the kitchen island, saving the owners the additional hassle of moving the central electrical box. "Cooking is facilitated due to the new design," says Anderson. "With plenty of freezer and refrigerator space, meals and snacks can be made ahead and kept fresh."
"The large island allows for everyone to be in the kitchen at once, prepping, cooking, cleaning, etc.," adds the owner. "My children sometimes study sitting at the island while I'm cooking dinner. It feels like the heart of the home."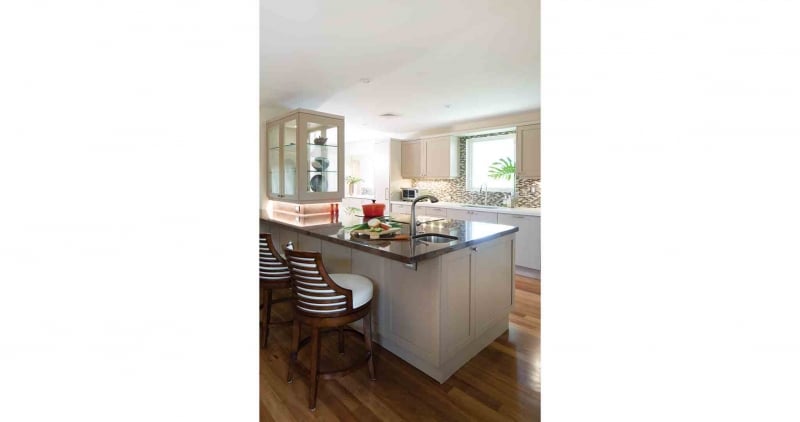 Adding to the family feel of the island is the unusual glass cabinet floating above its midline. Housing a collection of earth-colored ceramics thrown, glazed and fired by the owner's father-in-law on Kauai, the deep double entry cabinet functions as both additional storage and an exquisite talking piece. "I treasure each item that he made and I enjoy using and displaying them," notes the owner. "He seemed happy to see his artwork on display."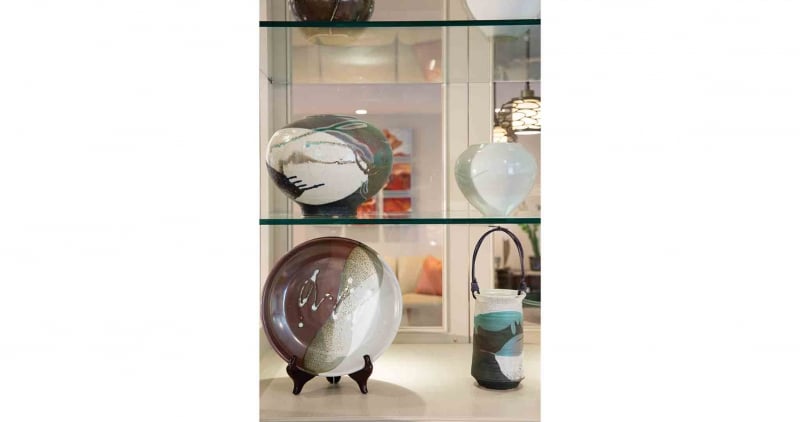 "Glenda's idea of moving a wall and small doorway separating the kitchen and laundry room made space to extend the kitchen," says the owner. "When I explained to Glenda that I wanted to somehow close off the laundry room to hide it from view, she countered that we should remove walls instead and open it all up. She cheerfully assured me, 'Don't worry! There's no need to hide it. We'll make it beautiful!'" The new under-counter washer and dryer are hidden behind cabinet panels to match the rest of the kitchen and a new door leads from the garage directly into the house, making unloading kids and groceries a much easier task. "For parties, I have used this counter space as a drink station for coffee, tea and desserts."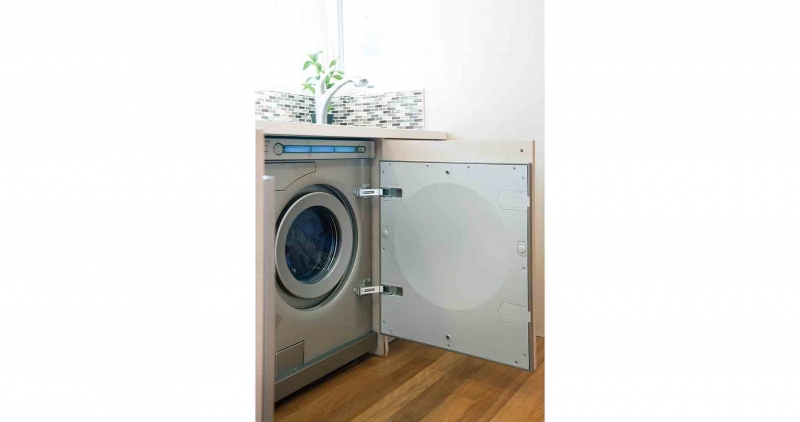 "I would highly recommend remodeling a kitchen," says the owner. "My husband jokes that instead of a new sports car, he got a new kitchen. Too bad. I have no regrets!"
WHERE TO GET IT
Cabinetry: Downsview Moda in Boston Satinwood and Downsview Contrada in custom glazed finish, Details International
Cooktop, Oven and Freezer: Thermador, Details International
Island Countertop: Granite slab from Bella Pietra
Kitchen Countertop: White Caesarstone, Details International
Lighting: Corbett Lighting "Cesto" pendants, Lighting Concepts
Tile Backsplash: Desert glass in "Bologna," Details International