Kakaako
Coming Together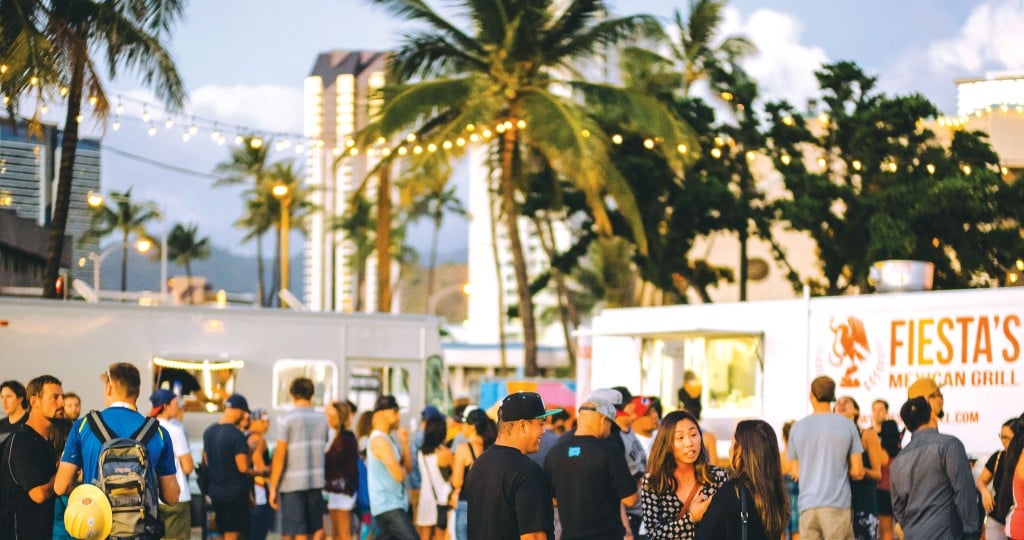 Connecting People and Places in Kakaako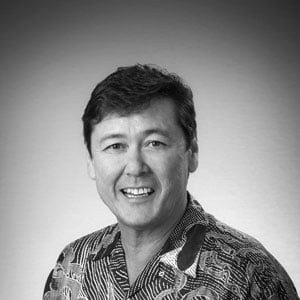 It's easy to look around Kakaako and see only the sleek and modern buildings and storefront signs popping up on every block. However, just as compelling are the visions driving these projects and the community behind them, built on the legacy of generations of Kakaako residents.
Keauhou, meaning "transformation," is a word that perfectly describes the present mission to revitalize Kakaako. We have chosen to focus on re-transforming the area, using a concept drawing from and heavily inspired by Kakaako's strong cultural roots, which have always been diverse in nature. By keeping this diverse population in mind, focusing in particular on families and on residents across income brackets, we can better serve the present and future of Hawaii in the face of ever-rising demand for quality, affordable housing.
Finding opportunities to help facilitate communities that reflect the overall population is a vital part of connecting people to one another and to place. I believe that building relationships is everything, not only in sales, but in all aspects of life. Forming relationships is the foundation of Kakaako living, as well as what makes living in this emerging neighborhood a unique experience. Close attention to detail throughout the planning and execution phases ensures that Kakaako residents are connected to the people around them, to the world around them, and to the long and rich history of the land they live on. From the historic community gathering and interaction center, Kakaako will continue to transform through revitalization and become the center of where people work, live and play.
As our projects move forward, we are excited to share our vision for the future with you. Whether you plan on planting roots in Kakaako, grabbing lunch at one of the friendly local eateries or simply exploring what the area has to offer, we look forward to your contributions to this vibrant community.
Stanford Carr
President, Stanford Carr Development
---
Kakaako Exemplifies Smart Planning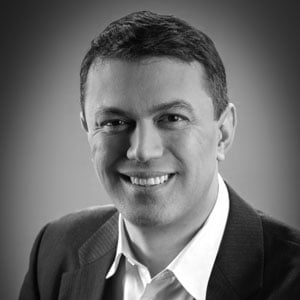 Unless projected trends dramatically reverse, Oahu will continue to grow. So, how will we plan responsibly for the future, given limited space and aging infrastructure?
Live-work-play neighborhoods, which we call integrated communities, represent the best practice. In Kakaako, we're seeing the emerging results of decades of planning for future growth.
A formerly light-industrial area is blossoming into an integrated community with a distinctive blend of community features: high and mid-rise towers, open spaces along the shore, attractive shopping and entertainment options and a mix of housing opportunities for individuals and families of all ages and income levels.
One element that was planned to meet the needs of a growing populace, but is now in doubt in Kakaako, is rail. Failing to meet our commitment to build the entire line through Kakaako to Ala Moana would scrap years of rail-related planning and investments in town. It would also drag down the entire rail project, because the primary reason people use transit is to get to work. If the rail line doesn't go to where the jobs are, its central function will be defeated. That would be a terrible example of how failing to commit to a plan leads to colossal waste.
Construction can be daunting, but integrated communities like Kakaako demonstrate that real economic opportunities are attainable when we see our plans through. In the years to come, Oahu and its residents will benefit from hundreds of jobs, billions of dollars for the economy and revenue to pay for essential services without raising taxes.
The shining success rising in Kakaako shows what we can achieve when long-term plans come to fruition.
John White
Executive Director, Pacific Resource Partnership
---
Coming Together
Walking past the colorfully painted and newly emerging buildings of West Kakaako today, one would never guess that its name translates to "dull" or "slow" in Hawaiian. Vibrant murals on converted warehouses add splashes of color to formerly gray industrial blocks that now house community gatherings and quaint cafes. Like the Kakaako of years ago, this blossoming neighborhood seeks to utilize its existing and developing surroundings to suit the needs of its residents and enhance their quality of living.
Over a century ago, West Kakaako was a sleepy, coastal marshland used chiefly for its natural salt pans (paakai), fishponds (loko ia), and taro gardens (loi). This region was slow to develop compared to its neighboring districts of Waikiki and downtown Honolulu. However, by the mid-1800s West Kakaako began to see an influx in Native Hawaiians and Chinese, Filipino, Caucasian, Japanese and Portuguese immigrants. As these communities began to settle, "camps," or small neighborhoods of duplexes, formed. The camps would come to be known by family names like Camp Aoki, Ilalo, Ohe, Kawamoto, Ilaniwai, Quinn, Yano and Matsumoto.
The residents of these camps were working class families from diverse cultural and generational backgrounds. Together, they formed a warm, bustling community that was rich in spirit if not in pocket.
"Kakaako was like a microcosm of Hawaii – a closely knit, multiracial community filled with the aloha spirit," says Marsha Gibson, former Kakaako resident and author of "Kakaako: As We Knew It" (Mutual Publishing, 2011). "The neighbors (in the camps) got along because everyone was the same. Families shared food, cultures and sometimes even living quarters. Everyone trusted each other and all were considered equal. We didn't have to lock our doors. In fact, our front door was never closed during the day. Neighbors were free to walk in, although they'd knock or call out first."
At the nucleus of the camps was Mother Waldron Park located across from Pohukaina Elementary, on Pohukaina and Coral Streets. Built in 1937, "the park was named after Margaret Waldron, a tough fourth-grade teacher at Pohukaina Elementary School known for transforming the youth gangs of Kakaako into law-abiding citizens. She was fondly bestowed the title 'Mother' Waldron because of the many youth programs she organized at the park," explains Gibson. The park became the center of the Kakaako neighborhood where kids played, the community congregated, political rallies were held and an annual Bon Dance occurred in July. The park also hosted casual, impromptu "kanikapila" music sessions with talented local musicians like Danny Lopes Sr. and the legendary Gabby Pahinui, who was born in a house on Ward Avenue. "While playing volleyball at Mother Waldron Park, Gabby met and fell in love with Emily Pulepule Kauha. A year later, they were married and their first child was born," recalls Cyril Pahinui, Gabby's son who is also an accomplished musician.
Camp life offered support and growth in many ways. A number of the early buildings were split-level duplexes with commercial space on the ground level and residential living upstairs. Family-owned businesses like Noodle Shops, Mini Markets and Dry Goods stores were popular gathering spots and essential parts of everyday living.
In the 1950s, zoning for Kakaako began to shift from residential to commercial. Small businesses and entrepreneurship grew as wholesaling, warehousing and other industrial businesses flourished. Meanwhile, residents opted for other popular growing neighborhoods like Kalihi and Moiliili leading to the urban Kakaako you see now. Today, on the blocks where the camps once stood, a dynamic community is reemerging, built on the hard-working, entrepreneurial spirit of the past.
"When interviewing previous Kakaako residents, all of the interviewees, without exception, listed the following items with nostalgia and longing for the Kakaako of old: the camaraderie – their friends; the freedom they felt; the lack of prejudice; the feeling that everyone was the same; and the sharing of food, cultures, languages and music," reflects Gibson.
Taking a tip from its original residents generations ago, the current affordable housing developments and multiuse spaces for small businesses echo the camp life of old West Kakaako where young families grew and prospered and mom-and-pop stores reigned supreme. Cohesive, convenient and community driven, West Kakaako is coming together.
---
Form Meets Function: Mixed Used Living In Kakaako
Stanford Carr Development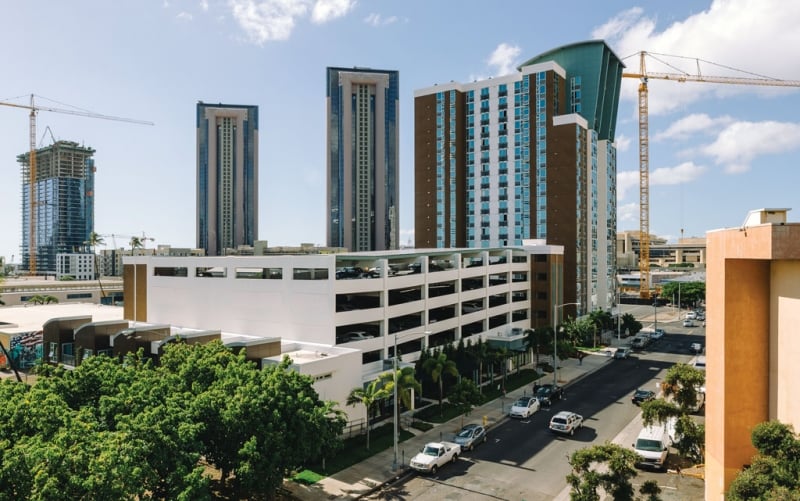 On the heels of Halekauwila Place's success, Stanford Carr Development is bringing new and exciting housing opportunities for Honolulu's middle class families to West Kakaako. In 2014, Stanford Carr's primary initiative for Halekauwila Place was to create affordable rental housing for the local workforce. On the corner of Halekauwila Street and Keawe Street, Halekauwila Place overlooks Mother Waldron Park, offering 204 units ranging from studios to three-bedroom apartments with rental fees ranging from $968 to $1,412 for families with limited incomes. "What's especially interesting about this property is that 100 percent of our residents represent 80 percent of our local workforce – government employees, school teachers, firemen, small-business owners and folks in visitor-related industries," says Stanford Carr, president of Stanford Carr Development, proving the viability of affordable housing in urban Honolulu.
Recognized for generating some of the most distinguished, environmentally sensitive developments for a diverse range of income levels on Oahu, Maui and the Big Island, the team at Stanford Carr Development set its sights on a new project that would mix affordable rental units with for-sale condominiums and commercial-use space. Currently being constructed are Keauhou Place and Keauhou Lane, both named after the former popular thoroughfare. This ambitious, mixed-use, multi-layered project was contracted by Kamehameha Schools and designed with Hawaii families in mind. "Keauhou Place and Keauhou Lane is a master-planned city block that offers over 30,000 square feet of neighborhood commercial space and 209 affordable rental apartment which will be owned and operated by Kamehameha Schools and Gerding Edlen Development," describes Carr. "There will also be 423 for-sale condominiums, which include 85 reserved housing units targeted to families earning 100 percent to 140 percent AMI," inviting young professionals and higher earning families the opportunity to buy.
Despite being low in cost, don't expect these units to be low in curb appeal. At Keauhou Place "there are 35 townhomes that outline the parking structure along Pohukaina and South Streets, which achieves a much more humanistic architectural scale and walkable community with generous front yard setbacks and shaded canopy trees," envisions Carr. Likewise, Keauhou Lane will integrate commercial space on its street level, adding value and appeal to the neighborhood, as well as contributing to the overall urban lifestyle aesthetic.
Tailoring these developments around the needs of its residents, especially those hoping to cut down on driving, is high on the list of priorities. A pedestrian passageway and plaza will allow walkable access to an entry at the Civic Center station on Honolulu's future rail line. By focusing on creating an efficient transit-oriented community, "accessibility and connectivity will be achieved without being dependent on a car," explains Carr. Residents can avoid time spent in traffic in exchange for more free time and a better quality of life, but there's also monetary value to reducing a dependency on vehicles. "Rail will provide the option for eliminating a car or all cars and that affects the cost of building and selling residences in a number of ways," Carr adds. "For example, to construct one structured parking stall costs $40,000-plus and adds significantly to the cost of housing, especially when adding multiple spaces to the sale price of the condominium."
Creating affordable housing in the heart of Honolulu is no easy feat. The cost of land, freight and shipping costs of materials, not to mention the time spent procuring materials from the mainland all contribute to the steep price of building in highly sought after districts. Thankfully, Stanford Carr's formula for mixed-use, transit-oriented living in a diverse and modern neighborhood truly inspires hope in Honolulu's next generation of renters, homebuyers and entrepreneurs.
---
Gathering Grounds: Creating Cohesive Spaces for a Community
Kamehameha Schools
When Princess Bernice Pauahi Bishop wrote her will in 1883, only 44,000 Native Hawaiians remained. As the last direct descendant of Kamehameha I and a princess who had watched her people's numbers dwindle throughout the years, Princess Pauahi saw education as critical to the survival of her people and left 375,000 acres of ancestral land to them at her passing. Throughout the years, her endowment has supported Kamehameha Schools and, in doing so, provided thousands of keiki with education and opportunities for their futures. Today, a portion of her gift is part of a mission to revitalize and transform Kakaako into Our Kakaako, a community grounded in the values of authenticity, creativity and cultural responsibility.
Built upon land owned by Kamehameha Schools, the undertakings included in Our Kakaako aim to provide much more than just a living space. The project's mission understands that a home is more than walls and property lines. Location and lifestyle both contribute to Our Kakaako, but community is key. This rising urban neighborhood builds upon the communities of the past to create a distinct Kakaako that is colorful and collaborative.
One of the projects central to Our Kakaako's development is SALT, a unique urban gathering ground for the emerging neighborhood. When ancient Hawaiians occupied this land, the region's salt pans (paakai) brought it wealth and sustained its people. Appropriately named after this precious resource, SALT hopes to serve a similar purpose for the residents of present and future Kakaako. This innovative venue works to advance the missions of Our Kakaako and present opportunities for community engagement through food, commerce and entertainment. As a neighborhood, Our Kakaako is a community designed to encourage residents to spend time exploring the area's offerings, connecting with neighbors, and learning about their new friends, surroundings and family. SALT provides a convenient, pleasant and attractive site for these comings and goings. These shops, eateries and events, many of which are locally owned and run, provide spaces for patrons to relax in and enjoy as well as opportunities for residential entrepreneurship and initiative.
Each new generation has brought new focus and direction to Kakaako, transforming not only the demographics of the people living in the area, but of the actual structures in which they resided as well. While Kakaako was initially built to accommodate the compact camp-style living generations ago, the utility and roadway infrastructure was modified to suit the needs of a rising industrial presence in the area. While the Hawaii Community Development Authority (HCDA) was envisioning a 500-acre area for residents to re-establish roots, they recognized the need for upgraded infrastructure to suit those residents' needs. These upgrades began in the early 80s and were, with the exception of a couple of projects, completed a few years ago, focusing on providing efficient and safe water, sewage, electrical, drainage, communications and roadway systems for thousands of new homes and hundreds of businesses in Kakaako.
Over $200 million was spent on improvements, with more than $50 million of that provided by private landowners such as Kamehameha Schools and others. Continuing to enhance and cultivate the community of Kakaako not only ensures the legacy of its investment, but also increases the tax base to support maintenance and replacement costs over time.
The monetary and cultural investments in Kakaako have served as an opportunity for Kamehameha Schools to answer the need for housing among local families in a manner that supports the original goal of the endowment: education. The days when some of Kakaako's richest resources were its salt pans and fish ponds have long passed. Instead, Kakaako is developing into an area rich in its community and in the stories it has to tell. In these stories are some of the lessons today's keiki will bring with them into the future, and in the telling of these tales are reminders of the commitment and innovation that has brought this community together and made it not just Kakaako, but Our Kakaako.
---
Cranes, Trains and Automobiles: Sustainable Growth for a Developing Neighborhood
Pacific Resource Partnership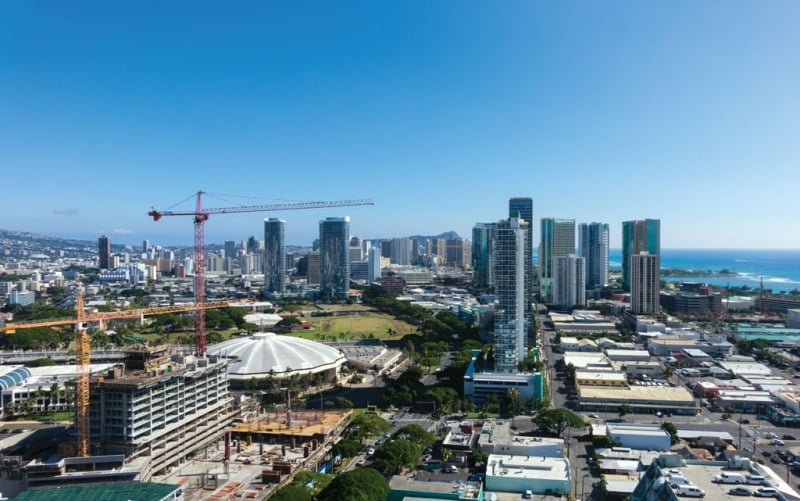 Honolulu's skyline seems to be changing so often, locals joke that the new state bird is the yellow crane. While it might seem crowded with the abundance of towering machinery and scaffolding raising new buildings, after speaking with executive director John White of Pacific Resource Partnership, a compelling argument can be made for building Honolulu up, not out. White explains, "We have a finite amount of land that can be used for development here, so we can either continue to build out past the urban growth boundary, which adds to more traffic, more commuters and consumption of our open space, or we can rebuild within the urban core." Current developments like the portion of the 600-acre space known as West Kakaako are examples of this kind of urban buildup. White estimates, "Hawaii is seeing an approximate population growth of 8,000 to 10,000 people annually, with a housing market that is undersourced an estimated 15,000 to 20,000 residences. There's a lot of pent-up demand that needs to be served."
The increasing gap in annual population growth and housing-supply has resulted in continued housing price increases and an unbalanced market. New developments in Kakaako are providing an increase in housing opportunities and alternatives to neighborhoods outside of the "urban core," like Ewa Beach, Mililani or Kapolei. Spacious, new-builts in West Oahu can be very tempting for housing seekers, but commute times and traffic gridlock are major deterrents. Creating urban neighborhoods in the heart of Honolulu can shorten commutes and lessen vehicle dependency, while also avoiding the development of Oahu's natural open spaces. Building transit-oriented communities with great infrastructure for a wide range of income levels within the urban growth boundary is a step in the right direction for sustainable housing.
Pacific Resource Partnership represents the Hawaii Regional Council of Carpenters and over 240 contractors ranging from large national corporations to small local businesses.
This consortium of builders is in a boom cycle right now that is partly due to the State of Hawaii's investment in Kakaako starting decades ago. In 1976, the State established an agency called Hawaii Community Development Authority (HCDA) to supplement traditional community renewal methods by promoting public and private sector development through investments in housing, parks and open areas, as well as new commercial and industrial space near the downtown core. White explains further, "Depending on how far back you go, and considering inflation, the state has spent an estimated $200 million to $400 million in building infrastructure in Kakaako, in anticipation of what is coming to a head now. The HCDA and this intelligent government entrepreneurism is leading to better urban planning and private sector partnerships that are unfolding in Kakaako presently." And what's unfolding is a sustainable growth strategy for Oahu that aims to service the increasing demand of local families looking for housing and a better quality of life.
---
Essential Housing
Downtown Capital 801 South Street
Workforce Housing is targeted at "essential workers" who make the Honolulu community go, like teachers, firemen, nurses, police officers, food service and retail workers, among others that are necessary to the Kakaako neighborhood. On the corner of Kapiolani and South Streets sits the twin towers project 801 South Street that services these vital members of the community with opportunities for affordable housing built within the urban core of Honolulu.
"Our mission is to provide housing for workforce buyers, not luxury investors," says Ryan Harada of Downtown Capital, the developer. By limiting the amount of luxury amenities in a condominium the developer can reduce the monthly cost of operations and maintenance fees. "This project addresses the critical shortage of housing that Hawaii's residents can afford in Honolulu's urban core," says Marshall Hung, lead developer of Downtown Capital, in a statement. "We are excited about delivering quality housing in Kakaako to help build a 'live, work and play' community. With our design and construction team sharing this affordable housing goal, this community need can be fulfilled."
---
Building a Foundation for Formative Growth
Alexander & Baldwin
Samuel Thomas Alexander and Harry Perrine Baldwin launched the sugar cane business that would grow to become Alexander & Baldwin, Inc. in 1869. Throughout the decades, A&B has grown into a corporation with $2.3 billion in assets, including over 88 thousand acres in land and encompassing subsidiaries such as A&B Properties, Inc. Today, A&B Properties is a major player in the movement to revitalize and reorient Kakaako through focusing on developing residences where a growing community can thrive.
Alexander & Baldwin's contributions to Kakaako are anchored in its two residential projects: The Collection, at 600 Ala Moana, and Waihonua, at 1189 Waimanu St. Both offer a uniquely Kakaako lifestyle, based on the close proximity of each to a selection of excellent dining, shopping, and recreational opportunities. These properties also offer residents a lifestyle centered around community interaction and engagement. By presenting a wide range of choices for residents on all fronts, Kakaako's development is aimed at forming a neighborhood where residents are curious and excited about their surroundings and what their community has to offer.
"A&B made a conscious effort to build a product that would appeal to local residents looking to add an urban pedestrian component to their lifestyle," explains A&B Properties Senior Vice President of development Rick Stack. "We were focused on attracting buyers that wanted to live, work, and play in town."
Their efforts to appeal to local residents were not in vain. 85% of the buyers at The Collection and 80% of Waihonua's buyers are local, and both projects saw "a mix of first-time homebuyers as well as a large number of buyers looking to upgrade from their older condos," according to Stack. In particular, The Collection sought "a broad range of local buyers" by orienting its properties towards satisfying a wide market. The Collection recognizes the value of community diversity by offering not only a mix residential styles, including townhomes, high rise condos, and lofts, but also a variety of price points geared towards buyers with varied wants and needs in their residences.
Kakaako's development has centered around mixed use development which makes the appeal of residences like The Collection and Waihonua possible. By interweaving different types of buildings and zoning together within the region, mixed use allows for the close proximity of business, residence, and leisure. This proximity enables the urban, pedestrian lifestyle A&B hopes to achieve with each project in Kakaako.
Now that Waihonua is open and The Collection is complete, it's time for A&B to look ahead, imagining a future for the residences they've built and the community these residences will help foster.
"It is inevitable that Kakaako will experience cycles of development over the next 15 years," describes Stack. "However, the next 15 years will be a very different Kakaako than the past 15 years, as Kakaako has now achieved the critical mass necessary to firmly establish it as a vibrant residential community on Oahu."
If the past 15 years have been "foundational years" for Kakaako, A&B expects that the next 15 years will be "formative years." Throughout these formative years, Kakaako will grow, with all the ups and downs that evolution entails. However, through it all Kakaako will thrive on a community of local residents and newcomers who form an active, vibrant community centered around the gathering spaces and living spaces which set the tone for a bright future for the current residents of Kakaako, as well as those yet to come.
---
Insider's Guide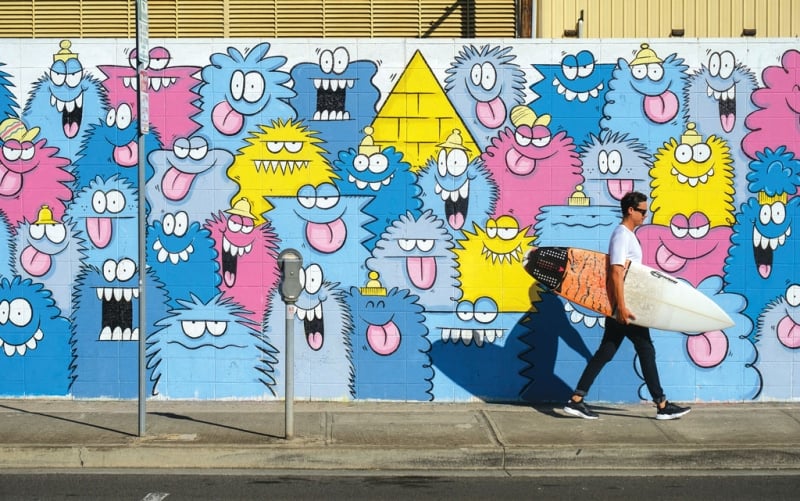 Travis Watanabe is a beverage marketing manager who bought into Kakaako in 2015 in order to shorten his commute time to his downtown office. Now down to a mere five-minute jaunt, Watanabe's short commute allows him to squeeze in the occasional early morning, pre-work surf session at nearby spots like Kewalo Basin, Ala Moana Beach Park and Kaisers. Considering the convenience, it's still worth it to paddle out even on smaller days. "It's amazing what the reef (Kaisers) can do with minimal swell," says Travis.
"The real struggle becomes deciding whether to drive, bike or walk to the office and trying to squeeze in a post-surf plate-lunch breakfast from Cooke Street Diner," quips the 31-year-old. As for a pau hana drink (or two), there are numerous options from Chinatown back to his home in Kakaako, but according to Travis "Bevy is the hang spot for sure. Christian Self (owner/bar manager) has great taste and always gets it right," he explains. "The bar at Highway Inn is also a good option with occasional live Hawaiian music (Aloha Fridays at 5pm)."
COMMUNITY HOT SPOTS
Arvo
Nestled in a shared space on Auahi Street with Milo HNL and Paiko is urban oasis ARVO Café. A small Australian-style coffee shop specializing in flat whites, long blacks and beautifully arranged light fare including Nutella toast, smoked salmon and fabulously simple prosciutto croissants. Husband and wife part-owners Mason and Dixie Rose, from Australia and Oahu respectively, opened in early 2016 with instant traction from the urban hip via their highly instagrammable creations. Indoor seating is limited, so don't loiter. Open-air seating also available.
Milo HNL
West Kakaako's newest kid on the block is Milo HNL, a concept store based on the experiences of surf, travel and wanderlust. "Milo is a type of tree considered sacred by Hawaiians; naturally resistant to salt spray and wind and used for dishware. That's juxtaposed against HNL, a nod toward the modern airport where journeys start and end," says owner Jake Mizuno, who originally tested the concept in Kahala Mall. Shoppers can pick up curated pieces from Patagonia, Apolis, DaKine, Brixton and Drifter on their way to their next big adventure.
Paiko
Hello, jungalow heaven! If your home or workspace is in need of some life, this botanical boutique is the place to go. Among the locally sourced plants well suited for various spaces, including a large selection of succulents and tillandsia, you'll find mid-century modern vases and upcycled fabric planters. Co-founders Courtney Monahan and Tamara Rigney grew up on Oahu, with Rigney's grandmother living on Paiko Drive and inspiring their namesake. "I feel Paiko promotes creativity," says Monahan. "We have a lot of things that people can put together themselves and bring into their homes and feel like they have something special."
Dixie Rose
Co-owner of ARVO Café, was no stranger to Kakaako when she and her photographer husband, Mason Rose decided to open on Auahi Street, but she was pleasantly surprised by the welcoming environment. "Before opening I didn't realize what a close-knit community it is down here," says Dixie. "It's just got this fresh vibe about it that everyone is so excited to be part of. It feels like anything is possible, really. It's such a diverse community I see, from the fit barre instructor girls over at Sweat and Soul Studio to the pre-med students at the University of Hawaii medical building across the street. We all get to run into each other and share stories."
When not managing the café with her husband and sister (also co-owners), Dixie finds inspiration from the collection of businesses around ARVO. "The staff at Honolulu Beerworks are awesome," says Dixie. "Insomnia, next door to us, makes great bahn mi sandwiches and is run by the sweetest couple. Recently, though, naughty pregnancy cravings got me sneaking off to Hank's for Truffle Fries. I love shopping at our sister store, Paiko, since I love plants and they have the best vases and pots from around the globe. I am excited though for the lineup of cute boutiques coming in!"
Kakaako Wine Loft & Sake Collection
Kakaako residents Sukit and Rebecca Kanaprach opened this 800-square-foot loft in late 2014, motivated by their love of sake and wine and the lack of retail options in their neighborhood. Carrying over 100 different sakes and 300 different wines, the knowledgeable staff can help solve any dinner-party queries, last-minute gift ideas or personal consumption decisions. If that's not enough, Rebecca also hosts casual complimentary wine tastings on Fridays and offers delivery service to your door if you live within a 3 mile radius.
POW! WOW! HAWAII
Centered around a week-long event in Kakaako, POW! WOW! has grown into a worldwide network of artists that organize gallery shows, community lectures, youth programs on art and music, mural projects and live art installations around the globe. Started in 2010 as a way to beautify the industrial area of Kakaako, the central event takes place the second week of February and brings over 100 international and local artists together to collaborate on murals that light up the neighborhood.
BJ Penn Gym
Don't be too intimidated by the gym's name, or it's owner, Mixed Martial Arts champion and local boy, BJ Penn. This UFC gym aims to satisfy fitness seekers of all styles: you can sharpen your skills in Brazilian jiu jitsu, judo, boxing and Muay Thai training or you can sweat it out in yoga, zumba, P90X, spin, hula fitness and cardio classes. Included with membership is 24-hour access to the latest gym equipment—from state-of-the-art treadmills and elliptical trainers, to bikes, free weights and more. Children are also welcome to overall fitness training and mixed martial arts classes. If your keiki isn't interested in burning calories, there is also a Kids Club to keep them occupied with activities, movies, art and video games.
Morning Glass Coffee
Excellent coffee doesn't make itself; knowledgeable, engaged, thoughtful baristas do, and at Morning Glass Coffee they have both. This spot, tucked inside the trendy interior design store Fishcake, is a scaled-down kiosk compared to the Morning Glass flagship location in Manoa Valley. On pour are international selections from Stumptown and Four Barrel as well as locally grown options and an array of pastries including their delicious strawberry, lilikoi, ginger and blueberry scones. Other breakfast items are available including sandwiches and burritos, but they sell out quickly!
Highway Inn
The original Highway Inn opened in Waipahu nearly 70 years ago by the Toguchi family. The menu is based on traditional Hawaiian food and American dishes served in the mess halls of Japanese internment camps during World War II. Their second location, in Kakaako, opened in 2013 and served the same authentic comfort foods offered by the Toguchi family for three generations. Hearty laulaus served with savory beef stew, accompanied by choices of poi, lomi salmon, rice, raw fish, chicken long rice, kalua pig and squid luau. If you're in the mood for an extra side of Aloha, make a reservation for dinner on Friday evenings and enjoy live Hawaiian music starting at 5pm, knowing that each laulau being plated is hand wrapped every morning as it has been since 1947.
Bevy
Located just off the corner of Auahi and Keawe Streets sits Bevy. The industrial meets chic bar opened in 2013 by popular Honolulu bartender Christian Self (formerly of the now defunct but still iconic Thirtyninehotel), along with co-owner Timo Lee. Intended as a modern take on a neighborhood bar focused on drinks and conversation, Bevy also features a popular happy hour with generous pours from 4 p.m. to 7 p.m. This rustic, golden-lit haunt is housed in a rock-walled bunker and known for its many inventive libations. One of these creations is the "Dueling Mai Tai," which takes two mai tai recipes that each claim to be "the original" and serves both of them in the same glass. Light fare and pupu offerings are also available including a Tapas menu that's actually a Tapas menu featuring albondigas, tres quesos puffs and gambas al ajillo.
Up Roll Café
Two words: Sushi Burrito. Located on the corner of Halekauwila and Keawe Street is a cafe that has built a dedicated following with unique twist on the sushi roll. Custom made-to-order sushi "rolls" take an engineering influence from a Mexican burrito and feature fresh vegetables, rice or quinoa, assorted toppings, homemade sauces and various meat and vegetarian options. The industrially decorated café with blackboard walls offers other menu items like poke bowls, sandwiches, teas, coffees, homemade pop-over pastries and desserts.
Lanikai Juice
Serving refreshing smoothies, acai bowls, healthy snacks and delicious fruit juices since the 90s, Lanikai Juice has grown a reputation as the go-to spot for your fresh fruit fix. Endless menu options and vitamin boosts are at your whim. For the actively inclined, every Thursday at 6 p.m. join the Lanikai Juice and Our Kakaako Run Club! Led by professional trainer and former Hawaii Pacific University cross country coach Mariane Uehara, the group chooses one of three routes (between 3 to 5 miles long) to run for the day: Ala Moana Beach Park, Aloha Tower or Kakaako Waterfront Park.
Hank's Haute Dogs
Looking for that classic Chicago "snap" in Honolulu? So was Hank. One of only a handful of restaurateurs to achieve a Mobil Guide five-star rating in North America (founded award-winning Trio Restaurant in Chicago), Hank left the prestige of luxury dining for his love of hot dogs and his roots in Hawaii to open his haute spot on Coral Street in 2007. While this is the place to get your Chicago fix, it also serves dogs of Polish, Chili, Chorizo, Lobster, Rabbit, Buffalo, Veggie, Bratwurst and Portuguese variety. Thinking outside the hot dog bun, Hank's offers a unique Ice Whip Coffee, a hapa mix of Hawaiian shaved ice and Italian Granita with a whipped-cream dollop.
Kakaako Waterfront Park
"Where Honolulu Meets the Sea" – 35 acres, rolling grass hills, panoramic promenade ocean views and not one grain of sand, Kakaako Waterfront Park is quite literally where the land ends and the ocean begins. Opened in 1992, Kakaako Waterfront Park on the makai side of Ala Moana Boulevard is an ocean-fronting outdoor setting for family gatherings, scenic sunset picnics and numerous running or walking trails, depending on what degree of difficulty you want. Lots of free parking, multiple surf spots, Children's Discovery Center, cardboard-box slidable hills, an abundance of shoreline fishing space and 180 degree sunset/sunrise perspectives are all included at Honolulu's largest urban public park.
Mr. Tea Cafe
An altar to all things tea – black, milk, green, Thai, fruit, matcha, Oolong, Taro, hot, cold, boba and more and more. This shrine is located inside Salt, occupying an industrial, brick-walled space with shelves of Harry Potter books and Sailor Moon manga. With a staff so dedicated to tea, you won't find a broader selection of drinks that are fully customizable down to the the level of sweetness in your mustached cup. Lots of baked goods, sandwiches and smoothies also available on the menu to compliment whatever customized created tea you come up with.
Sweat + Soul Barre
Looking to hit the newest bar in Kakaako for a happy hour? Guaranteed no hang overs, but your abs will probably ache the next day. Located at 810 Pohukaina Street is Sweat + Soul Studio, Honolulu's premier barre fitness space. Originally invented in the 60's by German professional ballerina Lotte Berk, barre fitness incorporated her dance conditioning routine with her rehabilitative therapy which took elements from yoga and pilates. While barre has origins in dance, the rhythmically challenged shouldn't worry: No tap shoes, leotards, or any fancy foot-work are required. Step out of your comfort zone and step up to the barre. This is your happy hour, your chance to transform.
Juic'd Life
Located in the Salt retail space, Juic'd Life provides cold-pressed juices, acai bowls and salads that are formulated to energize, rebuild, repair and maintain your well being. They handcraft their menu using only the freshest plant-based, gluten free, dairy free ingredients, loaded with vitamins, enzymes and trace minerals. Juic'd has a convenient location that can easily be accessed by commuters, shoppers, bikers, runners and anyone else who finds themselves in Kakaako looking for refreshing sustenance on a hot Hawaiian day. Also available are 1, 3 and 5 day cleanse schedules designed and formulated to flush, detoxify, hydrate and nourish your body.
Geoff Seideman
Brewmaster at Honolulu Beerworks on Cooke Street, saw the value in planting roots in West Kakaako's historically enterprising neighborhood. "The old Honolulu Ironworks was a few blocks down from us (what is currently Restaurant Row)," explains Seideman. "It was an integral part of the area from the late 1800s until 1980s. Our logo came out of an old photograph of the Ironworks, [in which] workers were standing next to giant gears." Honolulu Beerworks has become a community hub for Kakaako since its opening in 2013, serving over a dozen different locally brewed beers, some even using locally grown hops.
"We chose Kakaako for a couple reasons, the location: a light industrial building in between downtown Honolulu and Waikiki, and the buildup of the area that is to come: we wanted to be a gathering place for this expanding community," shares Seideman.
---
Velocity Honolulu
JN Group and Oliver McMillan
Over the past few years, the Kakaako skyline has transformed, swapping busy construction cranes and scaffolding for the sleek, sharp lines of modern towers. Each of these buildings aims to realize the vision of Kakaako as a modern, urban oasis and comes equipped with luxury amenities and experiences. Symphony Honolulu is no exception to this.
Located in the heart of the Ward neighborhood, Symphony embodies the vibrancy of a revitalized Kakaako. Developed by JN Group and OliverMcMillan, Symphony's sculptural tower is a standout among the changing landscapes and skylines surrounding it.
However, JN Group didn't stop at creating quality residences. Inspired by the Italian piazza, Velocity at Symphony Honolulu is a brand-new galleria concept opening this fall. Velocity will serve as a diverse space for the community, designed with the customer in mind. Velocity will house a showroom for the world's most renowned and exotic auto brands, as well as offering carefully curated retail opportunities. No piazza would be complete without cafés and authentic Italian dining, which will also be featured in Velocity.
Symphony and Velocity synthesize those aspects make Kakaako an appealing choice for many people, from potential homebuyers to those simply looking for a good cup of coffee. With luxury living, retail, gathering, and dining spaces under one roof and a wealth of recreational opportunities within walking distance, Velocity at Symphony Honolulu has modernized and custom tailored a community experience for visitors and residents alike looking to experience the vibrant, urban lifestyle of Honolulu.
---
Kakaako
Coming Together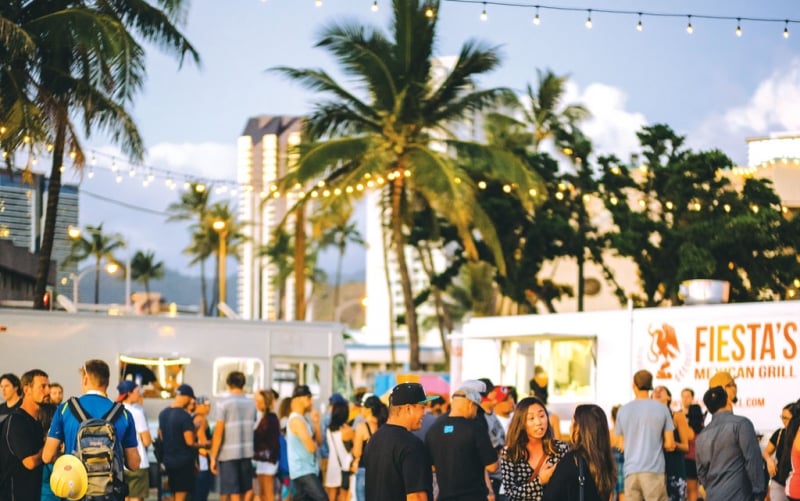 West Kakaako is in flux, evolving as new people and new ideas flow into the community. Filling the formerly cold and industrial city blocks are a wide selection of new commercial, residential, and recreational opportunities geared towards a diverse clientele. The groundwork has been laid for today's emerging Kakaako in the form of visions and construction projects, but even more growth lies ahead, making way for exciting new possibilities. This is a neighborhood driven by and tailored to community interests and actions, fueled by the passions and lifestyles of people from all walks of life. West Kakaako is coming together, but this is only the beginning.