Kapiwai
A Place to Call Home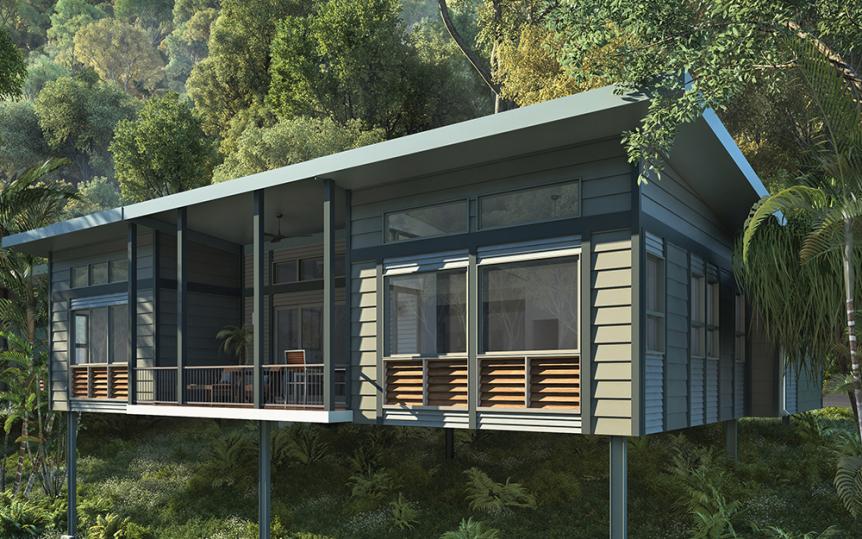 High up in Pauoa Valley, a new 15-acre, natural development will provide the best in modern living just minutes from busy downtown Honolulu.
An important agricultural site for Native Hawaiians and immigrant communities for centuries, Kapiwai was used to house its workers and cultivate kalo, rice for sake, fruits, coffee and even a cattle farm. "When we first bought it, we didn't know what we wanted to do," says Barry Sullivan of Developer Pauoa Valley Preserve LLC, who bought the land 12 years ago. "It was our discovery of the  history that dictated the development."
Sullivan says an important goal — to restore and renew use of the lo`i (agricultural terraces) — came from the realization that Kapiwai were important lands held by royalty and actively cultivated for centuries. "Every photo we could find showed this robust, bountiful and beautiful farmland along the stream," Sullivan says. "Then, all of the sudden, around 1980, the use of the land just stopped and it went completely fallow for decades."
Sullivan and his partners had a simple, straightforward vision: Develop a community that fits the land and its history — one that you'd want to live in.
"I grew up working a small farm similar to Kapiwai, with a stream running through it," says Sullivan. "And, as a result, I've always had a strong connection to the land. The idea for Kapiwai is to combine sustainable, modern tropical architecture — really, the best of urban living — with the sanctuary that only nature can provide."
Sullivan and a dedicated team spent more than a decade planning and designing a smaller, environmentally-aware community with just 24 homesites, set on a gentle bluff overlooking spring-fed Pauoa Stream, the abundant stone terraces, and a stunning 25-foot waterfall and grotto. Incredibly, it is all less than five minutes from downtown and close to shopping, nightlife, hospitals and schools.
"Even though we're close to town, families can develop a connection to the land and enjoy the sounds of nature, where kids can roam free rather than in a concrete jungle," Sullivan says. "It is similar to how I grew up — except there will be none of the work!"
The nearly 7-acre Kapiwai Gardens has been deeded to a nonprofit, offering homeowners the experience of being in nature but without the burdens of upkeep. "For those who enjoy a private walk in nature or perhaps the space to garden a terrace of their own, Kapiwai Gardens offers that," Sullivan says. "For others, it is just a breath of space to look out and enjoy from their home and lanai."
With more than four decades of experience working with developers, award-winning architect Mark de Reus thought he had seen everything — until Kapiwai.
"This project is very, very unique because one of the partners wants to live there," says Mark de Reus, head of de Reus Architects. "It's truly a labor of love and that doesn't happen very often."
De Reus has been working with Kapiwai for more than a decade and says, in the end, the project was all about finding the perfect balance between economic, social and environmental needs. "The planning objective became not about what is the maximum capacity of land, but what is the optimum?" de Reus says. "What development is really going to balance that triple bottom line?"
After much consideration, the decision was made to permit just 24 units on the property even though Kapiwai is zoned for up to 137 units and designated as "Urban."  "Twenty-four ended up being the ideal number," says de Reus, who designed the units with award-winning modern architect Joel Turkel. "The emphasis for this project became social and environmental rather than economical. That is just incredibly rare to see and exciting to be a part of."
Each homesite, ranging from 5,000 square feet to more than 18,000 square feet, was plotted by the accomplished Honolulu architect and urban designer Dr. Janine Clifford and matched with a three- or four-bedroom tropical modern residence. "Careful planning pays huge dividends in terms of livability," says Dr. Clifford. "Every home has been placed to bring the natural world inside, with butterfly roofs allowing abundant light and creating airy spaces ideal for Hawaii's tropical climate."
With smart design and durable materials, Kapiwai units are built to last for the long run.
"A big part of answering the question of what makes a project sustainable comes at the design stage," says Barry Sullivan of Kapiwai developer Pauoa Valley Preserve LLC. "We challenged our architects to design the best possible spaces and living environments and our engineers to translate that vision into homes that could be built with respect for the landscape that will stand the test of time."
An important component of that is how much material is required to provide the type of living experience that today's demanding luxury market requires. "A Kapiwai home that may be 3,000 square feet will live much larger and better than many 4,000-square-foot homes being built today," says Dr. Clifford. "I was also pleased to see my client take the extra steps whenever required to ensure the best living experience, such as adding insulation throughout the interior walls to control noise. That is just not typically done in Hawaii and certainly not at this price point."
There is an old adage that, while architects design spaces, realtors sell finishes. The Kapiwai team is convinced the right combination of both is the key. "Kapiwai was designed to concentrate and direct noise activity away from other homes, while protecting views and ensuring privacy," says Dr. Clifford. Kapiwai Sales Director Sisi Takaki of exclusive project brokerage Better Homes and Garden Real Estate Advantage Realty, adds, "Great design that fits the landscape combined with beautiful, durable and sustainable materials really resonates with Hawaii buyers. I frequently hear the comment that these homes offer the conveniences of a luxury high-rise condominium but without any of the downside!"
De Reus believes this project strikes the perfect balance. "Kapiwai combines the best attributes of urban living in a completely natural landscape. I have been fortunate to have been part of such a great team."
Building Materials
Hawaii's tropical climate can be hard on any building, especially when construction material costs tend to favor traditional residential construction methods that, while less expensive to build, do not do well over time. A key differentiator is that every Kapiwai residence is built of high-strength steel, concrete main floors, engineered bamboo or sustainable wood surfaces, and other durable, natural finishes. "I've been in business for more than 35 years and typically this type of steel construction and poured concrete floors is reserved only for commercial construction. These are going to be special homes," says Jimmy Hamasaki of Hamasaki Construction Inc., the award-winning construction company that is handling the vertical build.
Sullivan explains the material choices, "Sustainability is not about looking just at your cost at day one. I think it requires that you look at the entire lifetime of the home — how long will the home last? How much will it cost to repair and maintain over that period? What new materials will have to be consumed when portions of the home reach their useful life? Yes, this method of construction costs more and that cannot be avoided, but the result is a home that is designed and engineered to last a lifetime."
De Reus thinks the homes at Kapiwai are definitely designed to last. "A lot of thought went into every material selection, from the big items like the steel foundations and durable concrete main floors to the details, like naturally antimicrobial wool carpets in the bedrooms and simulated wood Trex® lanai decking that are all particularly well-suited to the tropical climate," he says. Other de Reus favorites include the natural color palettes of the individual homes that were designed to blend into the surroundings and complement the unobtrusive rooflines. " The rooflines work in a contemporary architectural sense, allowing nice interior volumes and ceiling heights up to 12 feet high or more, without getting the roofs too high to disrupt the overall visual impact of the development," de Reus says. "Kapiwai shows that a combination of thoughtful, efficient design and quality, appropriate building products can deliver a home that is both luxury and sustainable."
Floor Plans
Kapiwai consists of four modern, clean residential designs that, depending upon which homesite, may be "flipped" or altered to best take advantage of the site.  This approach gives a great deal of visual and living area diversity while at the same time maintains a consistent "tropical modern" architectural theme to the project.
Kapiwai Residence I and Residence II offer expansive, easy living three- and four-bedroom plans on a single floor.  Kapiwai Residence III and Residence IV offer more affordable three- and four-bedroom plans on two stories.  Every home comes with an attached large two-car garage, oversized windows looking over the stream and Kapiwai Gardens, and ample lanai and transitional space to take advantage of the natural setting.
"The layout of nearly all of these homes is also ideal for aging in place," says Kapiwai Sales Director Sisi Takaki at Better Homes and Gardens Real Estate Advantage Realty.  "Having at least one en suite bedroom on the main floor, having wide doorways throughout the home and eliminating or minimizing transitions even in bathrooms is a huge advantage. Buyers today think about what intergenerational living means or what is required for a home to work for the entire lifetime of the buyer. Kapiwai delivers on that."
World-class Design
The high-ceiling residences create open, sunlit spaces that blend into the lush landscape. The homes, built with abutting-wall garages to concentrate noise activities away from residential spaces, take advantage of the natural surroundings. "Each of the residences sits like a fully detached, single-family residence," says de Reus. "However, with the garage walls abutting you gain greater flexibility with the living spaces and decrease the impact on the site. We are able to get great natural ventilation all around, taking advantage of wind effects so that every dwelling can truly breathe."
Sullivan and de Reus both note the importance of sophisticated 3D-computer renderings in the creative process.  "You can see and even feel the space much more accurately, and you have much greater confidence that the final built product will meet your expectations," Sullivan notes. De Reus called upon fellow Big Islander Jeff Brink to develop a series of renderings that would accurately depict the spaces and capture a clear sense of the finished homes. "Jeff's skills enable architects, developers and buyers alike to really see what they are getting, before the first dollar is spent on construction," says de Reus.
Luxury Retreat. Prime Location.
Tucked a short drive away in the upper stretch of the valley, Kapiwai averages nearly 550 feet above sea level, providing a number of homes and outdoor spaces with beautiful views of downtown, Punchbowl and the ocean, in addition to their primary vantage overlooking the Kapiwai Gardens and Pauoa Stream. "There isn't a new development like this in town," Takaki adds, "and I cannot see this happening again."
"It's a very unique property," says Myron Kiriu, CEO and owner of Better Homes and Gardens Real Estate Advantage Realty. "Right now, there aren't a lot of upscale new home communities in the Honolulu metro area. You're getting a beautifully designed, contemporary residence in a country setting with the
convenience of an urban lifestyle."
Kapiwai homesites range from 5,000 square feet to more than 18,000 square feet, spread out along a gentle bluff overlooking the 7-acre Gardens. Residents can access the Gardens and enjoy hiking to the 25-foot waterfall, exploring the grotto or adding a garden of their own. A perpetual deed restriction precludes further development at Kapiwai. Unlike most areas of Honolulu, Kapiwai homeowners will not have their views obstructed or their experiences diminished by new development.
Innovative architecture, thoughtful design practices and a holistic approach to sustainability are key factors that drew Honolulu environmental and green-energy lawyer Douglas Codiga to Kapiwai. "It is moving in the direction of sustainability in a way that is important to us," Codiga says.
"We also love the clean lines and efficient design," says Codiga, who will share the home with his partner, Yong Houle. "One of our favorite features is the large lanai off the living room. We expect to make a lot of use out of this space." His future home is enhanced by its orientation, projecting over the bluff above a series of terraces and small waterfalls. "We love nature, and with this home, we can drink it in," Codiga says. "But, we also have our careers. Kapiwai gives us the simplicity and ease of a modern home, a landscaping plan that minimizes yardwork, and the privilege of access to the stream and Gardens. This just works for us."
"Kakaako is for people who really want urban and concrete and everything right outside their door as far as shopping and dining," says future resident James Tam. "At home, I prefer peace, serenity and solitude. That's what you get at Kapiwai."