Laid- Back Living
Pacific Home outfits a Kailua home for the ultimate in beach style.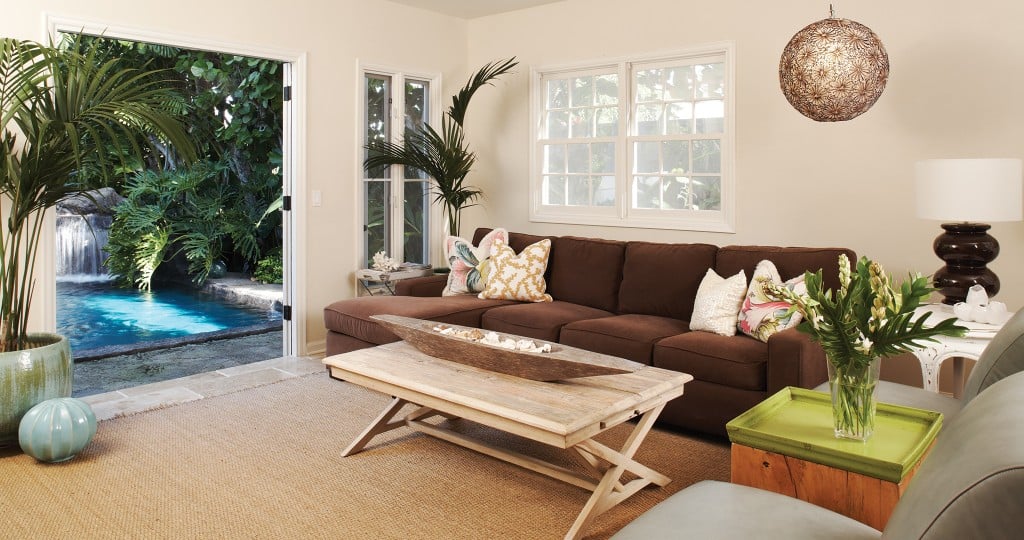 When Beth Ann Shropshire moved from Diamond Head to Lanikai, she knew she wanted her new place to feel like the ultimate beach home. Luckily for her, the spacious, two-story home she found was in excellent shape and needed little work. With the canvas primed, she was looking for the right pieces and accessories to really make the home both a peaceful, relaxing place and a fun, entertaining space for a teenage daughter and frequent guests.
A longtime customer of Pacific Home, Shropshire turned to the store and its co-owner and designer Jennifer Johnson, ASID, to outfit the home for beach living. Together, they chose pieces to enhance the clean color palette and add beachy, shabby-chic elements to each of its rooms.
LIVING ROOM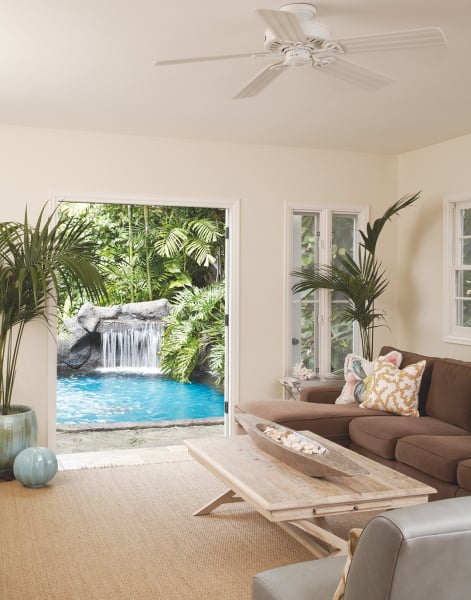 This long and spacious room is a main hangout area of the house and is located just steps away from the pool outside. Because of the indoor/outdoor nature of the room, Johnson and Shropshire kept low-maintenance materials in mind when choosing furniture. Ultimately, they selected a chocolate-brown, classic square-arm sectional from Mitchell Gold + Bob Williams and had it upholstered in microfiber. "It's great looking microfiber," Johnson says. "It doesn't have that faux-suede look that is commonly associated with microfiber, but it's just as durable. It's washable and the dog can't hurt it."
The room also features two leather "Ava" slipper chairs, also by Mitchell Gold + Bob Williams, a whitewashed, reclaimed-wood coffee table by Four Hands and select beach-themed accessories from Pacific Home. It's the perfect, comfortable spot for watching a movie or even drying off after a dip in the pool.
ENTRYWAY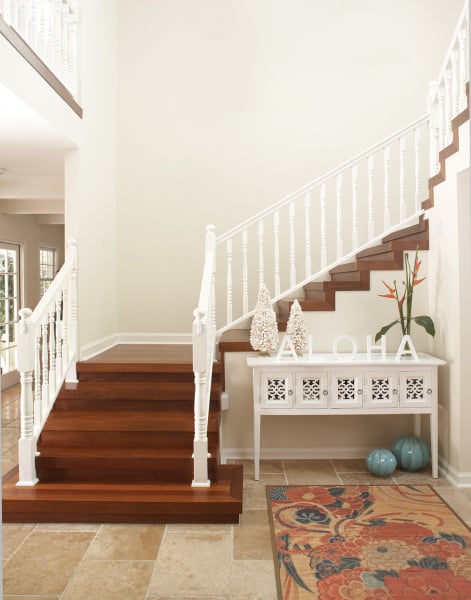 The open, two-story entryway is topped with a large skylight to let in abundant light. To maintain the light and airy feel of the space, Johnson and Shropshire chose an unobtrusive white, hand-carved console from Australian company Carina Sherlock from Pacific Home. The piece tucks right into the area adjacent to the staircase and is a great landing zone for mail and odds and ends when entering the home. On top of the console, white letters from Pacific Home spell out a welcoming "Aloha."
DINING ROOM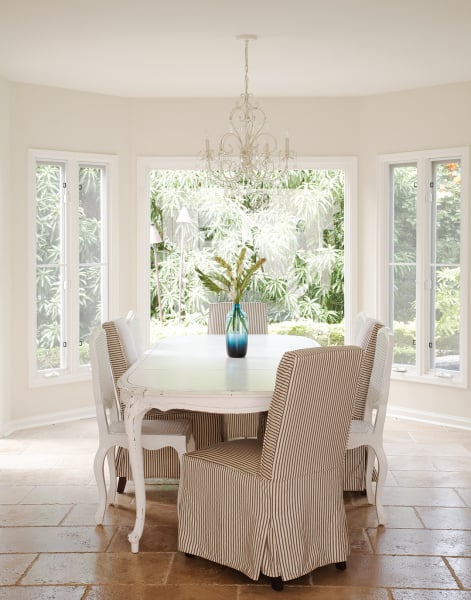 A long, white dining table is the focal point of this narrow space, with large windows overlooking the lush backyard. Shropshire incorporated the table from her previous home and painted and hand-distressed it herself for a shabby-chic feel. A mix of two types of chairs, the Kiki chocolate-stripe slipcovered chair by Mitchell Gold + Bob Williams and the wicker-back Carina Sherlock chair, both from Pacific Home, adds to the relaxed vibe and enables lots of guests to enjoy a meal together.
BEDROOMS & BATHROOMS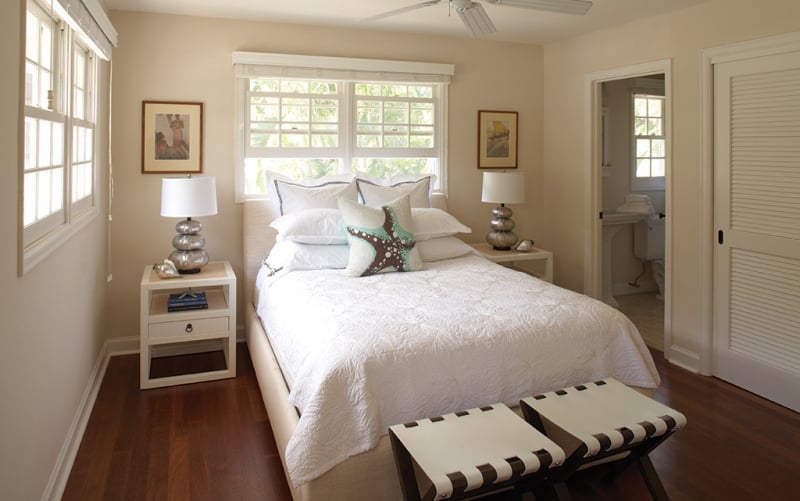 Comfort was key in all three bedrooms. The guest bedroom (shown below), like the others, includes a Mitchell Gold + Bob Williams upholstered bed and is flanked by Polo nightstands by Bungalow 5. "Upholstered beds are getting more and more popular," Johnson says. "It's almost like sleeping on a sofa, but not. It's comfortable, quiet and peaceful, and you don't need to prop up a bunch of pillows to read." Here, Johnson and the homeowner chose a low-profile platform style because of the room's low windows.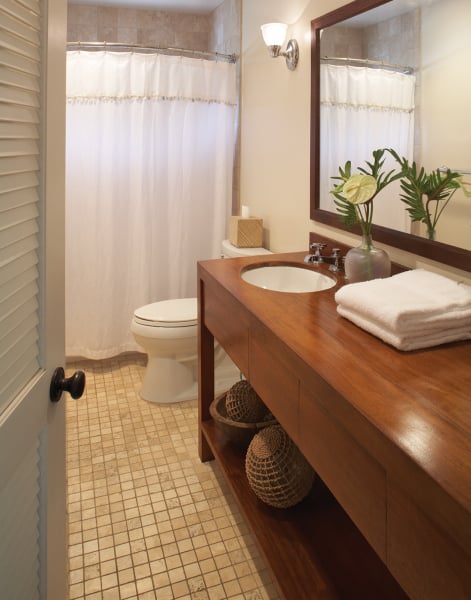 In the bathrooms, Shropshire kept the look neutral with creams, whites and woods. In this bath, a furniturelike wooden vanity echoes the wood countertops and island shown in the kitchen. Beachy glass and shell accessories keep the coastal continuity.
KITCHEN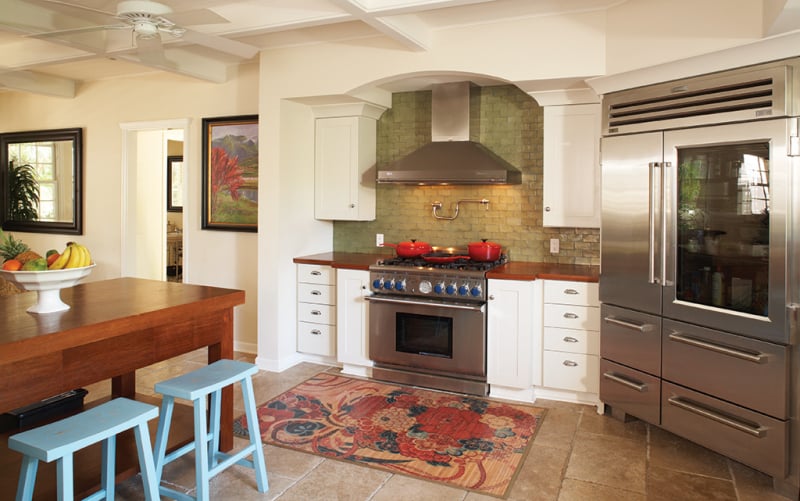 The home's large, open kitchen is perfect for frequent entertaining. Green glass tiles, reminiscent of beach glass, make up the backsplash, and a large wooden island grounds the space. Aqua Dynasty bar stools from Pacific Home add pops of color to the neutral space. A professional range and glass-front fridge prove this kitchen isn't just for show, either; it can accommodate cooking for a large number of friends and family.
DECK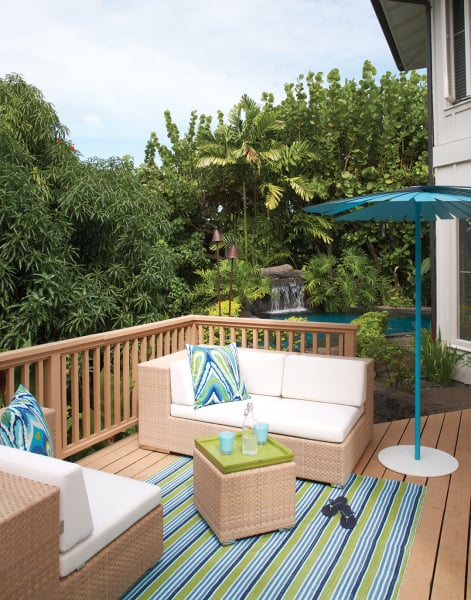 Johnson created a fun outdoor area on the home's deck with an indoor/outdoor blue-and-green striped rug by Dash & Albert. Durable and design-forward Janus et Cie outdoor furniture, including the lounge sectional and table, create the sitting area, while an Ensombra Parasol outdoor umbrella by Gandia Blasco adds modern glamour. Fun, brightly hued ikat pillows add the final colorful pop to the often-used space.
How To Get the Beach House Look
Designer Jennifer Johnson offers her tips for creating the same laid-back feel of this home at yours.
Keep it neutral. The underlying neutral palette is a constant in this home and a big part of the reason it feels so light and airy. "Every room is white or has something white in it," Johnson says. "Keep the palette constant and use pops of color or pattern to liven it up." Here, tropical greens, blues and aquas set off the white.
Paint existing pieces. To unify the furniture the homeowner already had, she painted colored pieces white and then distressed them by hand for a shabby-chic look. "It brings everything together and unifies pieces that might have clashed before," Johnson says.
Create zones. Johnson and the homeowner created smaller seating areas or zones in the larger rooms of the home to break them up and give them a more intimate feel. In the living room, for example, you can go straight from the pool to the sofa.
Don't fuss. In addition to low-maintenance fabrics, Johnson and the homeowner chose low-maintenance, solid-wood furniture pieces. "Wood can get beaten up. There's nothing fussy about it," Johnson says.
Put out the welcome mat. The homeowner placed Chilewich mats from Pacific Home outside every entrance of the home. The durable synthetic material mats look great and keep sand in the house to a minimum.