Landscaping Ideas that Add Value to Your Home
Why it's smart to invest in landscape projects.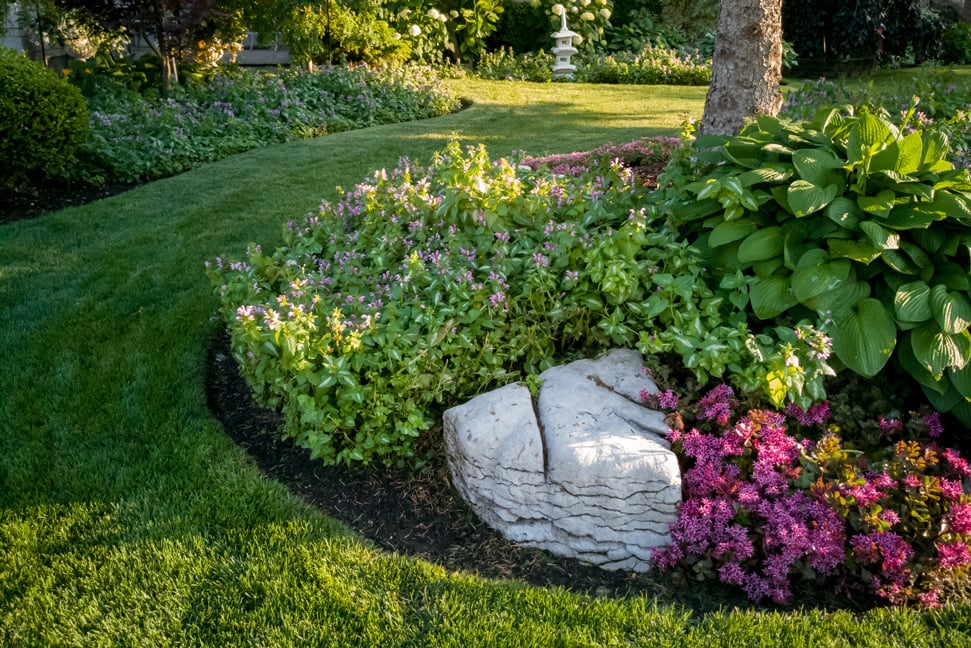 A well-managed landscape design can transform your home into a beautiful attraction, offering curb appeal, privacy and relaxation. And with the right landscaping ideas and projects, your home's value can even change for the better.
The American Society of Landscape Architects (ASLA) recommends that homeowners invest 10 to 20% of their home's value in landscape improvements. Doing so can be personally beneficial and possibly increase your home's resale value – according to the ASLA, landscape improvements can return 100 to 200% of their cost when a house is sold.*
The options for your landscaping projects are seemingly endless, from simple elements that you can integrate to full-on features you can build. Here are the areas that you can start with to help you on your way to increasing your home's curb appeal and value.
Plant Some Trees. The cost to plant a tree is relatively inexpensive, but it does take some patience and time to grow. A tree creates a lasting legacy — it can be a great activity to do with the kids — and provides your home shade, privacy and even fruits, depending on the tree. When it comes to selecting the right trees and placement on property, keep in mind how big the tree will be at maturity and where its roots will spread.
Create Privacy. While large windows are great for letting in natural light and creating an airy indoor atmosphere, it also lets others see your family's living space. Consider adding privacy elements outdoors to help shield your spaces without feeling the need to leave window treatments closed. In addition to trees, shrubs can help to create privacy. Shrubs also serve as visual focal points and can hide undesirable spots outside.
Start a Garden. Perhaps one of the most rewarding landscape design components you can add to your home is a garden — there's nothing like enjoying the actual fruits of your labor! Gardens are beautiful outdoor additions and allow you to grow your very own vegetables and fruits, saving you money on grocery runs. What's more, you can plant greens for medicinal use or flowers for bright pops of color.
Keep a Low-Maintenance Lawn. Cut down on maintenance while letting your other elements shine by having a low-maintenance lawn. Keeping things simple and neat allows you to minimize your maintenance routine. Select climate-appropriate plants that'll thrive in tropical weather — whether you live by the ocean or mountain — and need little attention, along with easy to care for grass.
Mix in Hardscaping. Hardscaping is the perfect complement to your greenery. From rock gardens to pavers, hardscapes help to define spaces, enhance your outdoors and cut down on your water bill (requiring little to no upkeep). For your walkways, consider pavers and cobblestones over simple poured concrete.
Light the Way. Landscape lighting offers numerous benefits, including highlighting your walkways, providing safe navigation and setting the mood. There's pathway lighting, LED porch lights that are motion activated, and even outdoor pole-mounted torches for a bit of island flair. From security to style, you'll get a lot from the simple spark of light.
You can begin improving your home's curb appeal with a home equity line of credit, or HELOC, from First Hawaiian Bank. A HELOC can offer low interest rates, flexible payment options, and convenient access to funds for any of your landscaping projects. Talk to a personal banker at First Hawaiian Bank today.
*First Hawaiian Bank makes no representations or guarantees regarding the return on investment, if any, that homeowners may see if they choose to pursue landscape improvements on their property. The ASLA link is provided for informational purposes only. Any information on the ASLA page is published by the ASLA, and is not intended to be an endorsement of the ASLA by First Hawaiian Bank.