Lessons Learned from a Land Preserved in Time
Manoa Heritage Center teaches how sustainable practices from the past can be applied today.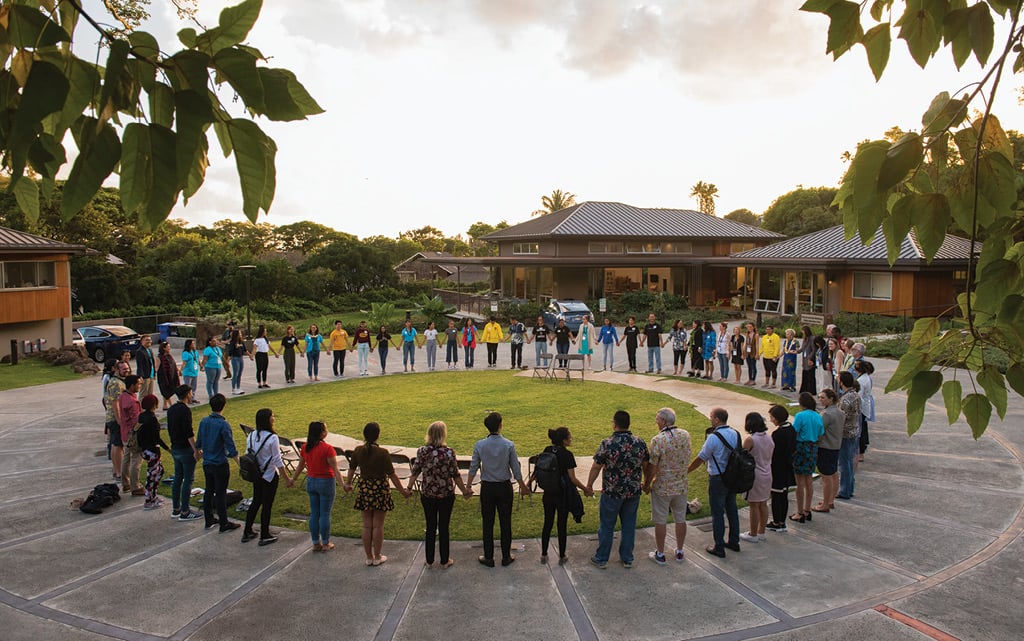 In the lush valley of Manoa, Kukaoo Heiau sat for nearly a thousand years overlooking a patchwork of wetland fields that grew kalo (taro), banana and sweet potato. Today, however, the fertile valley has been replaced with a suburban neighborhood, and the heiau (temple), would have been lost to time and developers if not for the foresight of Mary Cooke and her late husband, Sam, founders of the Manoa Heritage Center.
Dedicated to promoting an understanding of Hawaii's cultural and natural heritage, Manoa Heritage Center was founded in 1996, its 3.5 acres serving as a living classroom. It features the heiau, which was restored by Hawaiian dry-stack mason Billy Fields, gardens of native and Polynesian-introduced plants and the Cookes' 1911 Tudor-style family home.
"You could probably fit eight houses here, so it could have been just another tightly jampacked neighborhood, but Mary and Sam worked really hard to use their resources wisely to make sure that it would be available as an educational center," says Jessica Welch, executive director of Manoa Heritage Center. "Mary wants other people to come and be inspired so they'll go off in their communities and do the same."
Public tours are by reservation only and take visitors around the property to learn about the Cooke family, as well as Manoa Valley's geology, history and moolelo (legends). "We talk about stewardship and the ahupuaa system (land division usually extending from the uplands to the sea) and how it was sustainable and how you can learn lessons from that and apply them to modern times," says Welch. One such lesson comes in the form of an endemic plant from Kauai, the Munroidendron, which is on the verge of extinction. It's no longer known what its Hawaiian name was. "Not only is it an amazing plant but we use the plant and the fact that it doesn't have its Hawaiian name as an example of what can be lost," says Welch.
Manoa Heritage Center is also an important resource for schools and educators through its in-depth aina-based programs, teaching biocultural diversity and sustainability. And the heiau, along with the cultural history of the Hawaiians who lived in Manoa Valley hundreds of years ago, is the foundation for it all.
To learn more, visit www.manoaheritagecenter.org.