Living In Luxury
The Howard Hughes Corp.'s first residential condo building in Ward Village makes a statement.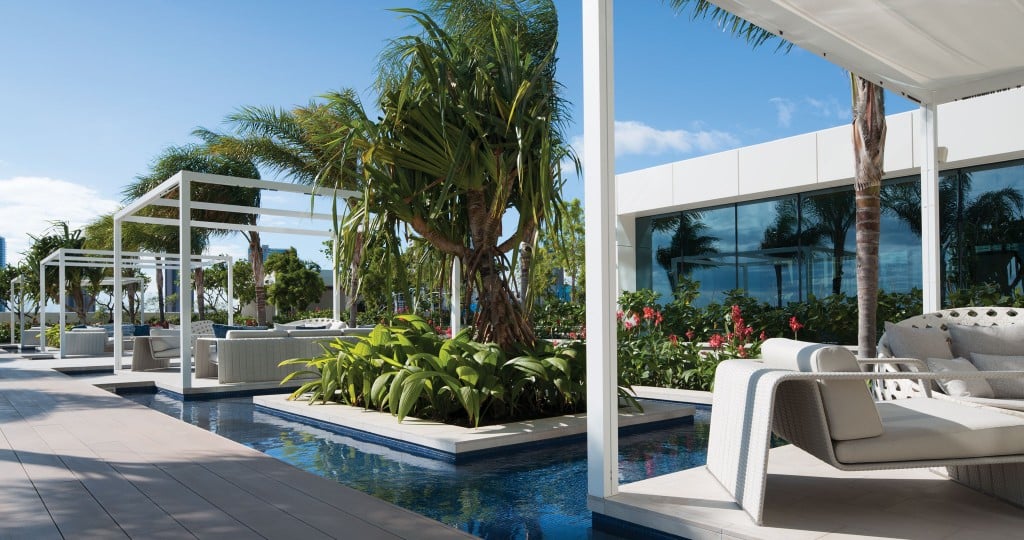 As the Howard Hughes Corp. works to re-create the area known as Ward Village and bring its vision for a master-planned community in an urban environment to fruition, its first residents are settling into the neighborhood in the recently completed Waiea.
"Waiea is really our first project that sets the tone for that bold vision: creating a first-class, master-planned community in Honolulu," says Race Randle, senior vice president of development for The Howard Hughes Corp. "With Waiea, we wanted to create not only a unique, extraordinary experience for the resident-owners in the building, but also bring a level of architectural sophistication that hadn't been seen yet in Hawaii."
To do so, Howard Hughes enlisted James K. M. Cheng, a Vancouver-based architect known for designing world-class high-rise residential towers throughout the world, and WCIT Architecture, a Kakaako-based architecture firm with experience in luxury residential design across the Hawaiian Islands.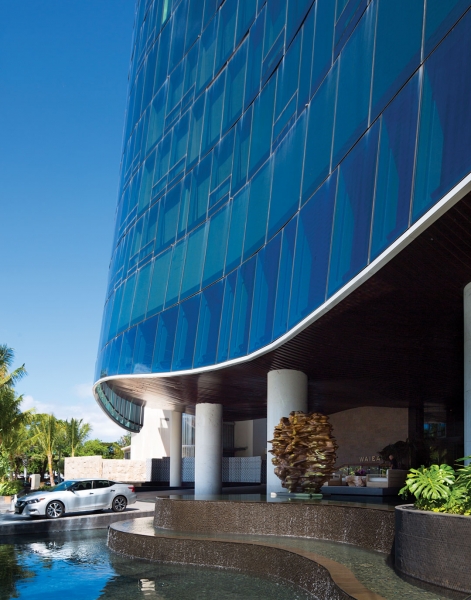 "I'm very encouraged by Howard Hughes and other developers, as well," says WCIT Architecture Principal Rob Iopa. "For the first time in a long time, at least in my impression, high-rise buildings mean something. We're not just putting up glass façades."
Howard Hughes built a strong relationship with the cultural descendants of the land, who provide the developer with input in business decisions, including selecting names that honor the history of the space, Randle explains. Waiea's name translates to "water of life."
The developer and architects researched the history of the location, and rediscovered a story of a father and son who made Kakaako their home and taught the Hawaiian people how to fish sustainably from there, Iopa explains. The curved-glass façade of the building is designed to represent a throw net, one of the five magic tools that were instrumental in the mo'olelo, or story.
"I'm an architect and definitely interested in producing work that would be able to be scrutinized on the same stage as anything going on in any metropolitan environment," Iopa says. "At the same time, I'm a local boy, so what makes it special to me is it's influenced by good, strong mo'olelo from this area, and the people that used to live here."
We welcome you inside Waiea, to tour a 3-bedroom, 3.5-bathroom unit on the 23rd floor.
Floor Plan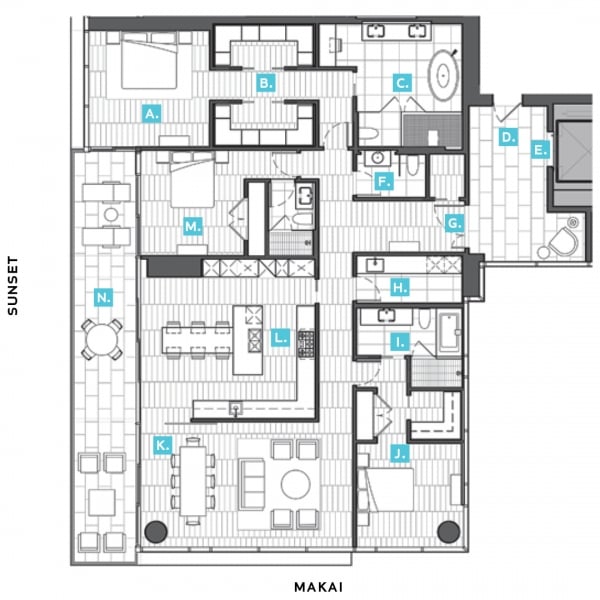 A. Master Bedroom*
B. Master Closet
C. Master Bath*
D. Private Foyer
E. Private Elevator
F. Half Bath
G. Entry*
H. Laundry Room
I. Bath
J. Office
K. Dining Living Room*
L. Kitchen*
M. Bedroom 2
N. Lanai
(Picture featured*)
Entryway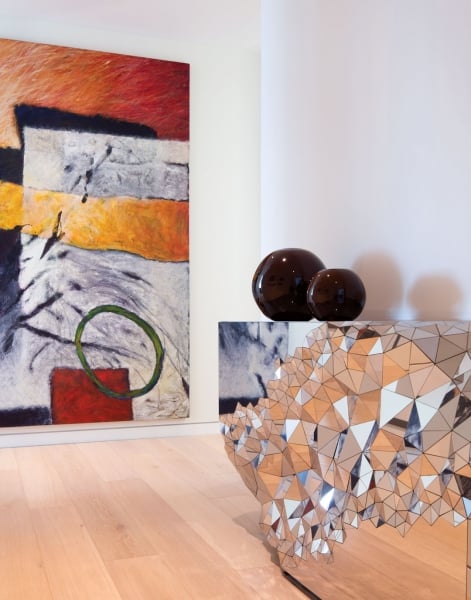 Residences in the makai-facing sides of the building have their own private elevators and foyers, an ideal spot to take a moment to enjoy the ocean view while removing shoes before entering the home.
"Many of these units are much wider than they are deep. The amount of glass you get and the experience of that is really quite special," Iopa says.
Upon opening the front door to this unit, just beyond the 244-square-foot foyer, guests are greeted by artwork and this reflective table by Jake Phipps.
Master Bedroom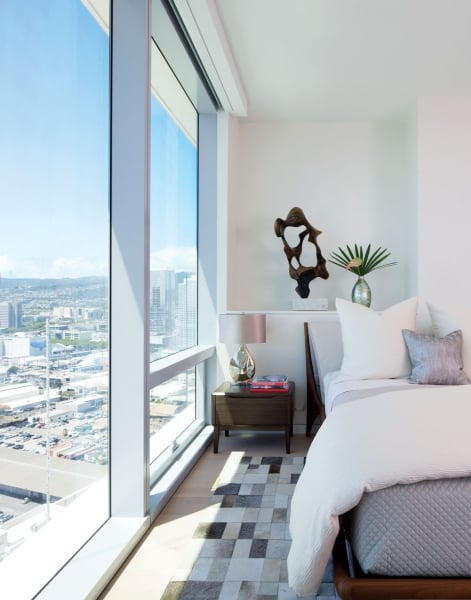 Rivaling the space that may come with single-family-home living, this 2,377-square-foot condo has three bedrooms, each with an en-suite bath.
"The homes average more than 2,000 square feet. In Waiea there are 174 homes, so it's a very exclusive building. The homes are at a scale where they're really designed to be another choice, so homeowners that are looking for a full-size home do not need to live in a single-family home in the suburbs, but can find the space they need in the urban core," Randle says.
Kitchen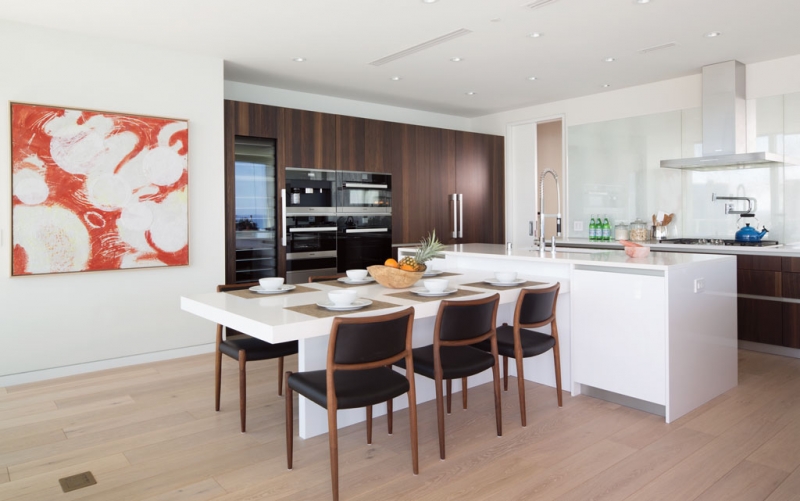 The open-concept kitchen connects with the dining area and living room, which open further to the 336-square-foot lanai that also connects to the master bedroom. Miele appliances from 87Zero and fixtures from Ferguson Bath, Kitchen & Lighting Gallery make the space a treat for cooking. Countertops are Caesarstone quartz in blizzard.
White European oak flooring, Hallmark Alta Vista Seashell, with a hand-rubbed NuOil finish from Pacific American Lumber, balances the sleek, dark cabinetry.
Living Room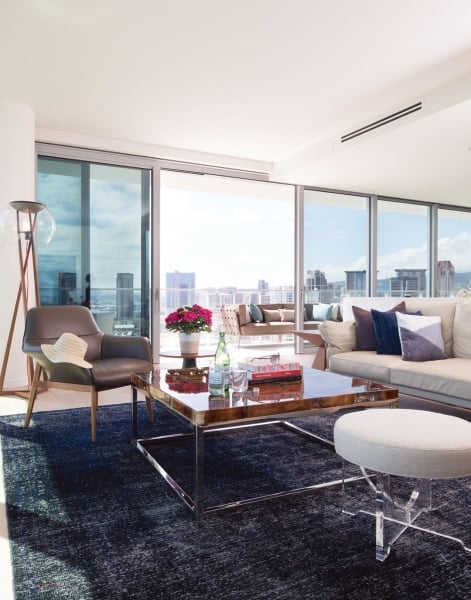 Waiea units offer sweeping views from their floor-to-ceiling windows. Each residential unit is equipped with automated window shades from Window World, allowing homeowners to let the light in, or keep it out, with the click of a button.
The open-concept kitchen connects with the dining and living areas, which open to the expansive lanai.
Master Bath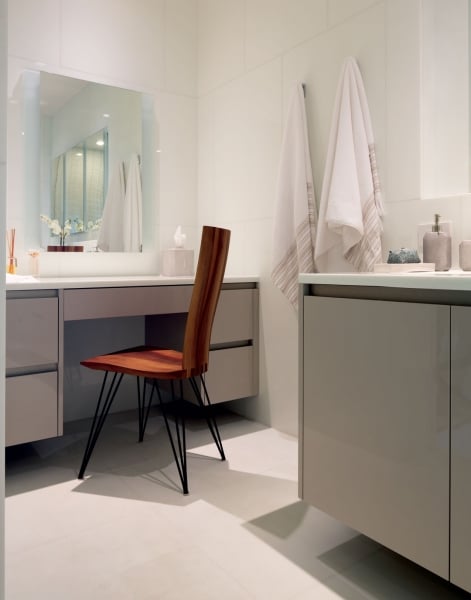 The master suite's bathroom, shown here in a glimpse of what this bathroom has to offer, has a walk-in shower, a soaking tub, dual sinks and a vanity. The tile wall is made of Glassos, a crystal glass in a polished finish, from Daltile.
Amenities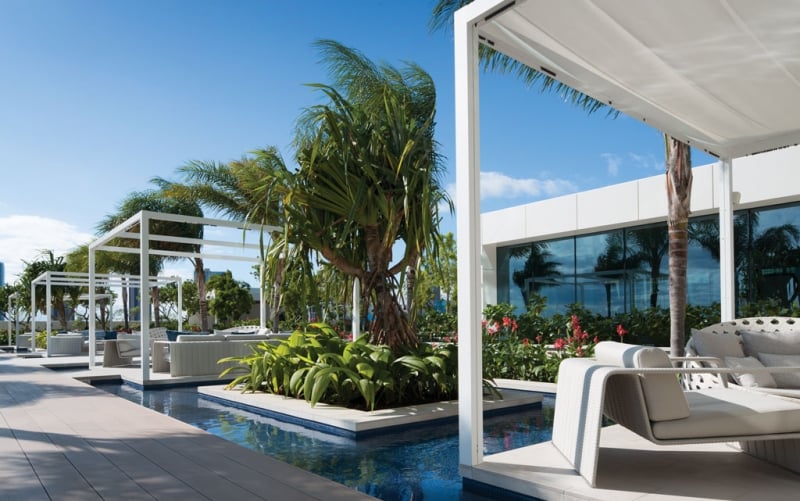 Waiea homeowners are treated to seemingly limitless amenities, including an infinity-edge pool and several outdoor lounge areas.
With Nobu restaurant as the anchor retail tenant, Waiea homeowners can walk to the restaurant, or have the concierge deliver takeout to their units.
Other amenities include a movie theater, library, dog park, golf simulator, chef kitchen, dining room, bar, barbecue cabanas, infinity pool, steam rooms, saunas and a fitness center.