A Hawaii Pool That Will Leave You Walking On Water
This luxurious renovated outdoor living area provides quiet repose for an East Oahu couple.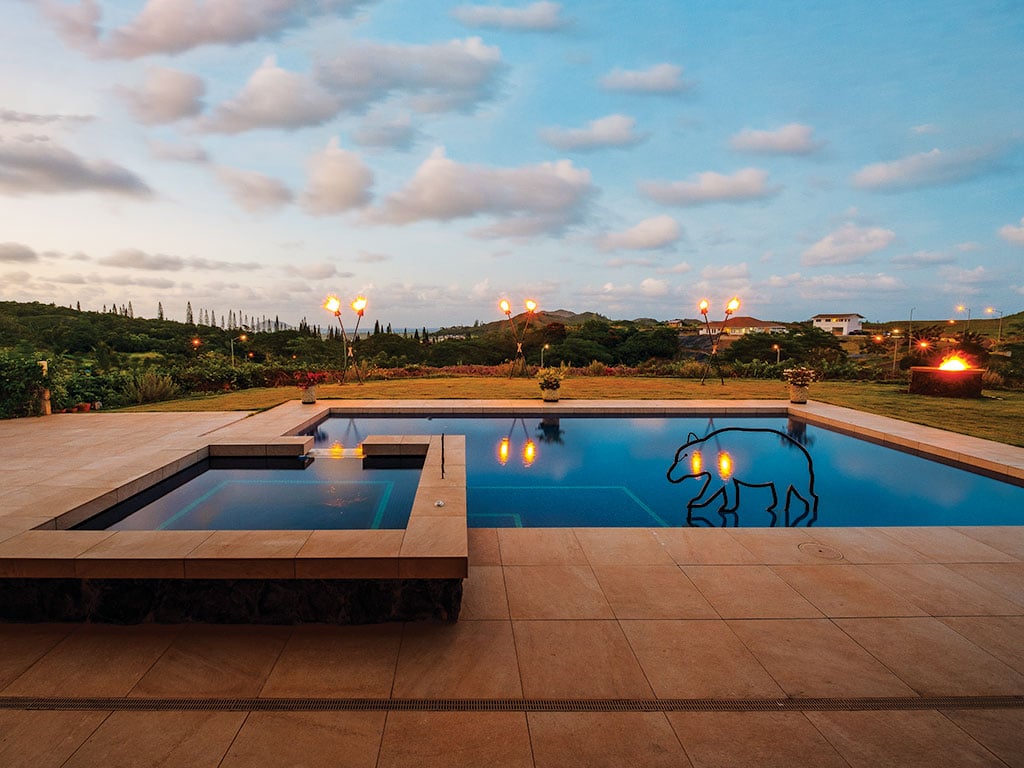 Hidden on an East Oahu hillside is a large patch of farmland where fruits, vegetables and coffee are grown. Here in this extraordinary setting, with sprawling mauka (mountain) to makai (ocean) views, life is calm and quiet. And for one Hawaii couple, it's the perfect place for an expansive backyard swimming pool. They've had one for a while now, but it's since been transformed from a quaint backyard highlight into a stunning resort-like respite just right for easing into the night.
The original pool, built in a prime spot with unobstructed scenic views, was in need of an upgrade. The homeowners called on Clifton Crawford and his team at Pacific Pool & Spa for this luxurious Hawaii pool renovation, with "nighttime atmosphere leisure" in mind, according to Crawford. Crawford's team focused on improving the pool's waterproofing and jet operations, re-tiling and restructuring the overall layout, and fixing the plumbing and spa. "We redid the interior of the pool, re-plastered and waterproofed it so it was structurally sound, and then we fine-tuned the surrounding space," he says.
"You can hear the water, you can see the lights — it's attractive, so it complements the setting, the house, the landscaping. I don't want to build a pool and put it off to the side of a house and let it stay dark. I want to put the pool smack-dab in the middle of the yard and build around it so it complements the setting and gets people to use it more."
Work on this luxurious Hawaii pool renovation was completed in four months. Crawford's team then began enhancing the backyard atmosphere. "A pool is physically used less than 5% of the time, so by adding a visual or sound effect like water in transit, with a waterfall spilling down, you give it the means to which it can be used more," he explains.
Crawford laid 2,500 square feet of porcelain tile and then cleaned up the deck, fixing rock columns and adding tiki torches and a fire pit for ultimate relaxation. The goal, he notes, was to complement Mother Nature — and in a setting as lush as this, the homeowners had the perfect canvas.
One sentimental detail was added with thoughtful functionality in mind: a handrail to ensure better safety when getting into and out of the water. Since the homeowners have an affinity for bears — bear figurines can be spotted throughout their home — Crawford worked with Swan Pool Rails to design a bear-shaped handrail on the steps of the swimming pool, as well as a small teddy bear-shaped rail on the spa. The result is enchanting — the larger bear appears to be walking on water, subtly skimming the surface.
Style meets function in this backyard getaway, with the creative railing adding a touch of personality and artistic flair. Crawford and his team at Pacific Pool & Spa have taken the homeowners' pool to a new level and his attention to detail has enhanced the surrounding area, as well, and created an elegant ambience. In this haven, atop this hill, the gentle spill of the spa waterfall is the only sound. "Only Mother Nature does it better!" says Crawford.
---
Editor's Note: This article has been slightly modified from the original print version for optimal online reading. To view the full print story, subscribe to our digital edition or pick up your copy of Hawaii Home + Remodeling at one of our partner locations.