How You Can Make Your Dream Trip into a Permanent Vacation with List Sotheby's International Realty
Discover how Matt and Sandy Polen made their big move to Hawaii.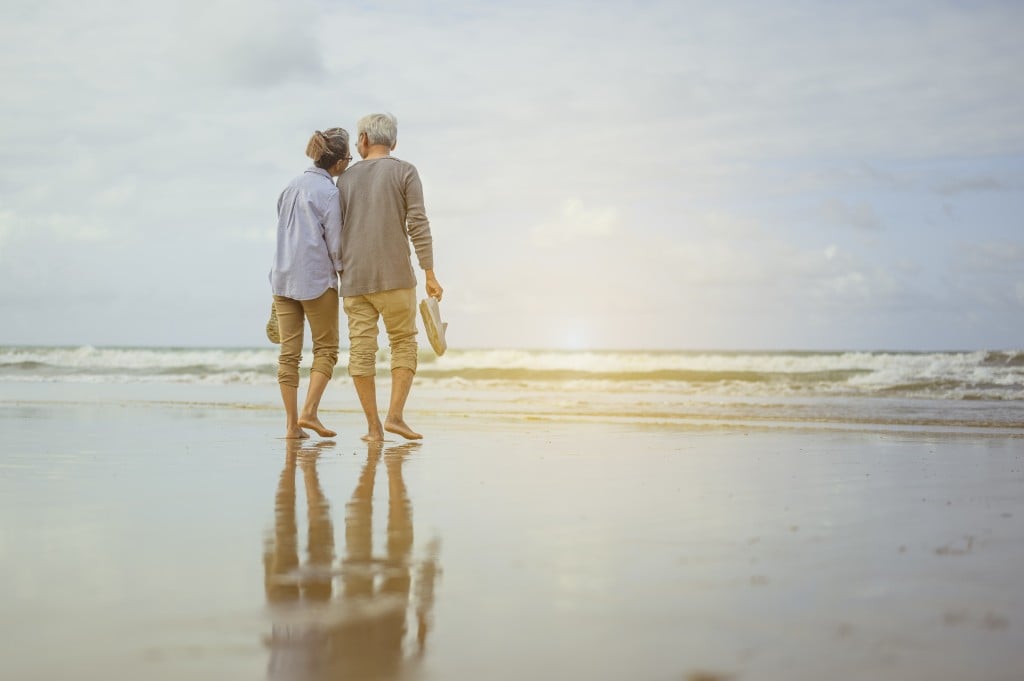 Imagine turning that two-week vacation to Hawaii into a permanent one. Waking up to the smell of the ocean every day. Walking a block and a half to your favorite beach. Spending a lazy afternoon on your lanai reading a good book and basking in the Hawaiian sun.
This dream scenario can be real: Just ask couples like Matt and Sandy Polen.
"This was a calculated jump," says Matt, 62, who now works for the Department of Agriculture and lives on Oahu with his retired wife, her brother with Down syndrome and their 150-pound mastiff and 15-pound cat.
After living briefly in Hawaii during the '70s — Matt fell in love with the Islands — the couple visited Hawaii regularly. It was on a Christmas trip three years ago on a beach too perfect to leave that Sandy looked at Matt and said, "This is where we're moving."
When making the big move from their home in Arizona to Oahu, the Polens relied on the expertise of List Sotheby's International Realty. And while Matt had lived here before, that was decades ago; a lot has changed since then and it can be difficult to know the ins-and-outs of each neighborhood without an on-island guide. "One of the biggest and most important things is to familiarize yourself with the island," says Mina Angeles-Montero, director of relocation at List Sotheby's International Realty. "So we sent them neighborhood profiles based on what they were looking for in terms of price and accommodations."
Unfortunately, the Polens' entry into the housing market was off by a few months. "We literally looked at 30 houses and got outbid on every single one of them," says Matt. And while they wanted to live closer to Honolulu, they found their dream home in Ewa Beach. Their agent from List Sotheby's International Realty, Drew Read, found a new housing development on Oahu's West Side and, quite literally, got the couple's foot in the door.
"We were outbid, but apparently [the seller] liked us," Sandy says. "And Drew was our guy. He's an amazing Realtor and just a good person. He really brought it home for us because he saw how frustrated we were getting."
Once they found their home, List Sotheby's International Realty worked to familiarize the new residents with life in the Islands. That's one of the big benefits of working with the team's agents, says Angeles-Montero.
"We try to make it as easy as possible, and inform them as much as possible before they arrive," says Angeles-Montero. "But one of the biggest shocks is always how expensive food is!"
Every move has its challenges, and the Polens had theirs: bringing Matt's lifted truck from Arizona to Oahu, getting a new driver's license for Sandy, having to conform with Hawaii's not-so-fast shipping times for online purchases. The couple had also sold all their furniture as they expected to downsize but ended up finding a house twice the size than they were looking for and didn't have anything to fill it with. "We've been buying furniture for the past month trying to fill the home," says Sandy.
Change isn't easy — it can deter many from realizing their dreams of living in Hawaii. And for the Polens, the move to Hawaii was huge.
"We had roots in Arizona," Matt says. "We'd lived there longer than anywhere else, so as much as we wanted this, we knew this was going to be a big change for us."
But with the help of List Sotheby's International Realty, the couple made the transition — and they couldn't be happier about it.
"Every day, I get up and even if it's raining or cloudy, I sit outside in that Hawaii air," says Sandy, "and there's not a day that goes by that I'm not thinking to myself, 'I'm so glad I'm here.'"
 Drew Read, Realtor ®, HI License RS-67769, 782-3636, drewread@listsir.com. Find his agent profile page here.
 Mina Angeles-Montero, Realtor®, HI License RB-22908, 557-8288, mangelesmontero@listsir.com. Find her agent profile page here.