Makers Who Create with Our Home in Mind
Spotlighting three local creatives.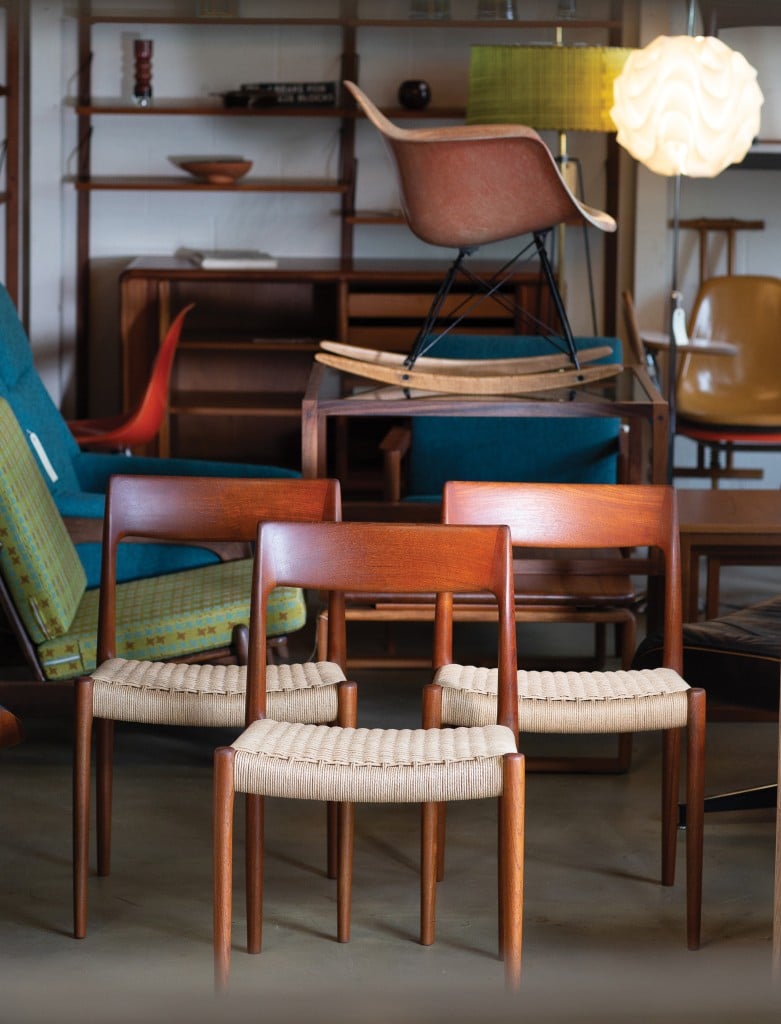 These sustainable styles from local creatives are not trends, they're lifetime loves. Read on to learn about these three mindful makers.
Hawaii Modern by John Reyno
One man's trash is another man's treasure. John Reyno's success is proof of that: He built a thriving business off reviving furniture pieces that were fashioned by midcentury American designers. He says his goal is to "preserve the original story of a piece" so he can stand behind what he sells, or in some cases, returns, to a family.
"There's not a lot of people saving storied pieces that were built to last a lifetime. I receive calls about restoring an Eames chair or creating a legacy piece made from a pile of sitting koa wood," he says. "I've taken classes on the mainland and learned what glues to use for specific designs, how to salvage veneer that has been damaged, where to find proper fabrics that was used back in the day. There's glory in bringing something to life that was considered junk."
His work also has a ripple effect on the environment. Everything Reyno adopts — his studio-slash-shop is brimming with in-progress and completed projects — limits what lands in landfills. "One hundred percent, restoring keeps the good stuff out. The waste that comes from fast fashion has trickled down to furniture. People are buying things that are made to last one to five years," shares Reyno. "Even if I can't restore a piece, people are learning to be aware of good design, and maybe even restore it themselves."
hawaii-modern.business.site, @hawaii_modern
The Splinter Concept by Davin Jaime
Since furniture maker Davin Jaime started Splinter Concepts in 2018, his offerings and knowledge have greatly expanded. He's currently working on eight Albizia pieces for a home in Kahala. "Albizia wood grows 8 feet a year, while most woods would grow 8 inches. It steals sunlight from native Hawaiian trees," explains Jaime. "Albizia is strong, so it's great for standard home pieces. The Albizia Project is a great wood source, and their mission to rebuild our ecosystem by removing invasive species and creating space for kalo or other native plants is inspiring."
And while Albizia is paramount to his business, Jaime does dabble with other lumber variations that grow in abundance here, including koa, mango, monkeypod and eucalyptus. By doing so, it affords him the opportunity to work closely with industry friends like Ruff Cut Hawaii and Akau Boards, to get first (or second) pick of his choice.
"It's awesome that all of us support each other. To create one of my pieces, it really takes a community of small businesses," he says.
thesplinterconcept.com, @thesplinterconcept
Last Wave Co by Ashley and Kirsten Moore
So many great ideas, and even greater products, were born during the pandemic. Case in point, Last Wave Co's reworked surfboards that are charmingly swell pieces of art. "I lost my job due to Covid; I was moving into a house and looking for secondhand, inexpensive furniture. My friend brought a broken board to me, knowing I would do something creative with it," says co-owner and artist Ashley Moore. "I experimented; I spray-painted and drew banana leaves and posted the final product on Facebook to see what other people thought. I woke up to about 100 replies asking if it was available to buy."
The demand only grew, and so did the need for surfboards. "We are big believers in recycling, thrifting and donating, so we hunted for broken boards in park trash cans after the arrival of North Shore swells," says Kirsten Moore, Ashley's sister and partner. However, as they went from startup to success story, people started to reach out to them and offer snapped, unwanted and badly injured boards. The sisters also accept donations and buy boards from surfers looking to sell. "It helps them make a little cash while keeping boards out of landfills."
After they receive a board, the effort to make it into a work of art includes removing wax and grip pad, prepping for painting, painting, and drawing freehand designs across the front. Customers usually provide the designs or work with the sisters to come up with something. As a finishing touch, a special message from the owner honoring a memory is handwritten on the back of the board. "It could be their first ride, the best day they had surfing or the last wave they conquered," says Ashley, "hence our company name."