Masterful Baths
Fully Functional Spaces With Style to Spare.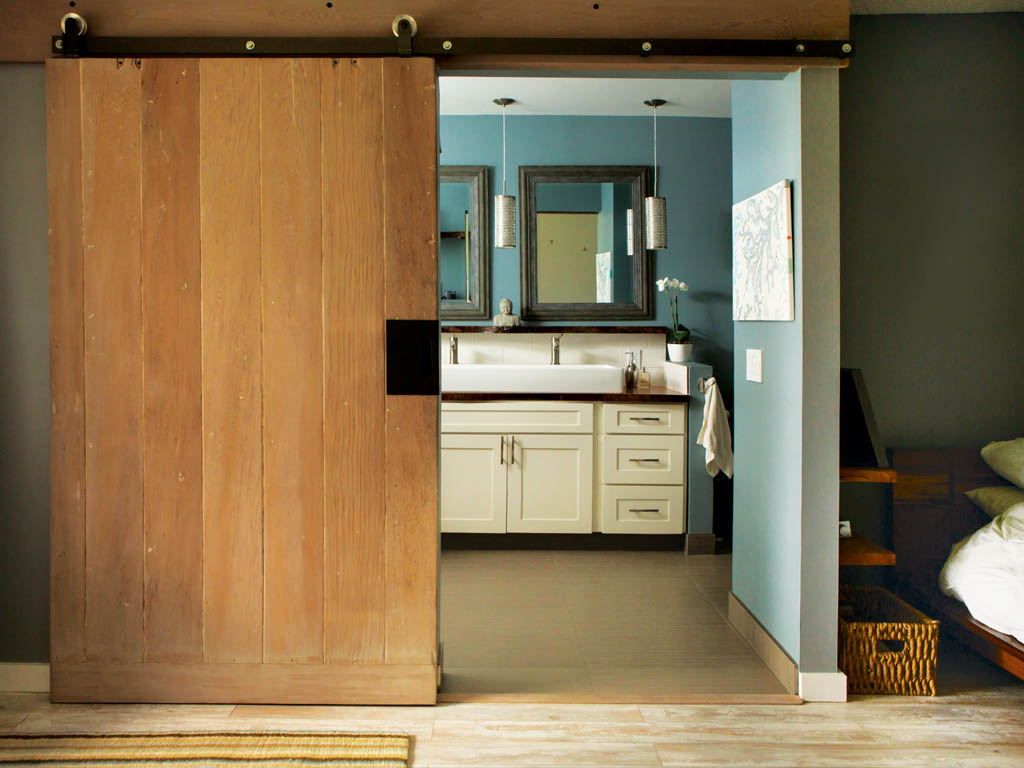 Comfortable Contemporary
Featuring Modern Habitats Hawaii
Since she bought her Hawaii Kai condo in 2009, Bernice Fielding knew her master bedroom and bathroom needed to be updated. "I love to design," says Fielding. "So getting a '70s home and being able to renovate it was so much fun."
Fielding hoped to convert the bathroom into a usable, open, contemporary space that was also unique and sustainable. Other features on her wish list included an open, no-step shower with a trench drain, a trough sink and a custom solution for hanging swimsuits — Fielding and her husband love water sports — made of driftwood collected from Paiko Beach. "I wanted to keep it contemporary, comfortable and as sustainable as possible," says Fielding. "Trying new and interesting ways to reuse things is always fun."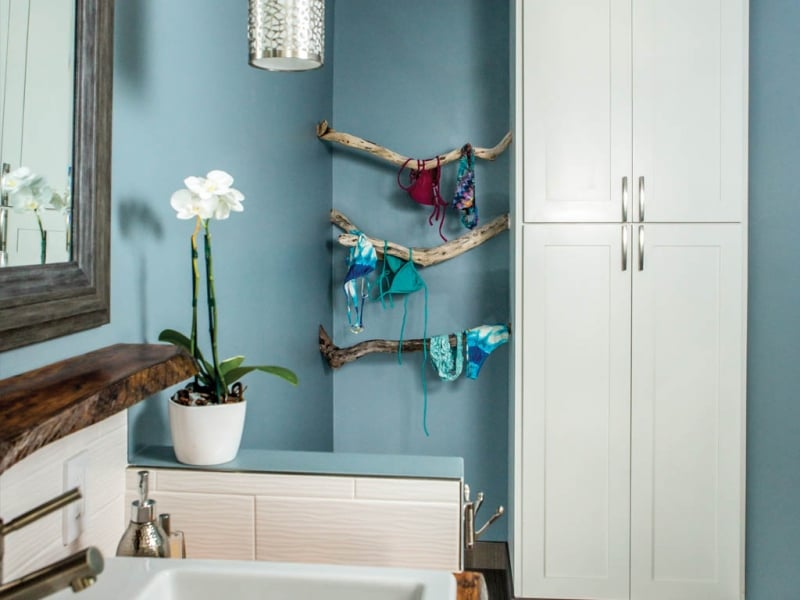 Working with Ryan Donnelly of Modern Habitats Hawaii, the three-month project started with the removal of the walls that separated the sink and shower area and leveling the floor for the trench drain. New lighting, countertops and tiles were added including the wave back tiles in the shower from Bella Pietra Design. 
"I had the design ideas in my head and worked it out with Ryan to implement them," says Fielding. "He came up with some fantastic suggestions and it all turned out better than we could have imagined. It was really a collaborative effort."
"It's my dream shower, I wish I had it in my home," says Donnelly, laughing. 
Donnelly and Fielding took every opportunity to reuse materials throughout the project. For example, the new bedside shelves are made of redwood from the original dropdown light baluster and the new redwood beam and barn doors were discovered at Re-use Hawaii. "They were originally in Don Ho's Diamond Head house," says Fielding. 
The highlight of the new space, though, has to be the mango shelves and countertop, which were both hand carved from a tree that was struck by lightning. "I really wanted something unique and interesting," says Fielding. "It took an otherwise modern space and warmed it up."
Donnelly agrees. "I wanted to give them something with more character than just granite or quartz."
Finishing Touch
Featuring the Glass Guru
For Kalani Nuuanu's master bathroom in this new home in Waimanalo, it all came down to trust. "I had a different idea in mind to finish off the shower, but it would have been a mistake," says Nuuanu. "At some point, you just have to trust the people you're working with. That's why you hire them."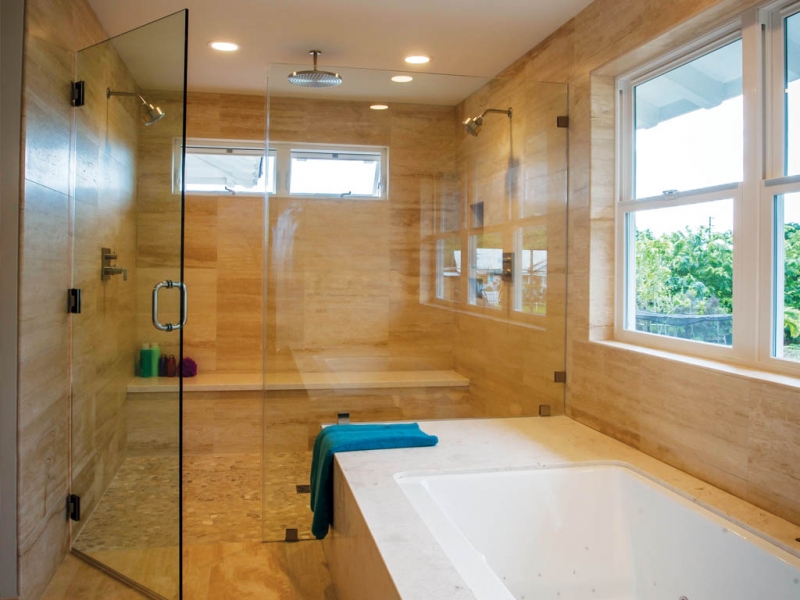 The shower door from The Glass Guru was the perfect finishing touch on this master bathroom in Waimanalo. "It's a larger door, but it's easy to open and close," says Kalani Nuuanu.
With the tile in place on the spacious his and her showers, Nuuanu reached out to The Glass Guru for recommendations. "We feel like glass is the finishing touch that every new bathroom needs," says Guerric de Coligny of The Glass Guru, which installed the glass doors in just a couple of hours. "It's exactly what this shower needed."
Nuuanu says he couldn't be happier with how it all came out. "Without the door, it would have always looked unfinished," he says. "The large, clear-glass door keeps the space open, giving it a spalike feel. It polished off the look."
Rejuvenate
Featuring InSolid
"When I come home I want to do one thing — relax," says Nihipali, who rebuilt the home from a teardown. "I spend 30 minutes in there and I'm rejuvenated. It gives me the energy to go."
The 96-sq.-ft. room includes four rain showerheads along the ceiling and eight body sprays in stations along the three tile walls. "It's the largest shower I've ever installed, about six times the size of a normal shower," says INSOLID's Scott Allen, who has been in the business for more than 30 years.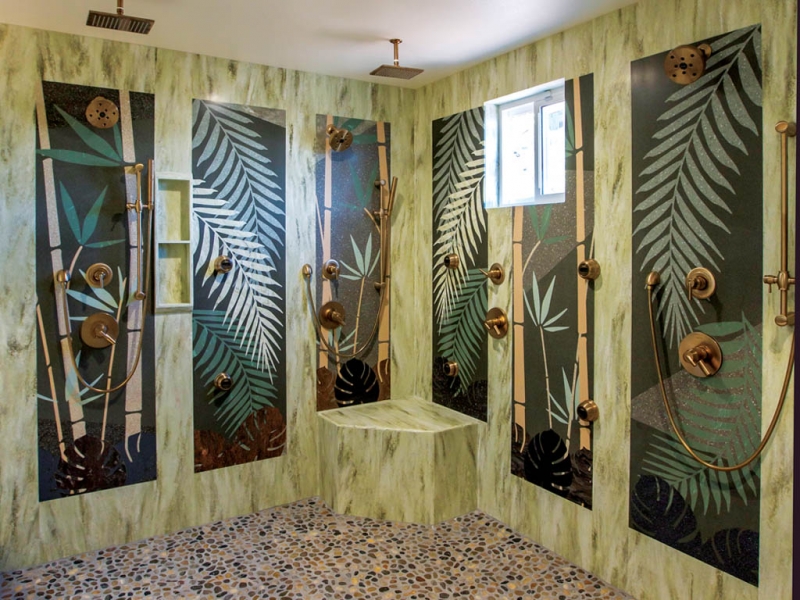 The customized, seamless panels add just the right touch to this 96-sq.-ft shower. "It's like walking into a rain forest," says Nihipali.
Using a sophisticated computer rendering process, INSOLID created 8-by-8 ft. and 12-by-8-ft. seamless panels — featuring palm, bamboo and haleconia leaves — for the shower walls. "We used photos combined with imagination to create an artistic concept of the foliage," Allen says. "We worked with Hanan Katz of Layout Etc. to input that artwork into a digital program that guides the router to precisely cut the panels. We then seamed the parts together to combine with the background of each panel and finished with the desired glossiness."
The panels were then "married together" in the home to create a seamless, continuous wall covering. The result is magical. "It's like walking into a rain forest," Nihipali says. "With gentle running water, green palm trees. It's incredibly relaxing."
The expansive shower floor is made of river rock, something that Nihipali insisted on. "Walking on the river rock is like getting a foot massage," Nihipali says. "The water hits the pebbles on the floor and it just shines. It's like walking in a stream out in the mountains."
Nihipali says that when he first discussed his master shower plan with friends and family, the reaction was universal. "They all said I was crazy," Nihipali says. "But my wife used the shower for the first time last night. She doesn't think it's crazy anymore."
Allen took Nihipali's "crazy" dream and turned it into reality. "I remember walking in and seeing the finished project for the first time," says Allen. "I got chicken skin. It just blew me away."