Maui Home Thoughtfully Redesigned
Seeing potential, not problems.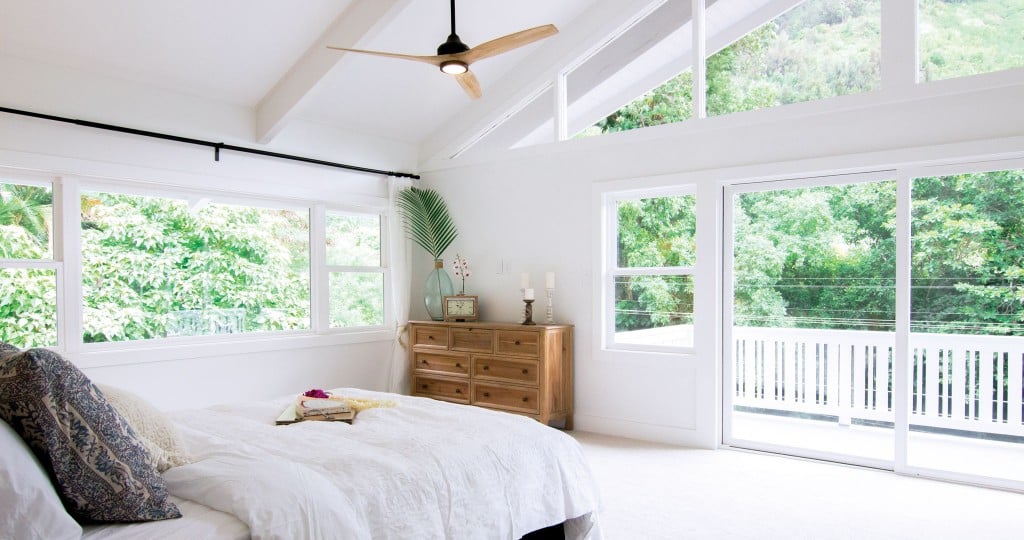 Clearly, time and neglect had taken a toll on this Maui home. "The property had been vacant and neglected for some time, with overgrown vegetation and all the junk," says Bruce Baker of Maui Building & Design Company. "The interior flooring was torn out, cabinets were falling off walls, ceiling and roof caving in on the back room. There were old broken and rusted jalousie windows, and dark wood paneling all throughout the home."
Where others may have seen problems, Baker saw potential. "With its location, size and floor plan, we knew we could create a beautiful Island dream home," Baker says.
Working closely with The Fisher Interiors Group, Maui Building & Design did a top-to-bottom renovation, including some landscaping. Additions and updates included dual-glazed windows, a wraparound covered lanai, a master-bedroom lanai, electrical with Rejuvenation lighting, cabinets and countertops, Kohler (Purist Line) plumbing fixtures, a shower with linear drains, insulation, drywall, engineered oak flooring, appliances, solid-core doors, Baldwin door hardware and Fanimation ceiling fans.
"We wanted it to have a fresh palette for those looking for something new yet still familiar," he says. "We wanted to stay true to the vibe of the island yet use modern nuances throughout."
The result of all that hard work paid off. "It looks absolutely stunning," says Baker. "One of our goals was to capture the beauty of Iao Valley and bring it into the home. With the numerous large windows, you can see the beautiful surrounding greenery from wherever you are in the home."
---
Favorite Features
1. Covered wraparound lanai.
2. Large master-bedroom windows with incredible views of Iao Valley.
3. The kitchen design, layout and finishes.