Meet the New CEO of BIA-Hawaii
Jessica Leorna brings years of industry experience to her new role. Here, she shares with us how the organization and its members are navigating today's climate and its mission for the future.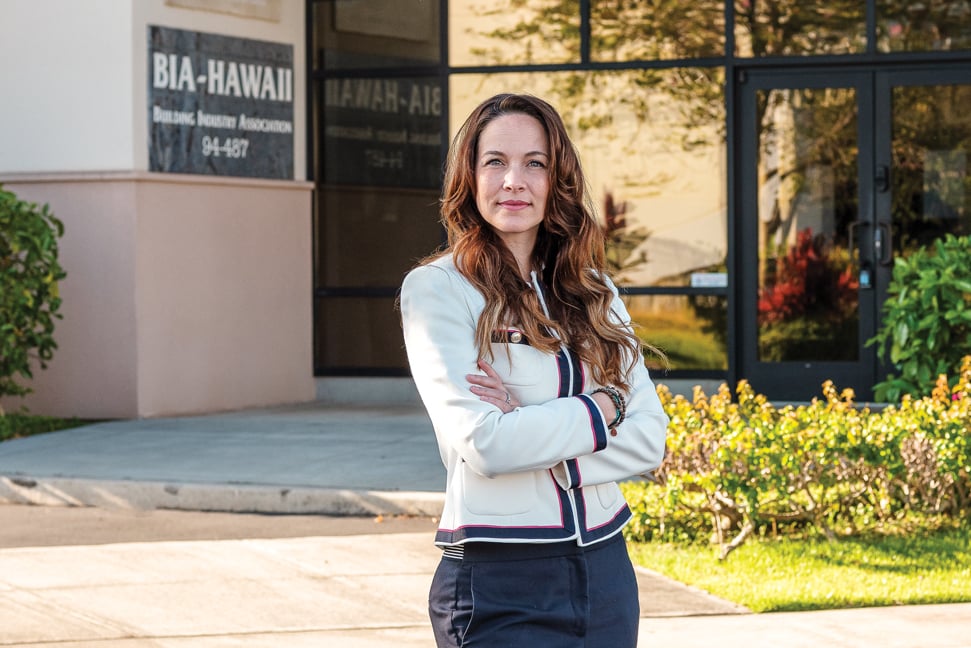 Tell us a little about yourself and your move to Hawaii for the BIA-Hawaii CEO position.
My husband and I have talked about a move to Hawaii since before my daughter was born. He wanted to connect with his roots and we hoped to expose her to her heritage as well. We have family on Oahu, Hawaii Island and Maui, so at the first sight of an opportunity to apply for a position with BIA-Hawaii, we jumped on it! My little family of three moved from Alaska to Hawaii while COVID-19 restrictions were heightening.
What are some of the innovative ways that BIA-Hawaii and its members are adapting business practices during this time?
We all have seen hardship descend on us over the past several months. People everywhere face a new world, a new future — and the people who work in the building industry are no different. Though deemed "essential" through the COVID-19 outbreak, the building industry still needs to embrace an onslaught of obstacles and daily, if not hourly, transformation. Many BIA members and affiliate organizations signed an industry commitment letter, a pledge to the world that they would recognize and practice safety standards above and beyond those required by regulations. This letter shows an immense amount of dedication to a higher standard of work and also acts as an incredible symbol of a unified industry. One of the most creative COVID-related programs I've heard of: One member informed me that his company developed a comprehensive virtual home tour for potential clients. I am constantly impressed by the business acumen and leadership qualities of our members and I can't wait to learn more from them.
What are your top priorities for BIA-Hawaii and its members?
Housing is more essential now than ever before. Homes are our schools, our offices and our shelters from this new, uncertain world. As we all know, Hawaii depends on the building industry to press on through these tribulations, to provide jobs and to bolster our economy. BIA-Hawaii will aim to help consumers and businesses position themselves for the future. BIA advocates for affordable housing and to be the voice of the industry – but we are also the voice for homebuyers, renters and homeowners.
We need to take measures that position the industry to remain fiscally solvent.
We advocate for public policies, laws and rules that keep housing affordable in Hawaii. We need to work with officials to educate them on issues that increase the cost to build and help them identify inefficiencies in the regulatory system to work toward increasing the supply of housing at all price points.
We need to be preemptive. We can help government officials find innovative ways to protect our state from future threats to our financial stability, our safety and our health.
The cost to build will increase due to COVID-related pressures; manufacturing, supplies and transportation are all sectors within the industry that affect the price of a home. We face a recession in the coming years related to the pandemic and potential recurrence. Local and state governments may be able to help all families in Hawaii by optimizing current internal processes and developing creative financing opportunities and incentives. BIA will inform elected officials on the impact that mandates, codes and rules have on housing affordability.
We need to educate our members and our community through classes and meetings curated for COVID-related action, recovery and communication.
There truly is no place like home. We need to prepare for the future: The ability to build and buy grows more important – and more threatened – every day. Members, nonmembers and consumers alike are welcome to peruse our website for COVID-19 resources, classes and events that aim to share the tools we all need to navigate through an uncertain future.
What are some of the BIA-Hawaii programs that benefit consumers?
Consumers can find resources and education programs on our website, including a directory of licensed industry professionals to help them get started on their path to remodeling, building or buying their dream home. Our home and remodeling trade shows aim to have builders, contractors, suppliers, lenders and even licensing and consumer-safeguard agencies easily accessible to consumers. Additionally, our seminars offer information on topics ranging from remodeling to solar to lending to landscaping – and more. With COVID-19 restrictions, BIA is working diligently to offer these services in ways that supplement our trade show experience because we know how important and necessary this information is for consumers.
What message do you have for homeowners who are considering home upgrades?
It is so very important to hire quality people who care about the welfare of the industry and promote core values such as safety, education and best business practices – both for your protection and for the betterment and longevity of the economy in Hawaii. You'll find these people in our membership – we accept businesses that have taken these steps because we strive to be a pillar of integrity and accountability. BIA can't successfully advocate on your behalf for affordable housing or consumer choice without these values and a membership that shares them.
Jessica Leorna was previously the executive officer for the Interior Alaska Building Association, the National Association of Home Builders affiliate in Fairbanks, Alaska. Visit biahawaii.org for more information.