An Approach to Minimalist Home Design
Hawaii Home + Remodeling reader Elyn Yao's guide to streamlined and purposeful home design.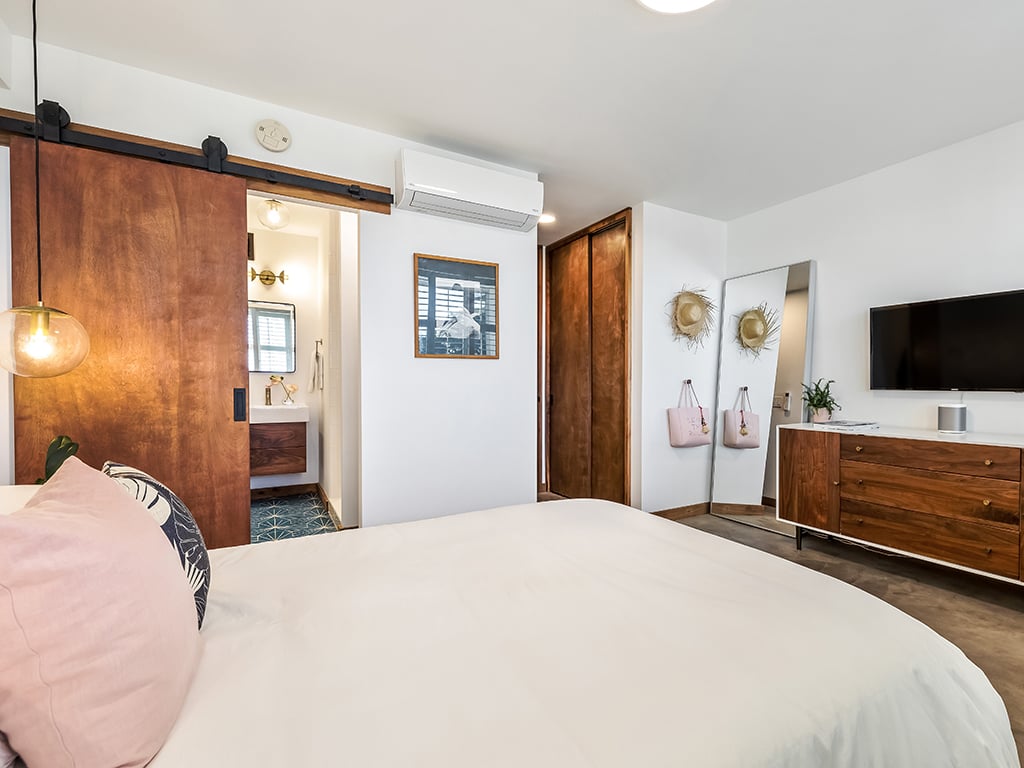 Connecting with our community — particularly over our shared love of all things home — is always a thrill for our team at Hawaii Home + Remodeling. So when Pualei Circle condo owner Elyn Yao contacted us to share her newly renovated Diamond Head respite, we were eager to learn about her design process and inspirations. Featured in our upcoming August/September issue, Yao's "midcentury modern surf shack" dream came to life thanks to her passion for minimalist home design and the help of a few talented friends.
A self-described minimalist, Yao approached the project with "KonMari" in mind. A nod to organizing sensation Marie Kondo, the KonMari approach required Yao to evaluate all of her belongings and fill her home only with items that spark joy. "Unless it serves a purpose, I don't need to collect more stuff," Yao explains. "I look at my home as my personal surf/art gallery, and I wanted there to be a story behind everything."
She poured her vision onto a Pinterest board, incorporating the ideas she envisioned for her Pualei Circle condo, thoughtfully editing along the way. Here, she shares her insights into the minimalist home design approach taken with her home, and how you can do the same with yours.

1. Have a Clear Vision.
"Creating a vision board is important," she says. "Whether on Pinterest or a foam core board, a vision board will allow you to look at all the elements you love together — rather than in isolated instances — so you can prioritize. You might like individual elements on their own, but you really need to see how they all work together."
Yao adds that it also helps "to look at the space holistically rather than falling into the trap of just loving specific, individual items. Having a way to focus all the things you want to really curate a look and feel, and to see things holistically, are very helpful."
2. Create Consistency and Continuity.
"When I first purchased the home, there was tile on the first floor, bamboo on the second floor, and different floorings throughout — it gave it a very choppy feel," shares Yao.
"One of the design principles for minimalist style is to have consistency throughout the home. We maintained that consistency utilizing the white wall paint and monochromatic concrete floors throughout the entire condo, as well as using walnut wood. We used walnut in the transitions, the door jambs and in the furniture selections so it was consistent."
An avid collector of midcentury modern furniture for over a decade, Yao's aesthetic was carefully cultivated over the years as she discovered the materials and styles that she gravitated toward. The rich, walnut wood is among the elements she loves.

3. Add Pops of Color.
"When the floors, walls, ceilings, etc., are simple in design and consistent throughout, that becomes your canvas," states Yao. "Then you can introduce different elements through art, décor and furniture."
Starting with this streamlined canvas in her condo, Yao brightened spaces like the living room and kitchen with bold, colorful rugs that add depth and texture without sacrificing utility. A stay at The Surfjack hotel in Waikiki inspired her to add pops of color and fun geometric patterns in the bathroom tile. The tile is a standout feature against the bathroom's white walls.
4. Focus on Intentionality.
Bringing the practice of mindfulness into her home, Yao was thoughtful in her curation and selections. "By having open shelving as opposed to a ton of cabinets in the kitchen, that forced me to edit down to essentials that I really loved," she explains. "By design, that in and of itself is a way to curate a kitchen of necessities you really love."

One additional note: Yao suggests investing in renderings, if your budget allows, to help you visualize any changes before they're actually made. It's a tip she learned from contractor Reyn Oshiro, whom she worked with on her condo remodel. Renderings are an additional cost, but for big projects, they're important and worth the money, she says.
"Reyn helped teach me that. When we were working on the kitchen, I thought I was getting pretty good using online tools, but with measurements you want to be sure. It helped the project progress more efficiently, as well as to be more cost-effective for all of the different contractors and people working on it — so they build it exact. Renderings are definitely worth it for big projects."