Mirrored Life
Kaypee Soh is a lifestyle designer best known for his bold, colorful pillows, lush wool rugs and nature-inspired art. His home looks just like you imagine it would.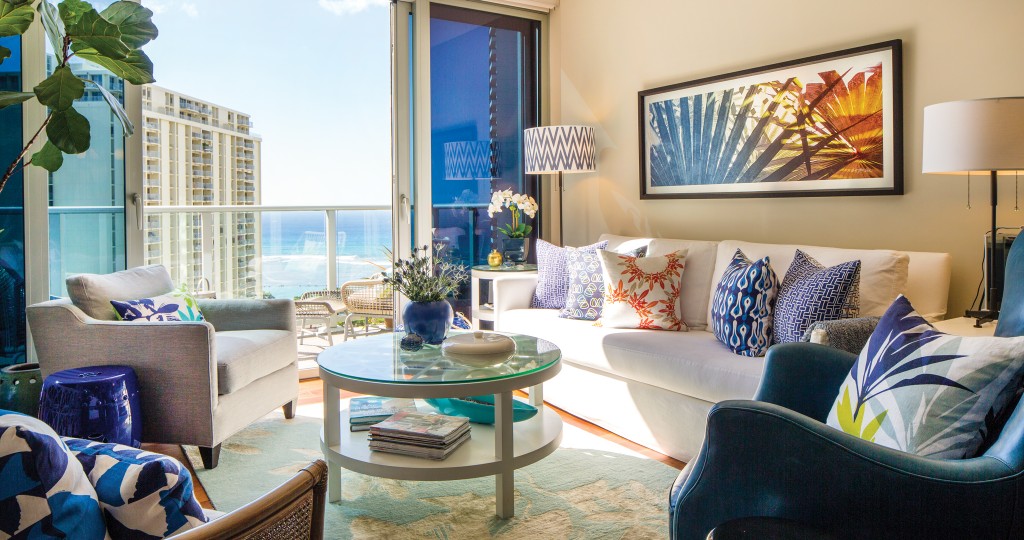 Walking into Kaypee Soh's home on the 23rd floor of the Waihonua condominium isn't a far cry from meandering around his retail showroom in Ward Warehouse. "When people come into my store they ask, 'Is that what your home looks like?' I say, 'Yes, designing is my passion,' Soh says.
Soh is the creative spark behind his namesake brand, Kaypee Soh. He and partner Edward Macey, who is also the brand's co-founder and managing director, moved to Oahu from New York City in 2004 for a change in scenery and careers, and kick started their interior design boutique in 2008.
A few years ago, Soh and Macey were apartment hunting. They had previously lived in a house in Ewa and a condominium in Waikiki. This time, they wanted something that offered the space and privacy of their Ewa home, and the convenience of their Waikiki apartment. The luxury Kakaako building, constructed with insulated, low-emissivity glass, makes for noticeably quiet and cool living, while still being in the midset of the ever-expanding city. The pair became two of Waihonua's first tenants and moved into the 43-story building in January 2015. "Waihonua is great," says Soh, "even in town, there's a lot of space." Plus, it's close to everything: the park where Soh and Macey walk their two dogs and concentrate their shopping, including at the Kaypee Soh showroom.
Soh, an interior designer with a store in Ward Warehouse, is known for his bold, bright pillows. It's no wonder then, that he would have 28 of them in his home. "It makes the whole room different," he says.
When it came to furnishing their new, two-bedroom, two-bathroom apartment, Soh and Macey started fresh. They sold their antiques and eclectic furniture. In the years since their company's founding, the Kaypee Soh brand gained traction for its modern, locally made furniture and nature-inspired art, not to mention the vibrant, duo-sided pillows; it's what Soh first became known for locally. It was only fitting, then, that the two fill their home with their own designs. "We wanted the apartment to have a look that reflected the store," says Macey. "We could show people not just what the store looks like, but what their homes could look like with it all."
Roughly 90 percent of the condo's furnishings are from Soh's collections, including a custom curio cabinet with a geometric trellis design on its sides.
Macey estimates that 90 percent of the home's décor is from the Kaypee Soh brand. To achieve Soh's signature modern Pacific look, they created a color board for each bedroom (it's how they begin custom design projects for clients). The home features a spectrum of blues, with pops of green, orange and red. "The brand is about the colors," says Soh, smiling. The vibrancy of Soh's textiles on his pillows and rugs — and a soon-to-launch bedding collection — is smartly juxtaposed with the designer's modern white furniture. Soh's and Macey's living room is a prime example of the Soh collections at work. The open room is anchored with a Soh-designed white coffee table, with a geometric trellis design on top. The white TV stand and adjacent stained curio cabinet, each with intricate, matching trellis features, complement the coffee table. "It was inspired by Hawaii motifs found on kapa," says Soh of his influence.
When Soh and Macey moved into Waihonua in January 2015, it was important their home embodied Soh's collections. They test out new pieces and can attest to customers the durability of the Kaypee Soh brand.
Atop the living room's hardwood flooring is a hand-knotted, sky-blue area rug featuring a lilikoi floral pattern. It's also from Soh's brand, and is made from 100 percent Himalayan wool. The dining area has another of his rugs, this one a shimmery-taupe color in a fan coral pattern. Not only do they enhance the décor and define the rooms, they also make it easier for the dogs, says Soh; the pair's French bulldog is 15 years old.
"We live with it everyday, so we know how it stands up. I think there's that expectation as a designer. That's what we tell our customers, use it, live with it," says Macey. "We just don't want them to put pretty things on the sofa. Kaypee has designed the pillows so they are comfortable and useable."
And how many pillows do they have? Macey pauses, counting in his head. "There are 28." Soh adds that the two often swap the pillows from the living to their bedroom, or in and out of the den, which has a midnight-blue daybed. "It makes the whole room different," says Soh.
The kitchen features black granite countertops and stainless steel appliances. While the majority of the apartment boasts Kaypee Soh designs, there's one holdout to Soh's and Macey's former antique collection days: an impressive collection of Russel Wright dinnerware. Soh has been collecting the American designer's pieces since he lived in New York City and now has plates, bowls, cups and serving ware in white, powder blue, chartreuse and nutmeg. "I told Kaypee we need to use it," says Macey. "So we eat off of China from the 1930s." The American modern pieces fit well with Soh's contemporary Pacific ascetic.
Each room is tied together with Soh's original art and photos. His pieces feature native plants, aquatic life and Hawaii scenery, often layered for a flowing look. The outdoors is Soh's biggest inspiration. Soh finds influences all around, "grocery shopping, shopping at the mall, walking the dogs," he says, "it can just come to me." That's why he always has a sketchbook and cellphone to draw, write and capture ideas in. In fact, most of his pieces, whether artwork or custom furniture, begin as hand sketches.
When he's not designing and helping customers at his studio in Ward Warehouse, Soh spends time in his and Macey's den, at a gray stained desk he designed, with floral graphics in the left corner. For fresh air and inspiration, he heads down to Waihonua's sixth floor. The area has an infinity-edge pool framed by poolside cabanas and tables. To the left is a barbecue pavilion and a full-size party room. (The building also has a theater and two guest suites, the beds of which feature Kaypee Soh pillows.) "It's good to get away from the computer and see green," he says. "In nature, you can be inspired by so many different things; it has so much to offer. It can be the texture of the trees or the ground."
It's that constant inspiration from nature that keeps Soh's and Macey's business humming — and growing — making homes feel inviting and cheery. Walking in their condo, it's hard to feel anything but tranquility. Macey agrees. "People walk into our store and say, 'Wow! I feel good,'" he says. "We now get the same thing from friends who come over to our house."
"This is how we brought nature into our house," adds Soh. "When we come home, we feel relaxed."
---
Behind the Brand
When Kaypee Soh and Edward Macey moved from New York City to Oahu in 2004, they were looking for sunshine and the opportunity to work together. They never imagined when they opened their lifestyle retail gallery in 2008 that it would become a powerhouse brand. "We never planned on being a big company," says Macey. "It was just going to be the two of us living the Hawaii life."
Today, Kaypee Soh interior designs include a variety of modern, Hawaii-inspired textiles and artwork, including pillows, wool rugs, lighting, furniture and artwork. Soh is known for his vibrant colors and nature motifs. The textiles are printed on the Mainland, but the products, from the pillows to the wood furniture, are locally sewn and crafted. "We support local, that's very important," says Soh. "Why go the Mainland, we have the resources here." Pillows are still the most popular product sold at the retail showroom in Ward Warehouse; Macey estimates they sold 2,400 pillows in 2015. This year, the Kaypee Soh brand is expanding nationally.
Soh always carries a notebook or his iPhone to sketch new ideas when he gets inspired during walks with his dogs, at work or even grocery shopping.
His work is in hotels across the Islands, including Hilton Hawaiian Village Waikiki Beach Resort, Turtle Bay Resort, Hyatt Regency Waikiki Beach Resort and Spa, Sheraton Waikiki and more. In fact, the hospitality industry continues to be Kaypee Soh's strongest clientele. The company also does branding and custom interior design work for homeowners and local businesses.
Soh's roots are in fashion, and this month the designer will debut a women's fashion line in the showroom, first showcased at HONOLULU Fashion Week. Influenced by flowing fashions of the late '60s and early '70s, the women's ready-to-wear line features bold prints. "It was inspired by rainbows and its reflection throughout nature," says Soh.