Moving Together Toward 100% Renewable Power
Hawaiian Electric collaborates with the community and state to bring more renewable energy to the Islands.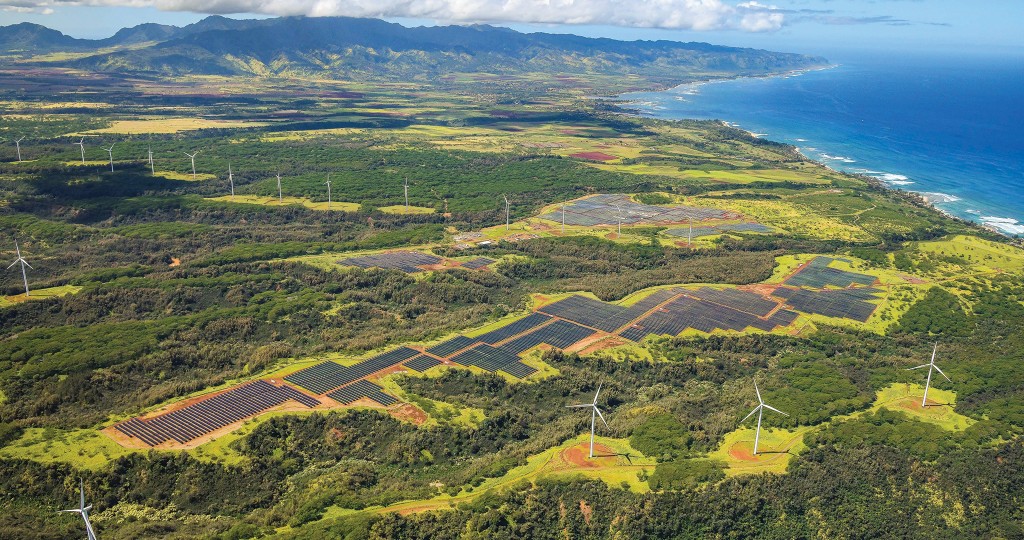 Hawaiian Electric is clearing benchmark after benchmark as it drives toward its goal to be 100% renewable-energy powered by 2045.
In 2019, Hawaiian Electric added the largest block of solar power ever built in Hawaii; received approval to develop seven solar energy projects tied to batteries, with an eighth project pending approval by regulators; and put out a call to developers seeking to add even more renewable projects to the grid — the largest request of its kind in Hawaii history.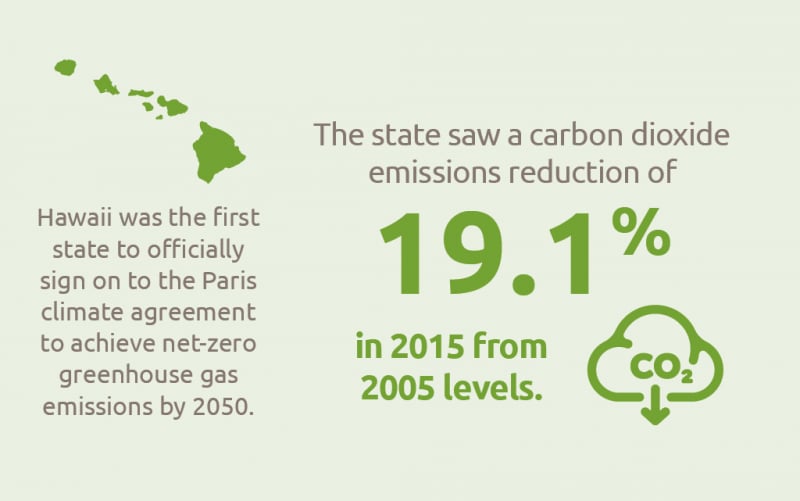 "It takes a lot of coordination and a lot of effort," says Rebecca Dayhuff Matsushima, director of renewable acquisition at Hawaiian Electric. "We want to make sure we're running a fair process."
The total amount of renewable projects either requested, approved by regulators or installed in 2019 rounded out to 1,289 megawatts — that's 389 megawatts approved or installed and 900 megawatts requested. One of those megawatts of solar energy can serve approximately 300 homes.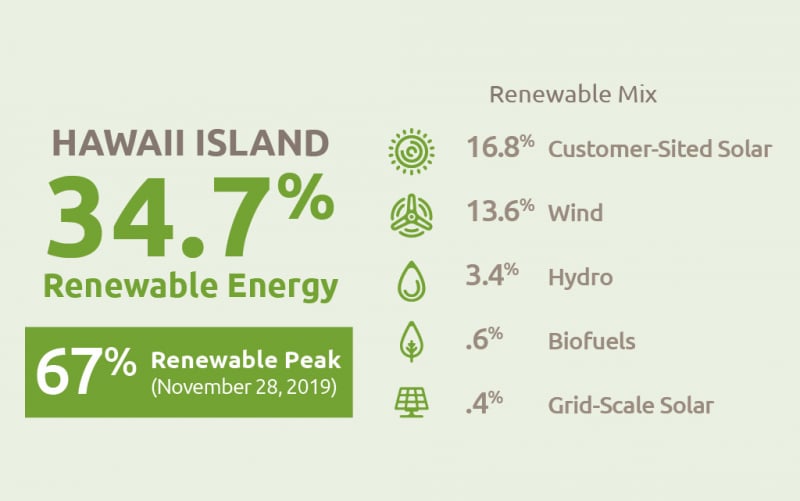 "We're looking at portfolios of projects to see what combination will provide the best benefits for our customers," Matsushima says as she reflects on the response to the company's record-breaking 900-megawatt request for renewable projects.
Hawaiian Electric sent out the historic request last August, calling for developers who could get renewable and storage projects up and running as early as 2022.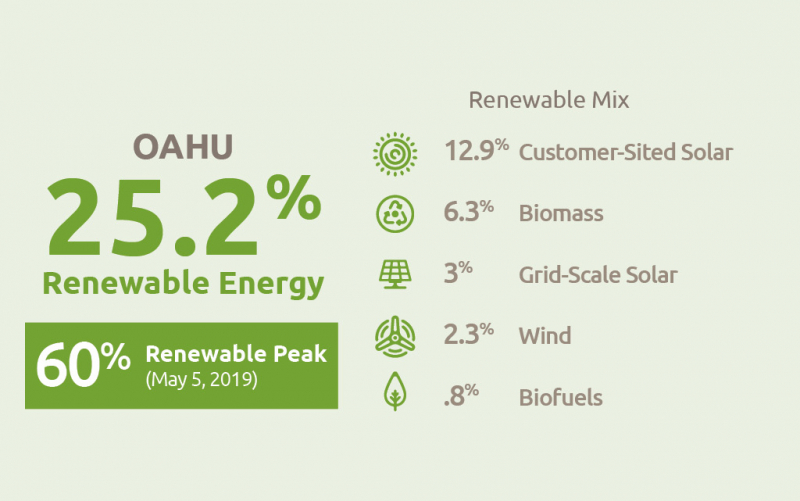 Within three months of the call for more renewable resources connected to energy storage, grid services and stand-alone storage, the electric utility received more than 75 proposals for projects on Oahu, Maui and Hawaii Island.
When considering the proposals, Hawaiian Electric checks a list of criteria to determine whether the projects are the right fit for the Islands. Topics include community engagement, price and environmental impacts.
"It's a pretty long process. There are a lot of steps," Matsushima says. "It's about finding the best-fit project over the perfect project."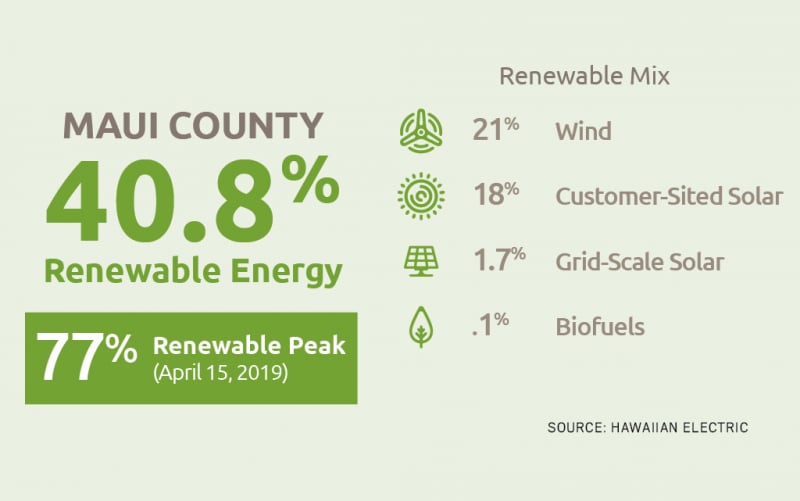 If the utility can successfully identify the best fit, negotiate contracts and receive state regulators' approval for them, the percentage of grid-connected renewable resources would jump to 61% on Oahu by 2025. Hawaii Island would get to roughly 96% and Maui would reach up to 109%.
As the utility worked to recruit more projects, contracted developers moved forward with some renewable facilities already on the ground.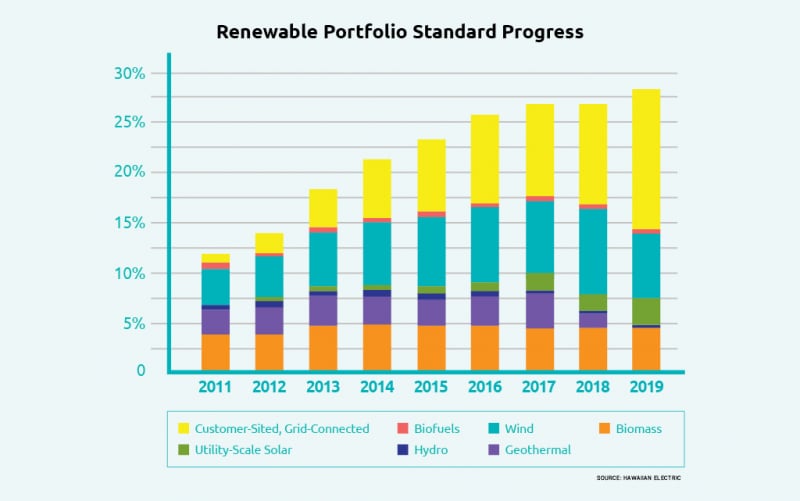 Last September, Clearway Energy Group completed construction of three grid-scale solar energy projects. Combined, those systems will produce 110 megawatts of energy.
The completed projects were announced a few months after Hawaiian Electric received approval from state regulators to begin construction of seven renewable projects touting 259.5 megawatts of renewable power.
"The utility cannot reach 100% renewable energy by ourselves . . . we want (everyone) to be on board and help us create a better future for Hawaii."
—Rebecca Dayhuff Matsushima, Hawaiian Electric Director of Renewable Acquisition
Though essential, developers and regulators are not the only groups the utility considers as it works toward a 100% renewable energy future. Collaborating with the community at large to achieve the state's goal is paramount to the utility, says Matsushima.
"The utility cannot reach 100% renewable energy by ourselves … we need all of the stakeholders to be on board with the plan to achieve our goal," she says. "From government officials, policymakers, developers, landowners and community members, we want (everyone) to be on board and help us create a better future for Hawaii."