Navigating Rules, Regulations in a Condo Renovation
A builder and designer share their experience in a successful case study.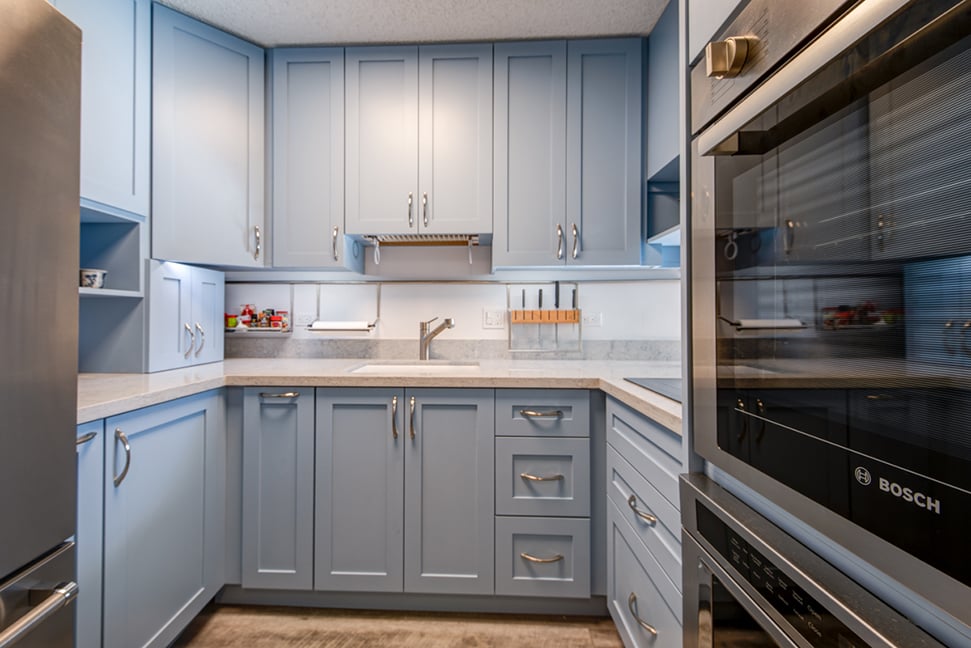 There are many benefits to owning a condo, including a management team that maintains shared spaces and amenities and enforces house rules for all neighbors. But the systems that protect residents can feel cumbersome when condo unit owners want to remodel. Builder J.R. Moorhead of Moorhead & Company Inc. and designer Nancy Schnur of Universal Interiors share with us their knowledge on handling condo rules and regulations for a smooth renovation experience.
Moorhead and Schnur collaborated on a remodel for these homeowners, who wanted to make the most of their space. Moorhead and Schnur sought to open up confined spaces to give the couple some breathing room in the condo – but before they could do that, they had to work through the homeowners association's regulations. The restrictions may seem like a lot to work around, but for an experienced builder, they're routine. "How did we handle it? We just followed the rules," says Moorhead.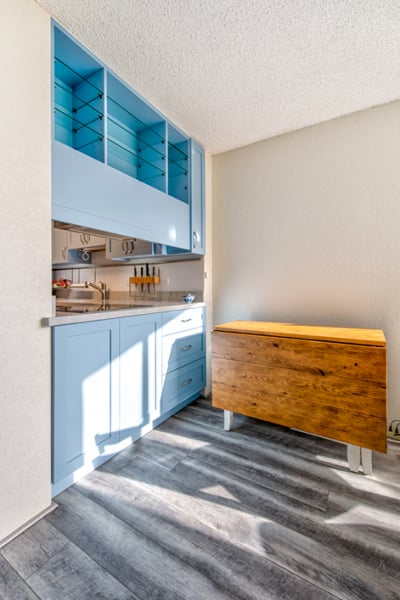 The condo's new look is spacious and well-lit, almost impossibly so for a home of its size; a close look reveals that no square inch of space is wasted. The kitchen makes use of custom-built cabinetry — one cabinet was rebuilt to open into the living room, creating a display case for the homeowners' awards, while another stores a coffee maker when not in use. The 7 inches between the refrigerator and pantry was cleverly reinvented as a spice pullout; a drop-down dish drying rack over the sink saves valuable counter space; a rail that holds everything from cooking utensils to a tea shelf slides neatly behind the cabinetry when not in use. Despite all of its hidden details, the kitchen doesn't feel crowded; the muted blue cabinets are homey without being overpowering, and the homeowners have a view from the kitchen that extends through the living room to the lanai.
Similarly, angled mirrors, a diagonal countertop, and a light color scheme make the bathroom spacious without being sterile.
So, how did these homeowners pull off a successful condo remodel? Moorhead and Schnur agree: preparation. "The first step is to go to the building manager and find out the rules," says Moorhead. Knowing what to expect makes the approval process smoother and faster — and prevents homeowners from being let down if their dream remodel isn't possible. Ask how frequently the board meets, what the building requires and what kinds of remodels have already been done — finding out if there's a precedent for something you're interested in can save both you and the contractor time and money.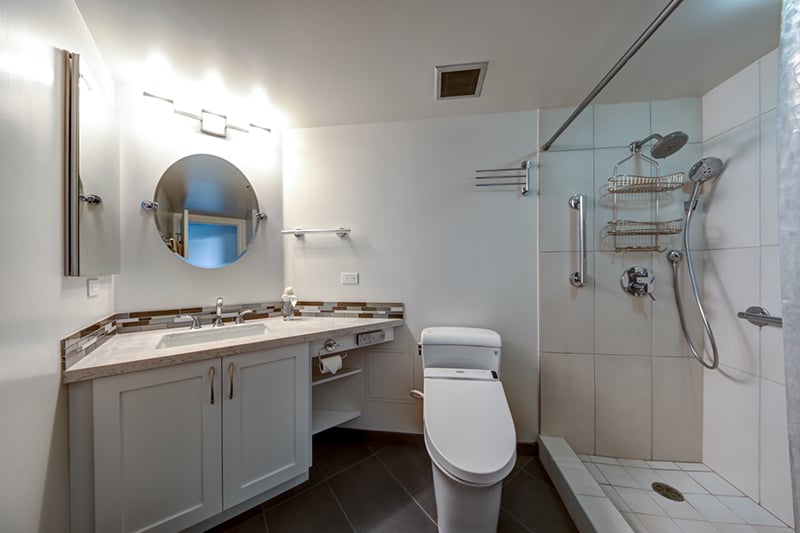 Schnur adds that setting a schedule and communicating with the building manager is beneficial for everyone involved. "Time is something to consider when renovating — it always adds to the cost, even in the best of buildings," she says. Scheduling helps hourly contractors work efficiently, keeping costs low and making the remodel quick.
Moorhead seconds that. "Most of my job is coordinating and planning," he shares. "It's more about knowing where the X goes as opposed to actually putting the X there."
With the help of a talented designer and builder, condo owners can make the most of their space while also making the space their own. Learn more about preparing for a renovation in a condo.