New and Improved Home: Flip to Forever
When a project goes even better than expected, a flip turns into a forever home.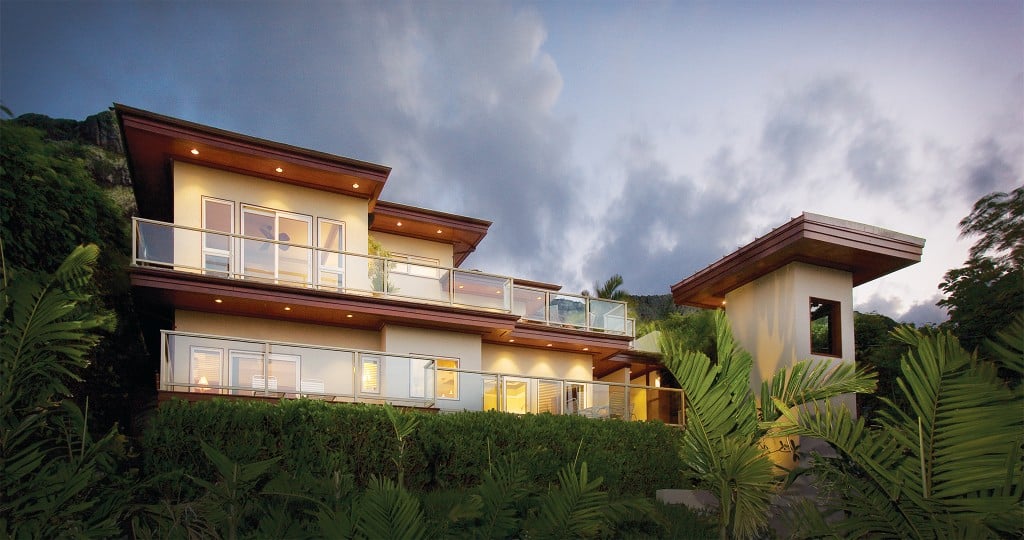 Five years ago, the Wiegands had what they thought would be their forever home in Kailua. Then, a Lanikai home went up for sale.
Seeing Blue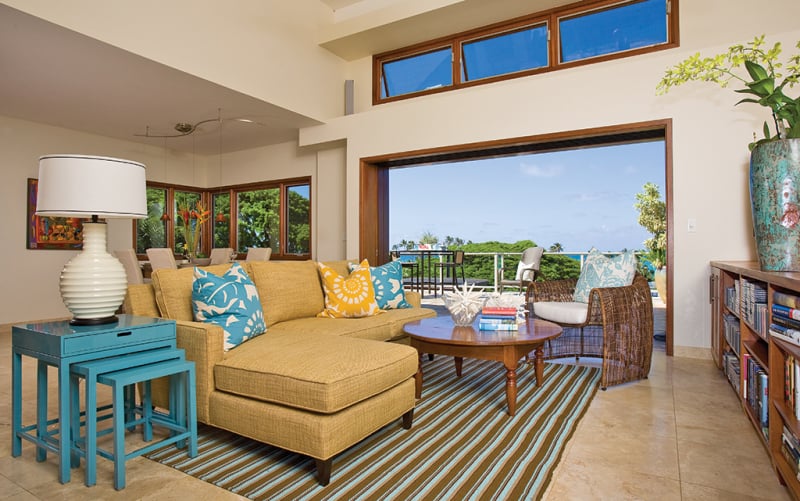 Designer Jennifer Johnson, of Pacific Home, recognized the dominance of the ocean's turquoise color, visible from multiple points in the home. She brought the color inside, using sophisticated, yet comfortable, furniture and accessories. "I wanted to achieve a casual, beach-living style," she says. Pacific Home's products fit in perfectly with the home's relaxed, yet chic, vibe.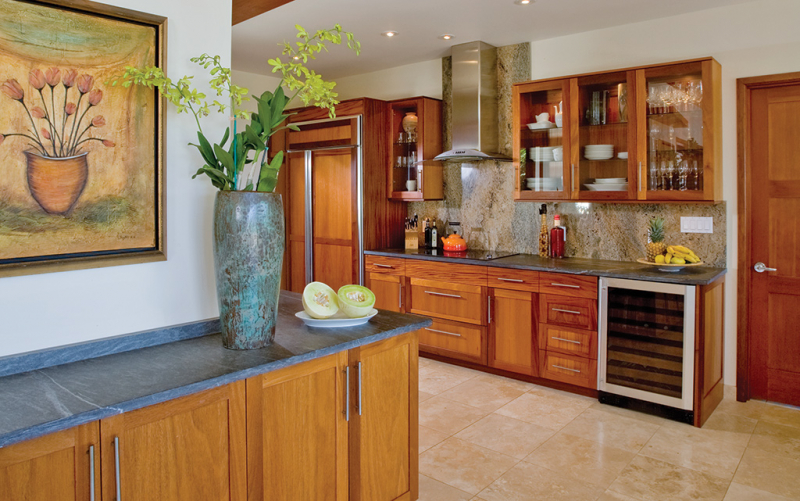 With an exceptional location and stunning views, Gary Wiegand knew flipping this home would turn a profit. After interviewing a shortlist of builders, he chose design/build architect Karl Mench, of Concept 2 Completion, to revamp the space for a quick resale.
But a swift flip wasn't in the cards. Termite rot forced them to tear most of the structure down, leaving just the foundation. "What a surprise. You're expecting to renovate and then you're budgeting and you have to tear it all down and start again," says Wiegand. But even this setback didn't deter them. Wiegand and Mench put their heads together and decided to go for it. "We can do this. Let's build a dream house," says Wiegand. Little did he know, the place would soon grow on him enough to make him want to stay forever.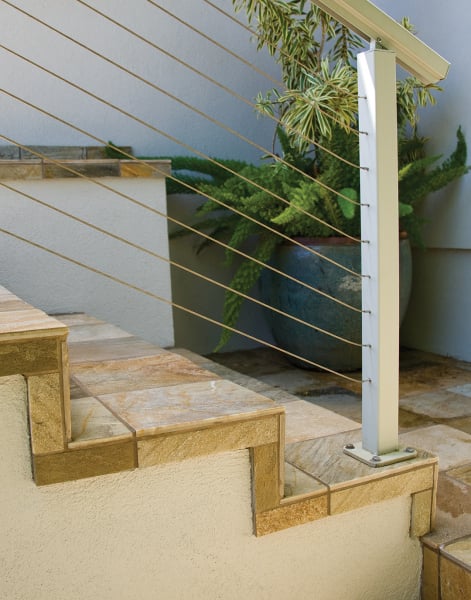 The team built with longevity in mind. "You start out and you decide you're going to build quality, so it will last with the elements, and that forces certain decisions," says Wiegand. "You're not going to put a cheap piece of something next to marble and mahogany."
As the project progressed, Wiegand found himself visiting the home more often. "Happy carpenters make straight walls, so you come down and bring the boys a beer and thank them for a great day's work," he says. The pau hana became a daily ritual, and soon Wiegand didn't want to leave. "I didn't want to just come visit for afternoon beers. I wanted to stay for dinner and the wine party," he says, "and I wouldn't mind waking up in that bedroom that looks out to the Mokuluas, either."
The view of the Mokuluas and the gorgeous stretch of ocean beyond remained the main focuses of the remodel, and Mench built with that in mind, along with entertaining and exterior living. "It isn't a home designed to be closed up," Mench says. "The first thing you do in the morning is open the large sliding doors and bring the ocean views and garden spaces into your living experience."
Wiegand soon found himself in a place he couldn't bear to leave. Next thing he knew, he and his wife, Cathrine Bilberg, were moving in, and they haven't looked back. "I come home, go on the deck and look out, and I feel like I'm on vacation," Wiegand says.
Wide-open spaces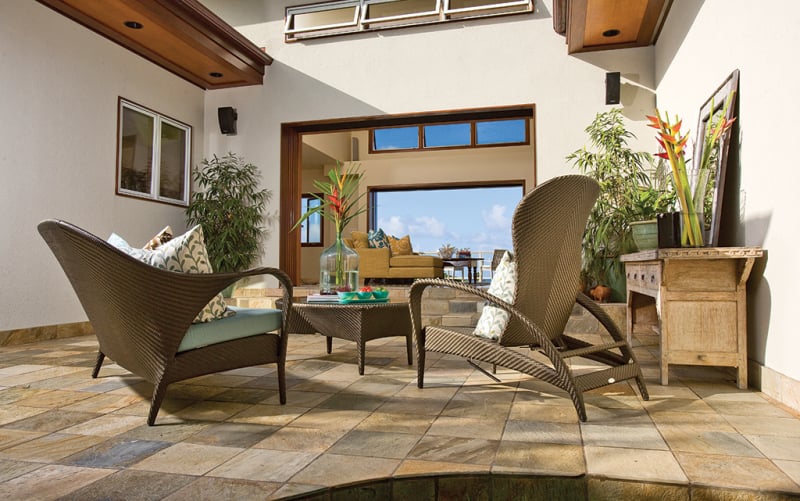 Flowing design allows for an easy transition for outdoor living to inside and out again. "Our lifestyle is we hate being indoors, so it's indoor/outdoor living," says Wiegand. Even when you are inside the living room, the open design lets the air flow through and the outdoors in.
"The first thing you do in the morning is open the large sliding doors and bring the ocean views and garden spaces into your living experience."
– Karl Mench, Architect
A Higher View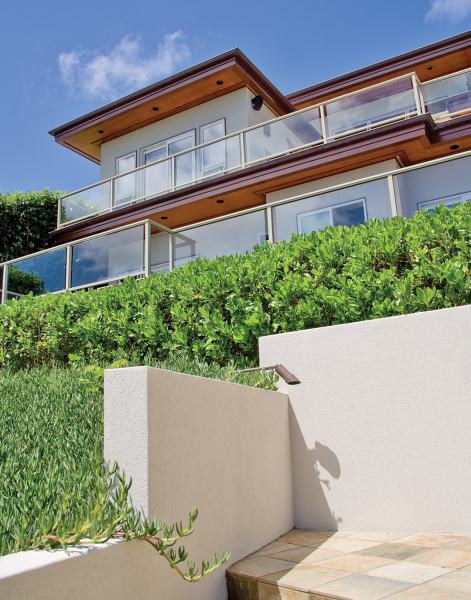 Two spacious lanai soar above a newly refreshed courtyard and overlook expansive views of Lanikai beach and the Mokuluas.
Smart Design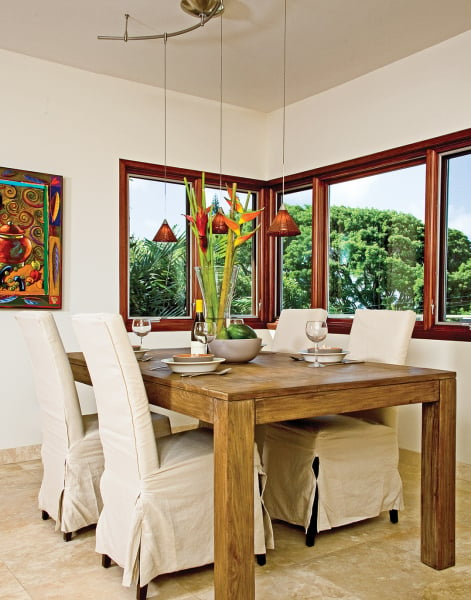 Johnson chose a teak table to match the home's beachy atmosphere. "It looks like driftwood, like you're at the beach," she says. The dishware on top incorporates earthy, warm tones, to reflect the warm woods throughout the home.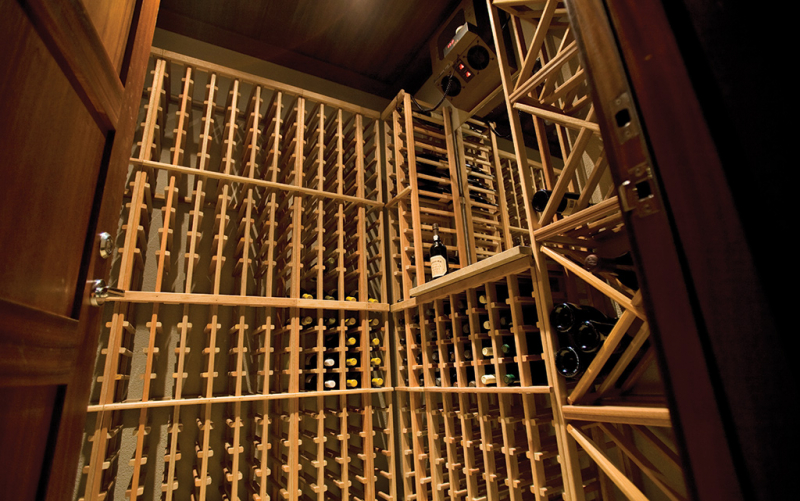 At the base of the elevator lies a temperature-controlled wine room for Wiegand's growing collection. "While solving a functional issue, we tried to add value to the money being spent by designing a courtyard entry and a large wine room," says Mench.