New Front-load Washing Machine Makes Your Laundry Cleaner
This GE Appliance is paving the way towards tidy and odorless laundry.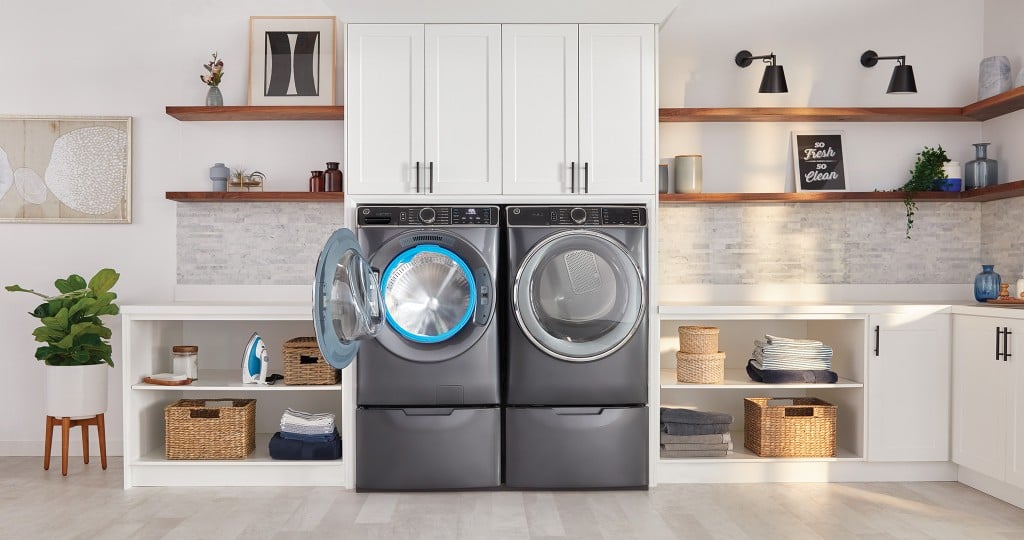 Three hundred loads of laundry — that's the amount of washing and drying that families do every year, according to Energy Star. To help save energy and water, that amount of laundering requires a squeaky-clean machine that's not only hardworking, but also efficient. And while typical front-load washing machines perform reasonably well in that regard, they still pose two bubbling problems: mold and odor.
GE Appliances sets out to tackle these issues head on with its first and only UltraFresh vent system with OdorBlock technology, which is energy and water efficient and keeps your machine – and laundry – smelling good.
"Our new UltraFresh Front Load washer is the first in the industry to solve the issues that lead to stink, making care and maintenance along with laundry chores much easier for the consumer," shares Peter Pepe, vice president, product management for laundry at GE Appliances.
After 2½ years of work, GE Appliances has created a built-in solution for its new UltraFresh Front Load washer. The three-part system drains residual water from the washer, dries with the door closed and defends against bacteria, mold and odor with Microban technology. Plus, all systems are Energy Star qualified and comply with the Americans with Disabilities Act.
Along with advanced technology, these systems have style. They come in four color choices — satin nickel, sapphire blue, white and diamond gray — with flexible doors and large capacity. They also feature SmartDispense — they can hold an entire bottle of liquid laundry detergent — as well as smart capabilities and "dynamic balancing technology," which keeps cycles quiet and efficient.
ECO TIP
Look for the ENERGY STAR® label when purchasing a new washer. These machines use 35% less water and 20% less energy than standard ones, according to energy.gov.