New Home Build Rises to Meet a Couple's Changing Needs
Inside an elevated Aina Haina home.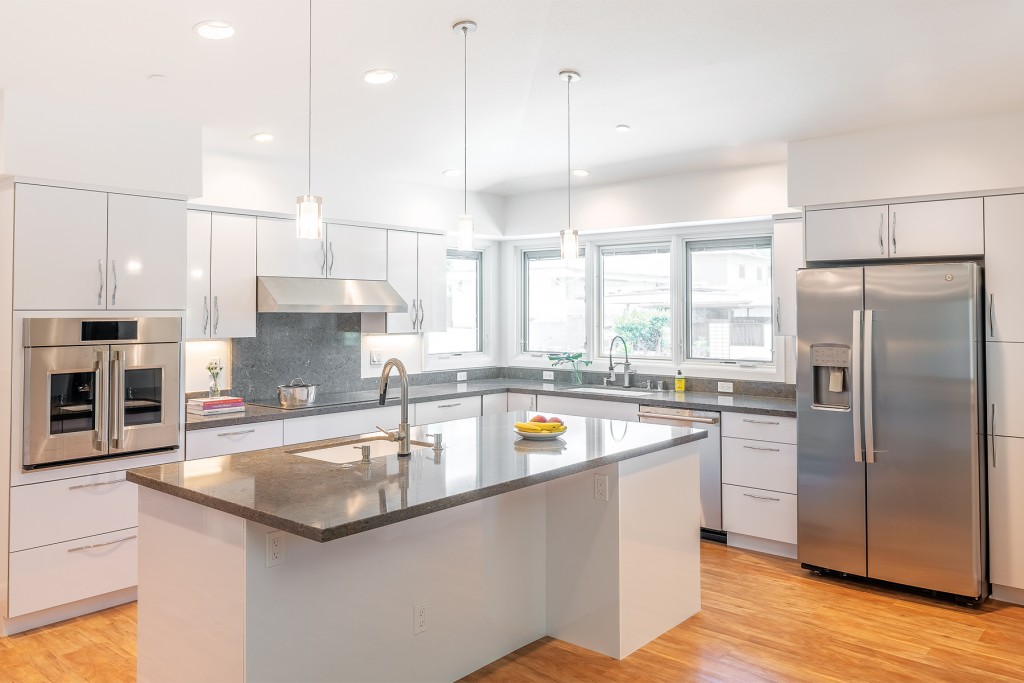 Ready for the next chapter in their lives, the owners of this Aina Haina home had a straightforward request for design-build firm Graham Builders: Build them a new home that they could age in gracefully.
"This will be our last home and we'd like to live in it/enjoy it as long as possible with the home equipped (and) ready for our changing abilities as we age," shares the homeowner. "Hopefully, we will not need it but it's all in place if needed."
Built in 1955, the inherited home had gone through its own phases of life — from being extended to make room for more family to being rented out to someone else's family for many years. And although the property was in fairly good condition, it wouldn't be able to meet future needs; plus, it was level with the street, allowing passersby to see inside.
The homeowners put their trust in Graham Builders to create a practical, modern new home. With certified aging-in-place specialists on board, the company is highly skilled in creating functional family homes with aging in place in mind.
Graham Builders designed and built a one-story home with three bedrooms and two bathrooms that provides the couple with ample room and safety features to ensure it's a secure and comforting place.
"This home is perfect for a retired couple to reside in for the rest of their lives," says Bonnie Oda of Graham Builders. "It has many safety features, such as the fire sprinklers and special screen doors, that give the homeowners a sense of security."
One of the first steps in the build was to raise the elevation to ensure that people passing by wouldn't be able to see directly inside.
Durable and low-maintenance materials were used throughout the home, and aging-in-place design was a key theme. Now, there are wider doorways and hallways, an open-concept kitchen, and an accessible bathroom. "The aging-in-place features are tasteful and add rather than detract from the residence's beauty," shares Oda.
"The wider aisle, hallways and doors make you feel free to move about without feeling 'crowded,'" adds the homeowner. And while the place was designed with the owners' later years in mind, she says, "it sure is a nice luxury to enjoy now."
The open-concept kitchen features Hertco Pullano laminate cabinets in frosty white with a high gloss finish that bring brightness into the space and Silestone quartz countertops in copper mist that are easy to clean. These flat cabinets have soft closures and pullout drawers, plus a special Rev-A-Shelf installed to make it easier to lift up their stand mixer.
Two sinks in the kitchen are a major perk for the homeowners, allowing them to work in the room at the same time without bumping into one another.
"The kitchen and master bedroom suite are designed with good flow and will adapt with the homeowners as they age," shares Oda.
Flooring throughout the home — from the hallways, entryway and laundry area to the great room, kitchen and bedrooms — is a luxury vinyl plank by Metroflor that's resilient and stylish.
In the accessible master bathroom, there's a walk-in shower with a bench and half pony wall topped with glass. The solid surface countertop and shower surround that has no grout lines are easy to clean and the porcelain tile flooring in the bathroom is non-slip to ensure safety in one of the most commonly used areas of the home.
The homeowners are glad they relied on Graham Builders to create a home that balances beauty and safety.
"There's no such thing as a 'perfect build' so make sure your top needs are addressed and the rest is a bonus," recommends the homeowner. "It's give-and-take on both sides and you need to communicate what's truly important/high priority for your new home."