New Products, Trends in the Kitchen and Bath Industry
National industry show highlights the latest innovations.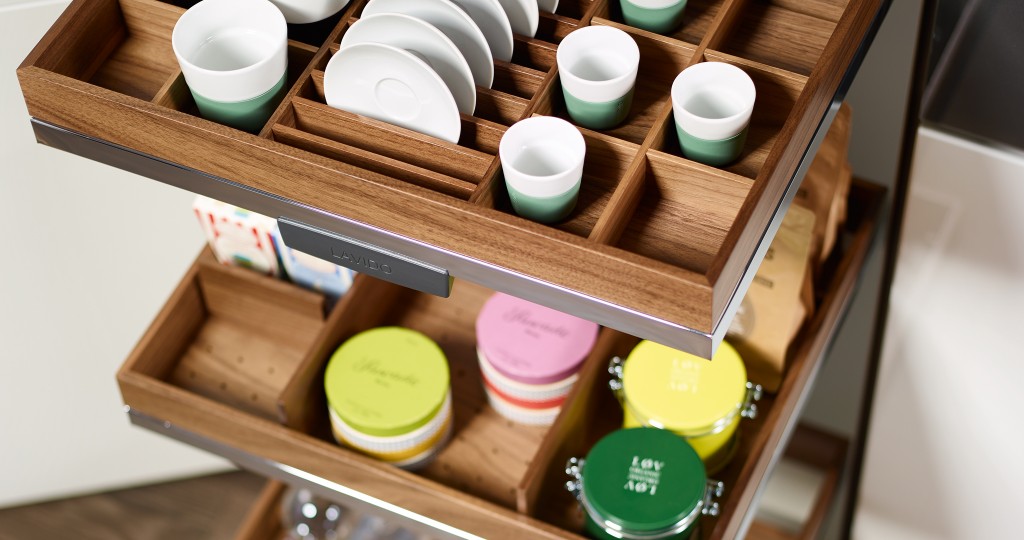 One of the most exciting and inspiring industry events, the national Kitchen & Bath Industry Show in Las Vegas, attracted thousands of designers, contractors and vendors eager to showcase their innovative new products and trends. There were products to instantly transform your kitchen and bath, accessories to help organize your spaces, trends to elevate your entertaining game, and solutions to create relaxing environments.
One of the most prevalent trends for countertops are dark and jewel toned colors with metal veining patterns. They create a rich focal point for islands or for unique guest baths. And materials for outdoor kitchens that can withstand the elements remain popular. Cabinets are available in so many options, like rich high-gloss colors mixed with neutral and soft super matte tones and light wood grains; however, more thin stone cladding is making its way as cabinet door fronts. High-end cabinet accessories also dominated the show with superior hardware for creative storage options and easy operations. Customers are asking for upscale details for accessories, even if they are hidden behind cabinet doors. Think pantry storage that pulls out or rotates to make it easier to reach canned goods, pullout shelves at blind corners, remote operational upper cabinets, lighting within cabinet shelves, and other fun options.
Manufacturers are also creating experiences for homeowners, and there's more options than ever for entertaining friends. With the popularity of craft cocktails, several companies are taking note and making it easier for the average homeowner to create amazing drinks. How about a refrigerator ice maker that can make ice globes for those fancy glasses of libations? There is also a filtration faucet that's perfect for a bar countertop, indoors or out, with two separate lines in its pullout spout – one for filtered water and one for either beer, juice or wine.
After all your entertaining, relax with your in-shower spa experience. There is a hand shower with technology that provides aromatherapy essential oils through a pod (like those coffee pods) right in your bath. You can have a spa day without leaving your house.
For more information on the brands and product availability, visit the NKBA professionals at nkba.org.
Cris Johnson is president of the National Kitchen & Bath Association Aloha Chapter.