Nursery Necessities
Six tips to ready baby's new room.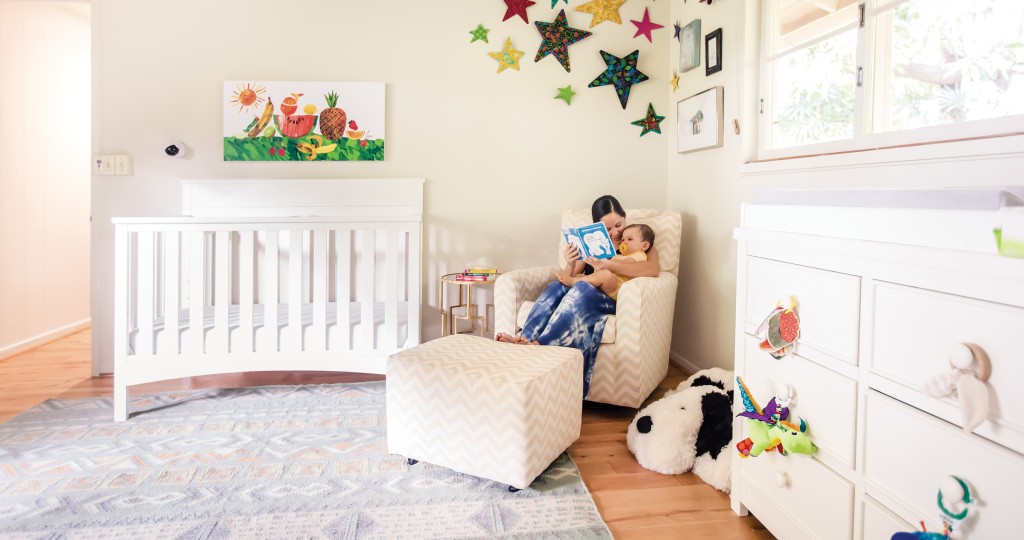 Preparing your home for your baby is an exciting and creative time. A fun and functional nursery is easy to design with these simple essentials:
BABY-PROOF THE ROOM
From the get-go, elminate all floor-level dangers.
A COMFY CHAIR
You're going to spend a lot of time feeding, soothing and snuggling your new little bundle of joy. Treating yourself to a comfortable rocker or glider will benefit both you and baby, especially during lengthy feedings.
A BABY ZONE
Create a soft-surfaced, open space that is safe for baby to play, scoot, crawl and, eventually, walk. A decorative area rug is perfect for stimulating belly-bound babies and easy on the knees for beginning crawlers.
SIMPLE STORAGE
Don't get fancy. Since you'll be doing things one-handed from now on, using bins, baskets and open shelving for easy access to clothes, binkys and toys will simplify your routine. Use multiple medium-size containers rather than one large toy chest to keep cleanups more organized.
VIBRANT VISUALS
Colorful mobiles, pictures, prints and toys keep baby's eyes wandering and advance his or her developing vision. Point them out to baby as he or she grows and use them as references for teaching points: "Wave at Mr. Caterpillar!"
NIGHTTIME ESSENTIALS
Blackout blinds, a baby monitor — with audio and video — and a white-noise sound machine are the three main ingredients to a good night's sleep for both parent and baby.
DIAPER DISPOSALS
Unless you take out the trash several times a day, you're going to want an odor-controlled vessel to dispose of baby's diapers — especially once he or she starts eating solids