On Board the Electric Bus Movement
From school buses to airport shuttles, bus fleets are transitioning to electric.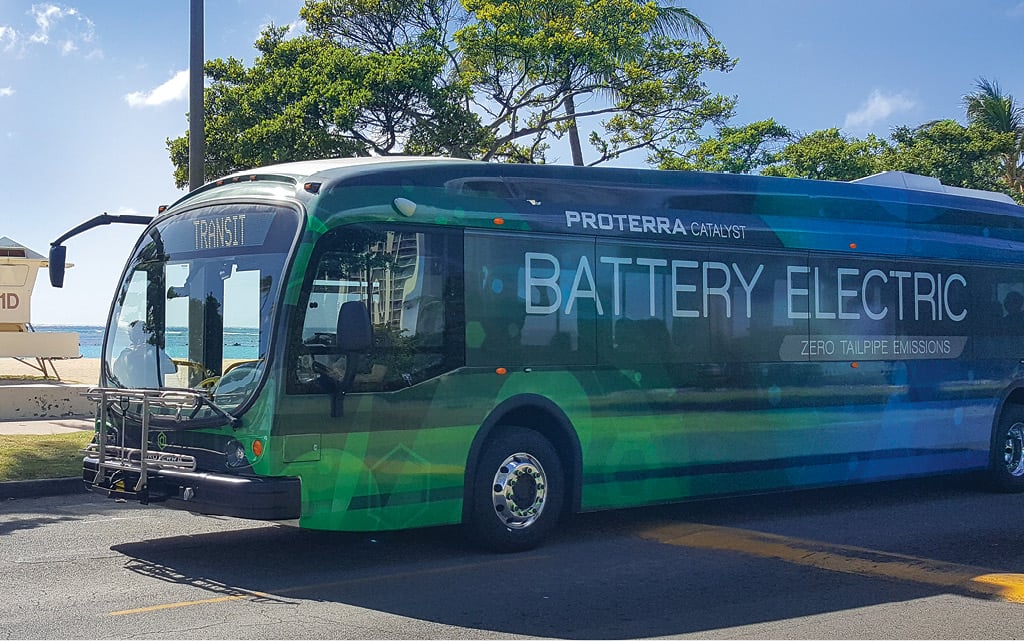 The transition to electric buses is gaining traction due to an increasing amount of cross-sector collaboration. The list of those working to transition Hawaii's bus fleets to be electric-powered includes all major players in the state's ground transportation: county officials, state agencies, the electric utility and private bus services.
"We've been working with all of our customers that provide bus services," says Brennon Morioka, general manager of electrification of transportation at Hawaiian Electric. "This is a statewide movement and probably has the greatest amount of support on the business side and political side. They're all on board."
Morioka says that over the next five years, Hawaiian Electric projects that a total of more than 130 electric buses could roll out onto the state's roadways.
One of the projects that will add to the new fleet is Hawaiian Electric's soon-to-launch electric school bus pilot program with the Electric Power Research Institute. Morioka says school buses, because of their schedules, are particularly helpful in assisting with the state's clean energy goals.
If Hawaiian Electric can get school buses to charge during the middle of the day, while their passengers are in school, the buses' electricity consumption would better match up with the period of time when solar facilities are generating the most clean energy.
"(We want to) encourage charging during the day when there is an abundance of clean renewable energy, mainly solar, that is cheaper to produce," says Morioka. "If we are able to do that, we can help the integration of more clean, renewable energy into our portfolio."
The public realm is moving down a path to transition fleets to be electric powered as well. The mayors' 2017 pledge to transform ground transportation to be all renewable powered by 2045 created a call to action.
"We're really taking the lead from our four mayoral leaders," says Jon Nouchi, deputy director of Honolulu's Department of Transportation Services.
And while the mayors pledged that the state's ground transportation will transfer over to be renewable powered by 2045, the County of Maui and the City and County of Honolulu are looking to beat that target by 10 years with their own fleets. Nouchi says the City and County of Honolulu plans to add 20 electric buses to its fleet by 2020 as it works to have its entire fleet 100 percent renewable powered by 2035.
"We're looking at our demo fleet being 20 vehicles and planning to scale up from there," Nouchi says. "Our first three buses should be coming in this summer."
The Hawaii State Department of Transportation is also moving toward transitioning fleets to be electric powered. Two electric buses are being tested now at the airport as part of a one-year pilot program. The program concludes in late summer 2019 and, depending on the results, DOT could look to replace its entire fleet of rental car shuttles with electric versions.
While many ideas are still being tested, those involved are confident their work will be key to reaching the state's 2045 goal.
"We really have been working with our neighbors to go down this road together," says Nouchi.