On the fast track to sustainable transportation
Electric vehicles are fast becoming a sensible option for Hawaii drivers.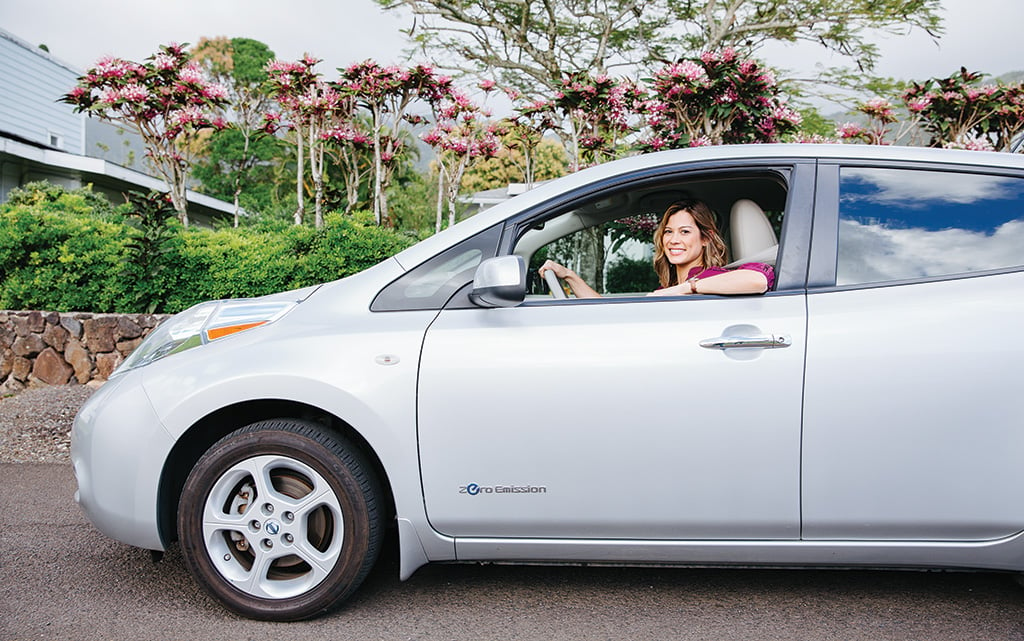 Electric vehicles are fast becoming a sensible option for Hawaii drivers. Additional charging station locations, state and federal incentives and refined vehicle design and performance are all playing a role in accelerating people's decisions to drive electric vehicles on Hawaii's roads.
In January, the number of electric vehicles registered in the state reached 6,748, an increase of almost 30 percent from one year earlier. While electric vehicles are still far outnumbered by gasoline-powered vehicles, Hawaii has the second-highest rate of EV adoption in the country.
Hawaiian Electric, in collaboration with numerous energy and transportation stakeholders, is developing a road map to help guide the actions needed for Hawaii to be among the leaders in the global transformation of transportation. The utility is also offering time-of-use rates that provide an opportunity to save money by using energy during times when solar and wind are most abundant, like the middle of the day.
"Electrification of transportation is a global movement that can play a leading role in climate change mitigation," says Brennon Morioka, Hawaiian Electric's general manager of electrification of transportation. "And it's more than just about electric cars. EOT also involves electrifying truck and bus fleets, as well as our airports and harbors, and building an electric-powered rail system for Honolulu."
Morioka is the former state director of transportation and former deputy director of the Honolulu Authority for Rapid Transportation (HART), which is responsible for building the 20-mile Honolulu rail transit system.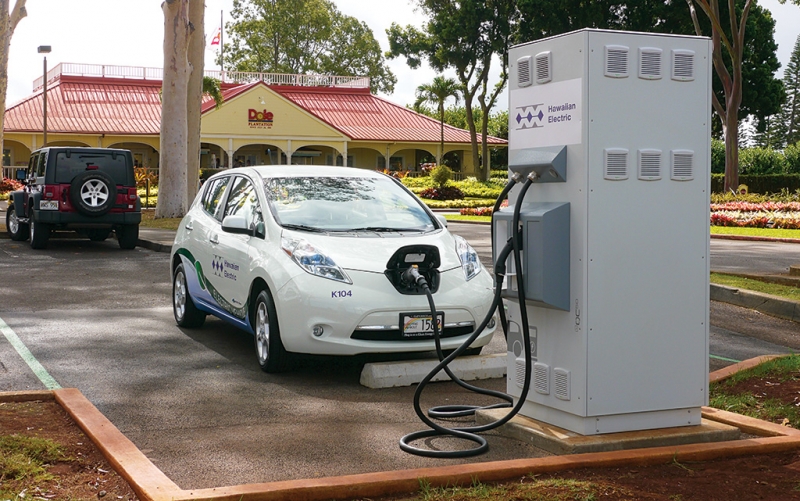 An electric-powered rail system, like the one HART is building, produces about 75 percent less greenhouse gas emissions per passenger mile than cars.
A hui of nonprofit organizations and businesses with a shared agenda to support clean energy and electrified transportation have formed Drive Electric Hawaii, a partnership that is working to expedite the electrification of transportation through policy, education and funding opportunities.
Shem Lawlor, director of the Sustainable Transportation Coalition of Hawaii and clean transportation director of Blue Planet Foundation, is one of many working to achieve the 100 percent clean transportation goal by 2045, a target set by county mayors in December. They've pledged to transition their fleet vehicles even earlier, and electric buses this year began transporting riders on 23 bus routes around Oahu in a pilot program.
"We're going to have an electric grid that's 100 percent renewable by 2045, so we're focused on getting vehicles transferred over to being electric because, even if our electric grid is only 27 percent renewable today, it's going to be significantly cleaner moving forward every year," Lawlor says.
Electric vehicles produce less carbon than gas-powered vehicles, whether the electricity used to charge them is provided by clean energy or by fossil fuels. By 2045, electric vehicles will be carbon-free.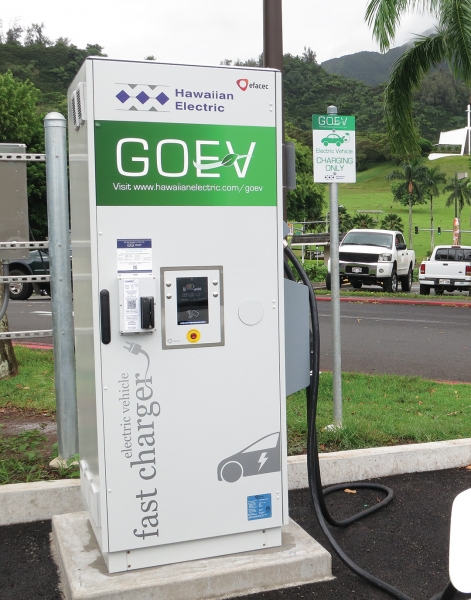 Supporting electric vehicles promotes a clean energy future for Hawaii as renewable energy is increasingly added to the grid, making charging a vehicle a more environmentally friendly option than fueling with gas. It reduces the need for oil and reduces fossil fuel emissions.
The personal benefits are plentiful, including lower fuel, maintenance and parking costs. Time is a priceless benefit, and electric vehicles have access to high-occupancy vehicle lanes, regardless of how many passengers are in the car. The Hawaiian Electric Companies also offer fast-charging stations across Oahu, Maui and Big Island that drivers pay for by kilowatt-hour, which varies similar to time-of-use rates.
"I personally almost always use the fast-charging stations that Hawaiian Electric has," says Lawlor. "It takes me less than 30 minutes to fill up."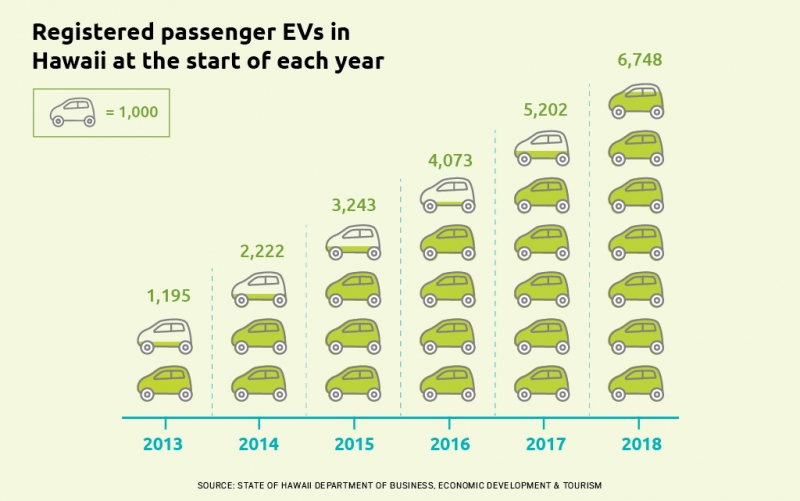 Personal Perks
Drivers of electric vehicles can take advantage of:
Use of high-occupancy and zipper lanes without passengers
Free parking at state and municipal garages and in metered stalls
Lower fuel and maintenance costs
In the Market?
If you're considering purchasing an electric vehicle, use an online calculator to understand your savings potential and select the right vehicle for your needs at hawaiianelectric.wattplan.com/ev.
Full Charge Ahead
Want to know where to top off your electric vehicle? Commutes to work and road trips around the islands are simpler than ever for drivers of electric vehicles, with hundreds of public EV charging stations located across the Hawaiian Islands. Download the Hawaii State Energy Office's free mobile app, EV Stations Hawaii, or access it on the web, for more detailed information about each charging station.