Passing the Torch: Cooking a Family Recipe
A local family has been cooking with gas for four generations.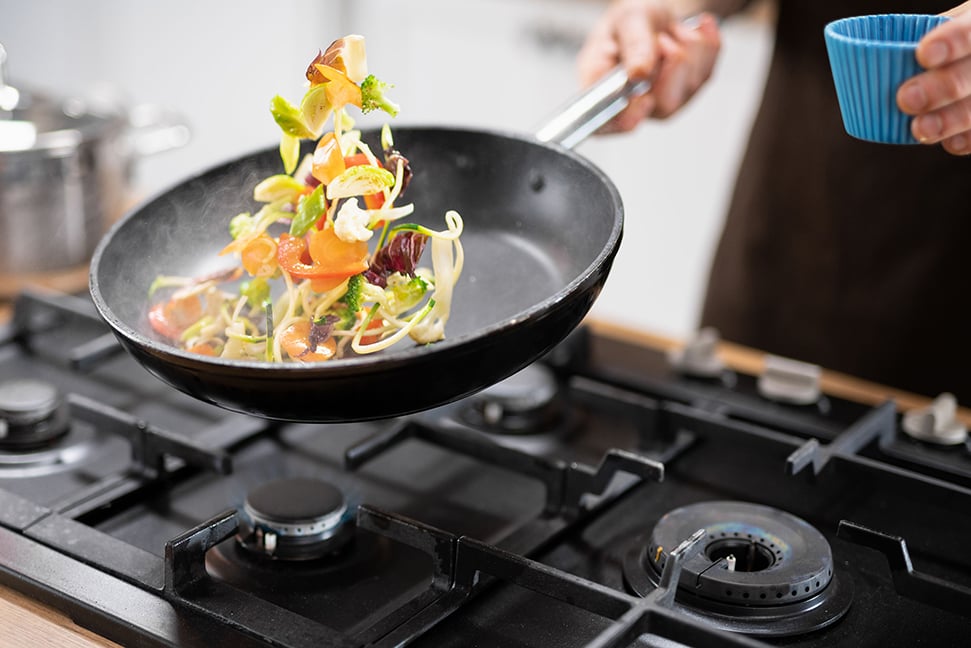 It has been said that cooking with gas is significantly better than cooking with electric. In fact, The Daily Meal states that 96 out of 100 professional chefs prefer gas cooktops. Whipping up dinner with gas is also typically more cost effective than using electricity.
Cheryl Chee and her family know firsthand all the benefits of having gas in their kitchen — they've been cooking with it for four generations. "Chinese cooking is quick on high heat," Chee says, explaining that her Ewa Beach ohana has been using gas cooktops since 1950. Her grandfather learned this high-heat style of preparing meals when he was just a boy, working with his dad in the family restaurant. "He was used to using gas to cook things correctly."
One of Chee's fondest memories is having her grandmother's Chinese pot roast chicken — which can only be prepared with gas — every New Year's Eve. "It was supposed to be the first meal of the year after popping fireworks at midnight," she explains. "As my grandparents got older, the dish was still prepared for midnight so that the younger folks could enjoy. The rest of the family began to have it as the dinner meal for the new year."
Chee and her family continue to enjoy Chinese pot roast chicken for dinner on New Year's Day every year. "Each generation is eagerly learning my popo's recipe and method using the gas burner and wok in the garage," she says.
In addition to growing up with and being comfortable using gas in her cooking, Chee says it also makes her dishes look and taste the way she wants, all while preserving nutrients. She adds that while she loves using gas for cooking, it comes with other perks as well. "We also always had a gas water heater," she explains. "It was always reassuring to know that we could cook and have hot water no matter what the weather might dish out."
If your kitchen runs on gas, try Chee's family recipe, below. Curious about making the switch from electric? Most Hawaii Gas customers pay less per year for gas than they would for electricity to do the exact same tasks. It's a fairly simple process; Hawaii Gas obtains the necessary permits and a residential gas installation expert will walk you through the steps. Visit hawaiigas.com for more information or to request service.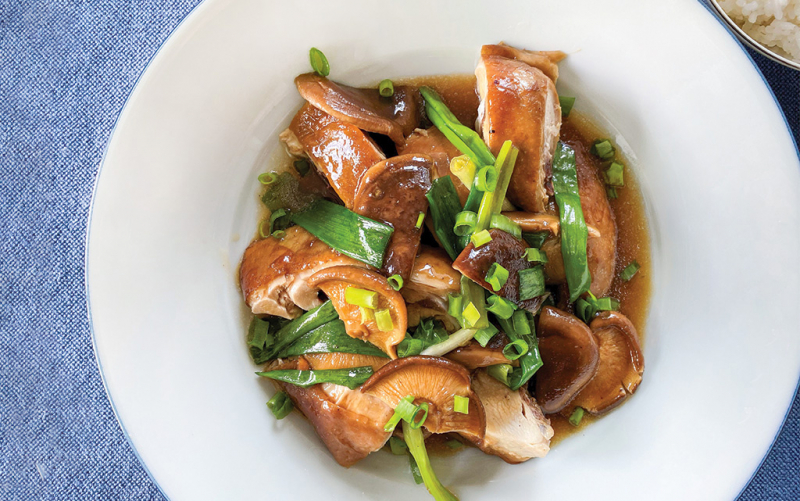 Chinese Pot Roast Chicken
The Chee Family's Chinese Pot Roast Chicken Recipe has been passed down for four generations and derives its name from the method of cooking. Closer to a traditional oyster sauce chicken recipe, this recipe is named for the large pot and "roasting" action over an open flame. The recipe can be prepared indoors, though good ventilation is a must, as is the gas flame for proper heating.
Serves 12
Ingredients:
3 chickens, 4½ pounds each (lean or roasting chickens)
2 14½-ounce cans chicken broth
2 large bunches of green onions, cut into 2½-inch lengths
3-ounces dried shiitake mushrooms
3-inch piece of ginger, skinned and smashed
3 cups oil
½ cup oyster sauce (Lee Kum Kee brand preferred)
⅓ cup water (plus 1 cup later)
Cornstarch slurry (¼ cup cornstarch and ½ cup water; a flour slurry can also be used to thicken the sauce)
4 tablespoons shoyu
2 tablespoons Johnny Walker Black or Red Label Whiskey (can sub other brands)
1 teaspoon sugar
Water chestnuts (optional)
Directions:
Soak the mushrooms in hot water, cover with a plate until completely submerged. Make the sauce by combining the oyster sauce, whiskey, sugar, ginger and ⅓ cup of water. Stir until combined and set aside. Clean and trim your chickens, removing any excess fat and gizzards. Rub the shoyu into the chickens and let rest for 20 minutes.
Heat your wok. Once it begins to smoke, add the oil and wait for tiny bubbles to appear. Add a whole chicken and cook until all sides are browned (this will take 8 minutes). Remove and place chicken into a large stock pot to rest. Do this to the remaining 2 chickens. Once all are browned, take 3 ladles of the oil and add to the pot with the chickens.
Drain the mushrooms and slice in half. Add the mushrooms, green onions and sauce with ginger to the pot. Cover and turn on high. Once you hear a deep sizzling, turn it down to medium and let it steam for 40 minutes.
Remove the chickens from the pot and set on a cutting board to cut the chickens. Begin by removing the legs, cut into three pieces each, thighs in two or three and breasts into five pieces on each side. Continue until all the chickens are cut and cover with foil.
Bring the sauce to a simmer and remove any excess oil by skimming the top with a spoon. Add the chicken broth and the rest of the water to the pot. Bring the sauce to a boil and add the cornstarch slurry until it is thick. Taste for flavor and add additional shoyu or oyster sauce as desired. Add the cut chicken back to the pot. Try not to mix excessively or it will break up the chicken. Heat and serve.