Paw-some, pet-friendly wood flooring
Experts dispel the myths of wood flooring and pet ownership.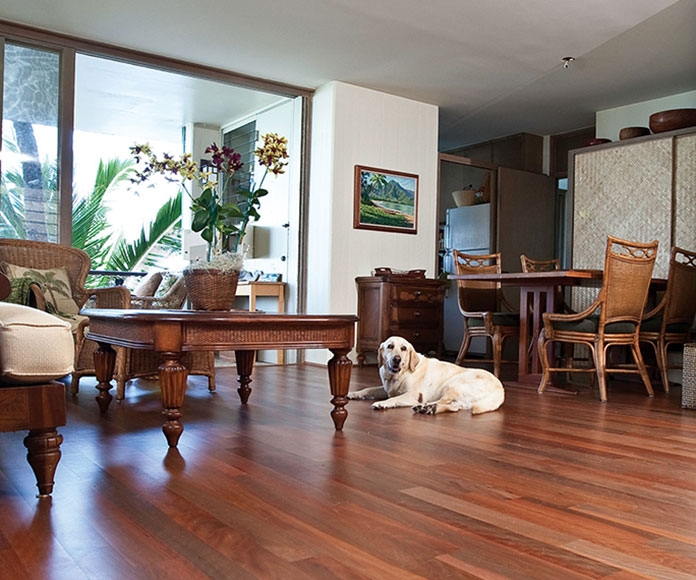 Searching for options for new flooring is hard work. Searching for flooring options for pets? Even harder, some might say.
"Some people think pets — especially dogs — mean they are not able to have a wood floor," says Natascha Roblee of Pacific American Lumber. "As long as you are educated about the pros and cons of pets plus wood, many times people are able to get a floor they love that they don't have to worry about getting ruined."
Yep, you read that right— wood floors can be part of the equation when remodeling with pets.
"Bamboo floors are hard and wear well with high traffic and pets,"
-Norma Padron of Bamboo Flooring Hawaii
"Many of our finishes are scratch resistant," Roblee explains. "Any hard surface will eventually scratch— the real question lies in how it eventually scratches, and whether it looks like a worn patina versus ruined floor at the end of the day."
By investing in quality wood flooring, you are also investing in your future. If you are planning on selling your home someday, having wood flooring is an added bonus. "Wood flooring holds value in the home," Roblee relays.
Bamboo Flooring Hawaii specializes in bamboo flooring, and recently introduced Hawaiian Style Luxury Vinyl Tile, another great option for families with dogs, especially those likely to scratch. "They call them resilient flooring because it's resilient to scratches and resistant to moisture," says Mark Elwell of Bamboo Flooring Hawaii.
Bamboo floors may be another option for homeowners with pets. "Bamboo floors are hard and wear well with high traffic and pets," says Norma Padron of Bamboo Flooring Hawaii. "A lot of people with bamboo floors that have pets don't have a problem."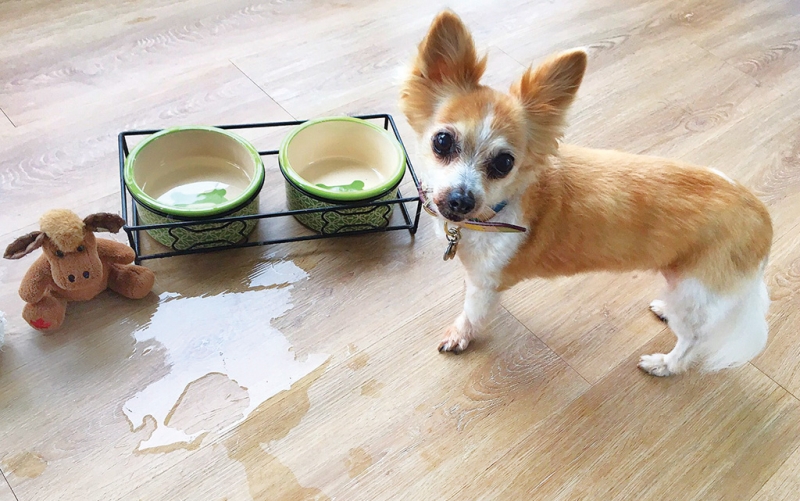 Don't be deterred by bamboo floors: What is unique about Bamboo Flooring Hawaii's floors is the interlocking Unilin click system, which allows for a glueless installation for a floating floor with great results. The product is very dense and heavy, so you can't tell it's floating on the subfloor. "It looks gorgeous and feels like a full spread or nailed flooring at considerable savings," Elwell says. Plus, he adds, liquids don't pass through the interlocking system.
This advice is sure to offer peace of mind when it comes to a pet owner's common concern: "Can new wood flooring withstand the wear and tear of having a pet?" The answer: a resounding "yes."