Pillow Covers and Cushions by Hawaii Creatives
Get your space popping with Two Li Design, Jana Lam and Oceans End Hawaii.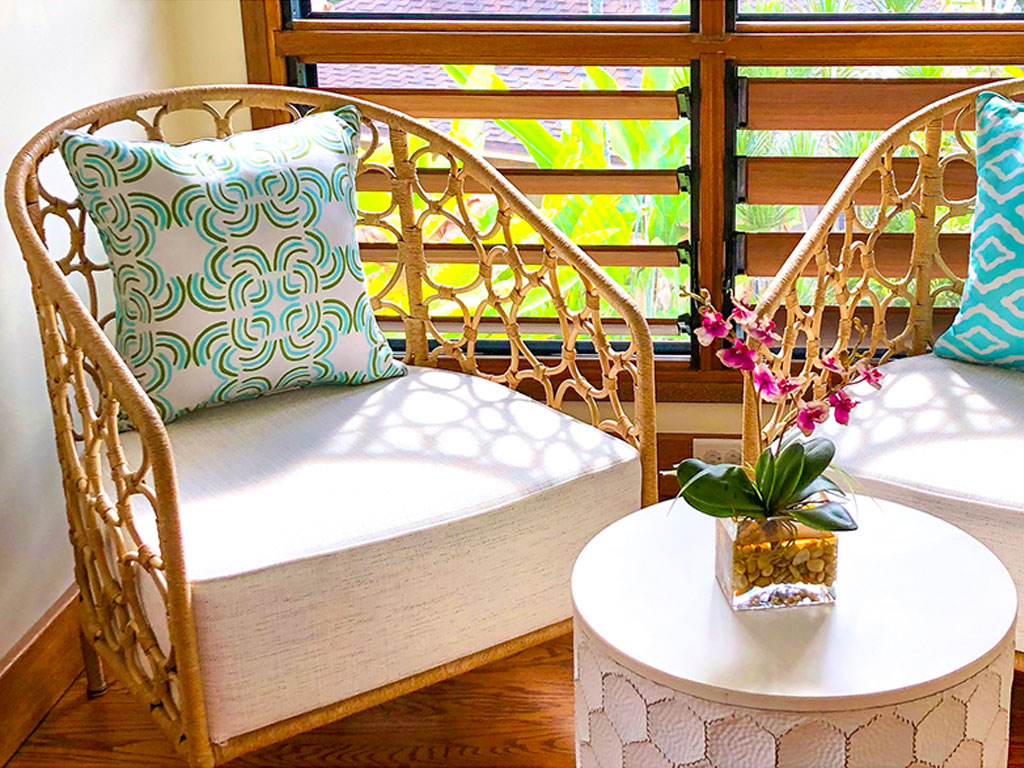 A fresh burst of pattern and personality with the right set of pillows or pillow covers is all it takes to update your indoor and outdoor spaces for the summer. Island designers are taking note of the stylish statements that pillows provide, and many are crafting cushions and shams with their own signature colors, themes and textures. Whether you prefer modern takes on Hawaiiana prints or exotic one-of-a-kind fabrics, here are a few of our favorite paradisiacal pillow purveyors.
Two Li Design
Jennifer Scelfo-Jones, a former social worker, combines her love of travel and textiles in her custom pillow company, Two Li Design. She sews and designs made-to-order pieces on the North Shore using linen-cotton blend fabrics and eco-friendly inks. Ten percent of her profits are donated to social justice and medical humanitarian causes. Pillow covers can be ordered with or without inserts; prices vary by size, with 18-by-18-inch pillows starting at $125. twolidesign.com
Jana Lam
Color, movement and fun — artist and designer Jana Lam's popular prints are all about spreading love and aloha around the world. Her pillow cover collection is perfect for the season of sunshine in Hawaii, with whimsical Island florals in cheerful hues that spark joy in any space. Prints are silk-screened by hand on 100% cotton twill fabrics. Pillow covers are sized 17.25 by 17.25 inches and fit 18-by-18-inch pillows; $88. janalam.com
Oceans End Hawaii
For long afternoon naps in the summertime, rest easy — and beautifully — on decorative pillows from Oceans End Hawaii. The brand is known for its line of apparel and accessories with botanical designs. Its collection of pillows comes with a machine-washable polyester cover and shape-retaining insert — shown here are top-selling prints "Lahaina" (pink protea), "Wailea" (monstera abstract), and "White Anthurium." Pillow sizes vary; prices start at $28 for a 20-by-12-inch. theoceansend.com
---
Editor's Note: This article has been slightly modified from the original print version for optimal online reading. To view the full print story, subscribe to our digital edition or pick up your copy of Hawaii Home + Remodeling at one of our partner locations.