Private Practice
Create a sacred space in and around your home with these outdoor privacy solutions.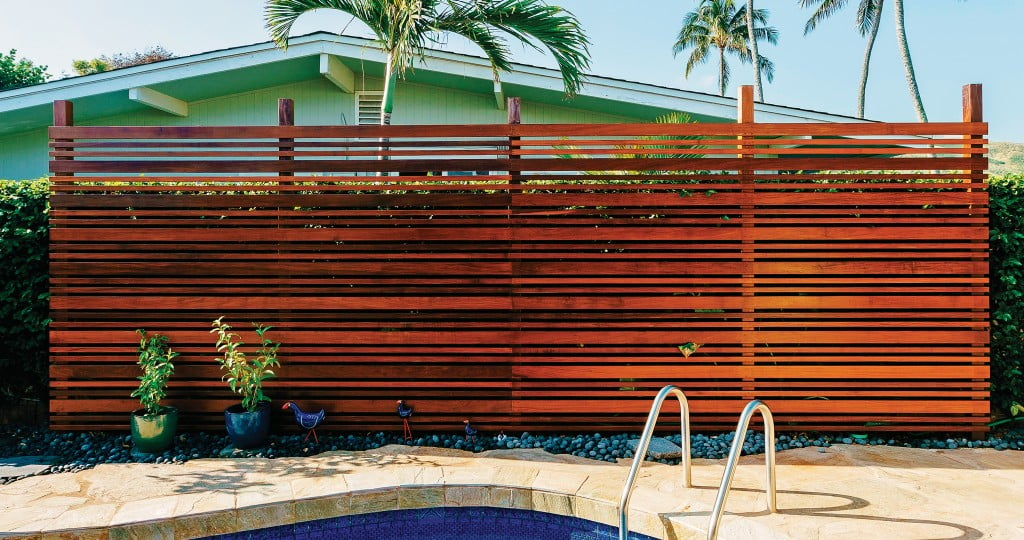 Privacy is at a premium on Oahu, with houses clustered up next to each other and homeowners trying to occupy as much square footage as possible. LanaiScapes Landscape Designer Brian Cordero says any home can have a personal outdoor retreat by following these simple solutions. "Hawaii landscapers deal with this issue all the time," explains Cordero. "There are several ways to obtain privacy from roads or neighbors using plants and structures."
INSTALL
Walls, fences, screens, arbors and even artwork can complement your yard while providing discretion to your space. Store-bought or custom-built structures are available at a variety of price points and easily accessible to most homeowners. Cordero handcrafted ipe wood screens to create an airy and stylish enclosure to a crowded property line. Ipe, a Brazilian hardwood, is very durable and usually avoided by termites.
EXTEND
Use plants to extend the height of your fence. This demi fence separates the townhouses, while the alocasias — a large, ornamental taro — and torch ginger block the view of the home's first-story windows. "Houses are so close together here, adding that light separation with this fence and plants keeps the yard private while also allowing a natural circulation," says Cordero.
GROW
Hearty hedges with thick or broad leaves or lanky clusters of palms act as excellent sight barriers. Cordero suggests using Golden Eldorado, a low-maintenance tropical shrub, or Areca palms. Fast-growing plants that easily rebound after trimmings make good yard guards. Thickets of trees or shrubs can also help reduce light and noise disturbances from street traffic.
LAYER
Layer structures, trees and tropicals to create a beautiful barrier and bring volume to your yard. A white stucco wall shields this property from the road, while tiers of banana trees, Samoan coconut palms and short bunches of native shrubs create a protected front-yard oasis.
These layers will grow fuller within the next three years. Feeding the banana trees with a mulch of their own cutting and a good amount of water will help them flourish without growing out of control.
"Banana trees are great plants to use to create some privacy on your lanai or around your pool area," explains Cordero. "They are fast growing, but they don't shed leaves. It's nice to use fruiting trees—such as banana, lime  or lemon trees—as barriers because they serve a dual purpose."