Proof of Concept
Architect couple designs boutique condominium inspired by their loft.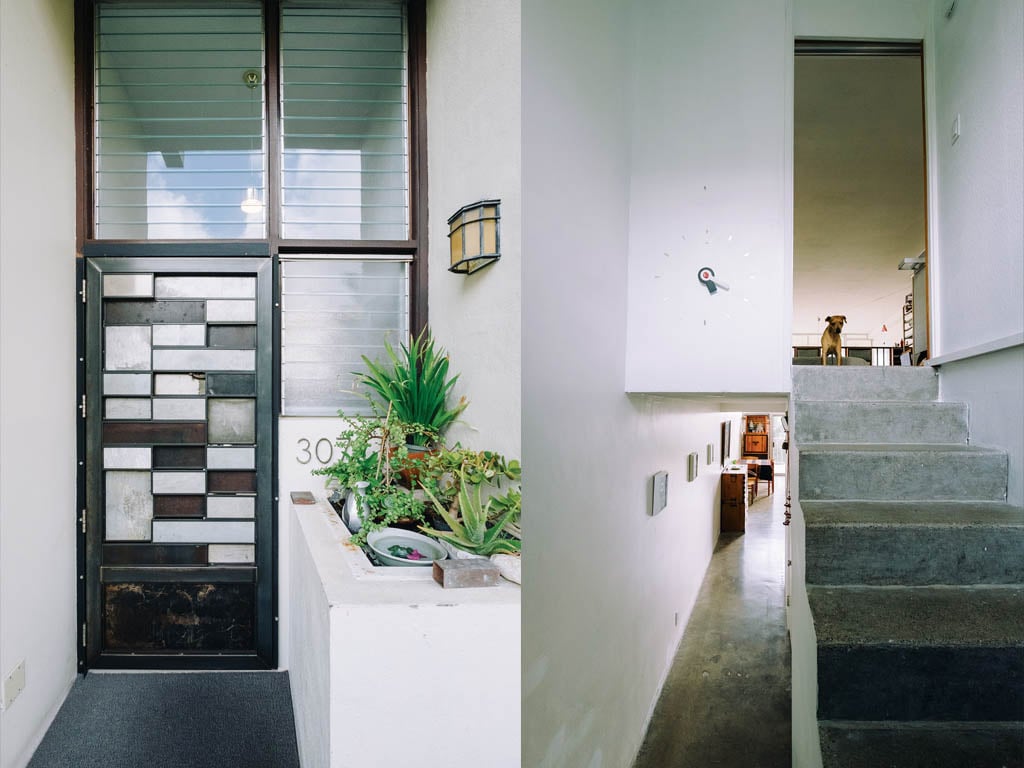 When you step past the scrap-metal door of this Punchbowl loft, take care to read the writing on the walls. Rather than detail impending disaster, these scribblings foretell a bright future for the Hauoli Lofts, a new nine-unit condominium located at 917 Hauoli St. in Moiliili. Architects Bundit Kanisthakhon and Janice Li, principals of the multidisciplinary design firm, Tadpole Studio, use their apartment as a sketchpad for the Lofts, jotting down notes and dimensions on the walls for reference later. Based on their own unit, the Lofts will be two stories tall, with open-plan living and dining areas, concrete flooring and walls, and floor-to-ceiling windows to capture ambient light and trade winds.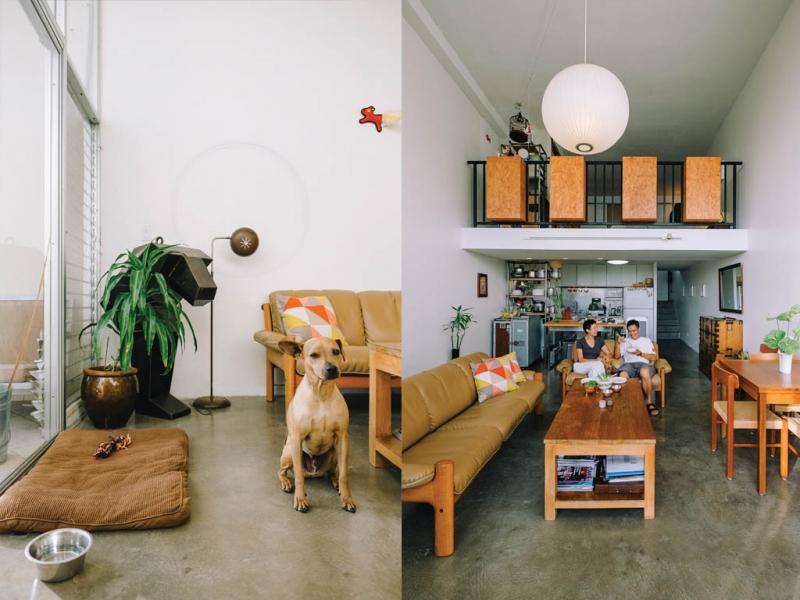 The Hauoli Lofts are the first residential project for local Honolulu developer Centre City Development, led by Christian O'Connor, formerly of Kamehameha Schools, and Wei Fang of Interisland Terminal, who met while working on projects in Kakaako. Unlike the towers going up in Kakaako, the Lofts are uniquely positioned as intimate residences thoughtfully integrated with the eclectic Moiliili-McCully neighborhood.
"We like to test everything out in our own home to make sure it's actually plausible in the Lofts," says Bundit, waving his hands toward the stainless steel countertops and custom railings by Heavy Metal Hawaii. Their apartment is a living proof of concept, with Bundit and Janice showing how repurposed materials can be used to articulate an elegant, urban dwelling.
Though the two insist that their home is a humble working draft of what the Lofts will be, their creativity and zeal for the "rediscovery" of alternative and used materials proves that the Lofts will be unlike any residential development Honolulu has seen yet.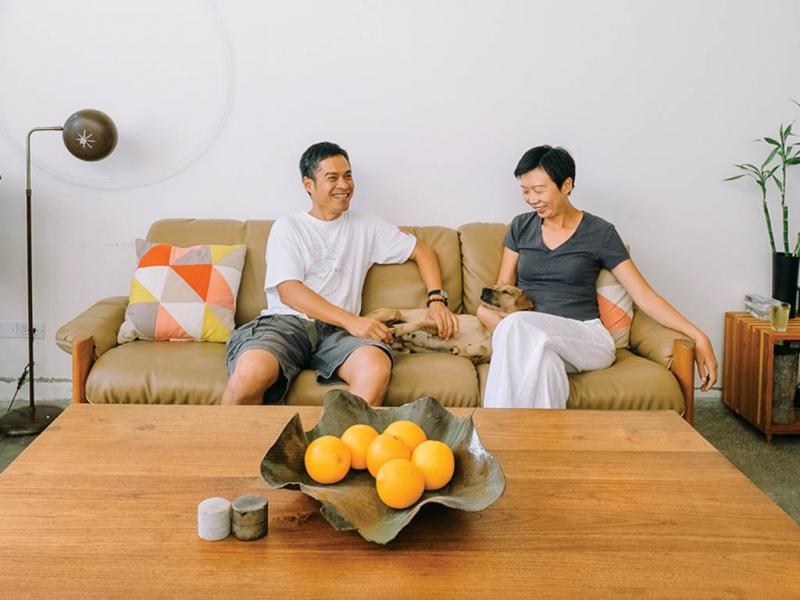 "I like to compare the design of the Lofts to a farmers' market," says Bundit. "Each material is locally sourced and selected to exhibit a unique and natural flavor." The couple sought to use materials and hire craftsmen exclusively from Hawaii, and Tadpole Studio is only a few steps away from the Loft's foundation. The day we visited, Bundit and Janice were sporting heavy construction boots for their inspection of the precast concrete slabs being poured in Kapolei. The walls and floors of the Lofts, like their own apartment, will be delivered as polished cement, unless, of course, the owner opts for something different. "We want the Lofts to be a blank canvas for the residents to personalize after they move in," says Janice.
The seven-story building will house three units on every two floors and a locked storage space for each floor. Each loft is equipped with an expansive living and dining area with 19-foot-high ceilings. The units' massive windows face mauka to capture cool trade winds and ambient afternoon light while the bedrooms are placed on the makai side with smaller windows to mitigate noise pollution and harsh direct sunlight. The entry on the lower level of a unit opens into the living-dining space and a kitchen outfitted with Bosch appliances. An accessible bathroom and two additional bedrooms make up the back half of the lower level.
Stairs from the first floor lead to the second-story master suite, designed with a flexible layout. This suite includes a foyer that overlooks the first floor, with a wide sliding door to separate the sleeping area. This way, the foyer can be converted into a home office, nursery or additional entertainment space. Bundit and Janice know this flexible layout works, because it closely mimics their own, low-maintenance home.
From the front door, a sturdy quilt of recycled steel, to the curio cabinet made of upcycled bed frames, Bundit and Janice's loft exhibits the sustainable face of new development. The foyer parts into cement stairways, one going up to the master suite and the other going down to the common area and guest bedroom. The master suite overlooks the common area below, and is illuminated by the floor-to-ceiling windows facing Honolulu. A salvaged TOFU sign from the old Safeway on Beretania hangs boldly above their bed. "We picked this sign over the others because we wanted something that said Hawaii without being too Hawaii," says Bundit. "And how many Safeways in the United States have a dedicated tofu section? It was just what we wanted." A custom steel railing by Heavy Metal Hawaii lines the open edge of the suite, holding four storage cubbies that hang out above the common space below. Bundit brought home discarded shoji screen doors for their closet, which also contains a hidden washbasin made from leftover steel from their railing. "Some of the shoji screen panels were punctured," says Bundit, "so I just carved them out and now it looks purposeful."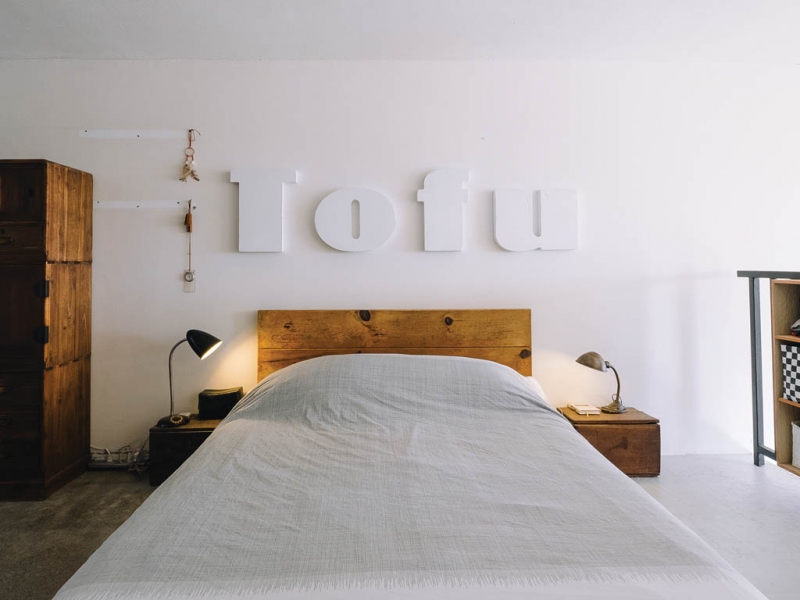 The master bath is a collage of steel and wood, with thoughtful shelves, ledges and creeping vines encircling a claw-foot bath and toilet. Behind the old dry wall Bundit and Janice found names and phone numbers on the wall from the original builders and contractors, which they left uncovered. "It's funny because we write on the walls, too. We still don't know who this guy Miguel is."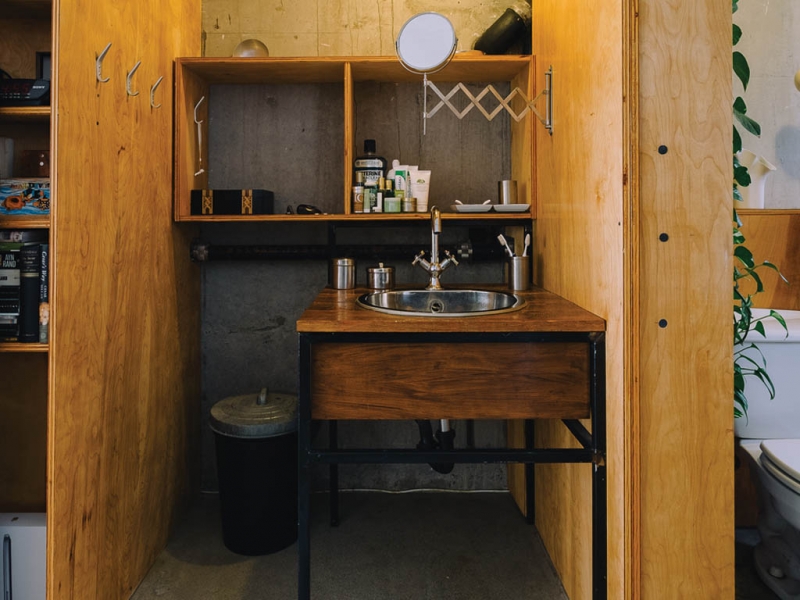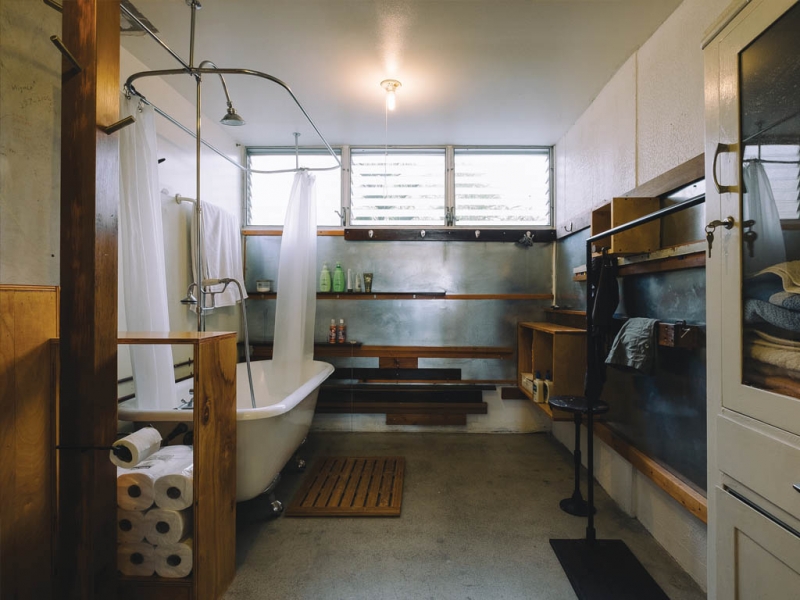 Downstairs, a small guest bedroom is equipped with a platform bed and traditional Japanese futon made by Dragon Mama in Hilo. A tiny nook is reserved for work at home, "We tried to make the workspace as uncomfortable as possible," says Janice, "so we don't spend too much time at the computer. This hasn't really made a difference though." Tucked between this room and the kitchen is a small full bath with pocket door, as well as a storage closet and stacked washer and dryer. The kitchen is small but utilitarian, making the most of a narrow footprint with open shelves and countertop bar. An old Holoholo taxi sign sits atop the fridge, and three airline bar carts provide additional, mobile storage for plates and cups. "These are from two of our flight attendant friends," explains Janice. "They asked us what we wanted for a house-warming gift and we asked for these carts. Six months later they found us a pair from a decommissioned airline."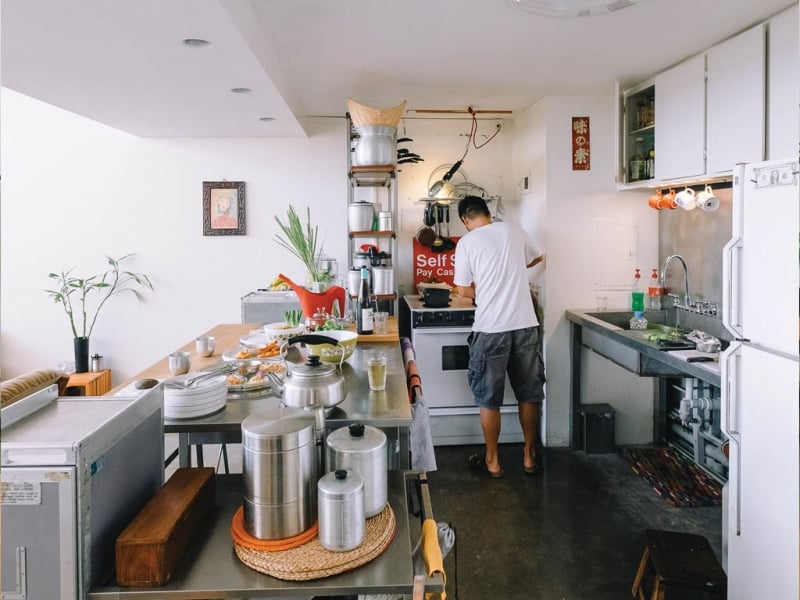 "Almost everything in this room is used or repurposed," explains Janice, noting the teak sofas from her mother and the designer paper lamp from Craigslist. A metal sculpture, shaped by their friend at the University of Hawaii, stands at attention near the lanai, where two of Bundit's own creations, a lamp and a living wall herb garden, hang.
The herb garden supplies some of Bundit's favorite Thai meals, which he joyfully shared with us during the shoot. "We must have a party!" he insisted. This party revealed the method behind the madness, the ingredients for an exotic meal, and the personal drive it takes to imagine a development like the Hauoli Lofts.